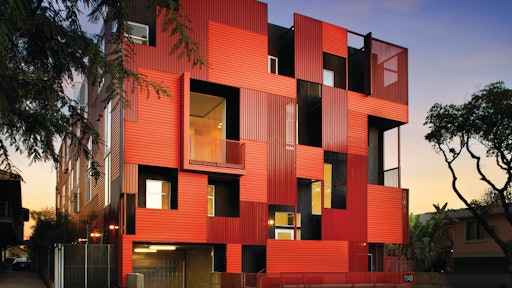 Metal Sales Manufacturing Corporation, a nationwide provider of metal panels for the building and construction industry, created a dramatic metallic facade for the new Formosa 1140 multi-residential unit in the heart of West Hollywood, CA. The facade included 12,900 square feet of Metal Sales' perforated T16-E panels, creating a bright, unique and multi-layered checkerboard of sustainable materials.
The new 11-unit housing project employs texture, color and shape to create an ordered geometric pattern that literally pops from the underlying shiplap frame both structurally and visually. Perforated cladding facilitates an eye-catching translucent effect and serves to shade the facility without inhibiting views to the outside. The corrugated lines of the panels are juxtaposed in alternating horizontal and vertical directions, creating an intricate patchwork out of just two colors. Various-sized cutouts frame the balconies, windows and walkways for additional dimension and openness.
Metal Sales panels, in custom PVDF (Kynar 500) Coronado Red and Raucous Orange, provide the main focal magnetism of the facility, and also offer architectural benefits beyond their obvious aesthetic value. They are durable, sustainable, and heat-reflective - all critical considerations for the building's warm West Coast location.
The 36-in. T16-E panels feature crisp 90 degree vertical box ribs with 4-in. centers and an exposed fastener. The T16-E panels featured on the Formosa 1140 housing unit are cut into rectangular segments with squared-off edges, giving the building its sharply linear quality.
A modern approach to community planning
Formosa 1140 was conceived by both LOHA architects and project developer Habitat Group Los Angeles. Beyond its unusual exterior, the unit stands as an urban anomaly, as one third of the site's footprint is devoted to public park space. Joining a network of "pocket parks" developed throughout the city, the project represents a modern and unique approach to community planning.
Construction on the Formosa 1140 housing unit was completed in the summer of 2008. The project team consisted of Lorcan O'Herlihy Architects (LOHA), Los Angeles, CA, installer Malott Metal Craft, Palmdale, CA and general contractor Richard Loring, Assoc. AIA, Archetype, Los Angeles, CA.
Article provided by LarsonO'Brien Marketing Group