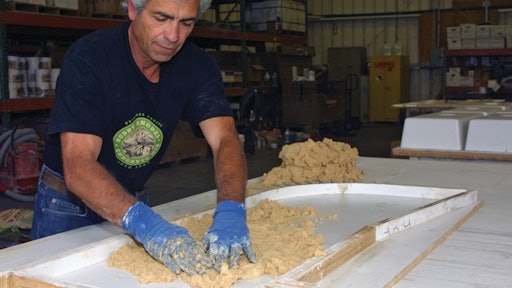 From countertops to fireplace surrounds, decorative contractors continue to push the limits of concrete. The beauty of decorative concrete begins with the mix design, and with several precast mixes available contractors may be faced with the challenge of choosing the best mix to fit their needs.
Mix styles
Contractors can choose between a made-from-scratch mix and a bag mix. A made-from-scratch mix requires contractors to have a mix recipe. Jeff Girard, president of The Concrete Countertop Institute, teaches his students to make an aggregate-based mix and sand-based mix. When making a mix from scratch, contractors will purchase the ingredients individually. "There are concrete mixes that are designed to be very fluid and pourable, and they tend to be an aggregate based mixed more similar to conventional concrete where you have gravel, sand and cement," Girard says. "Then there is a different style of concrete, a mortar, that doesn't have coarse aggregates, just the sand, and it is usually made to be stiff and packable."
Girard warns contractors that decorative concrete mixes aren't like the standard concrete. "If you are making your own mix, don't make it like everything else," he says. "Don't make sidewalk concrete because it's not good enough for a high-quality countertop. Clients are picky, and if you don't have good concrete you have no hope of satisfying your customers."
Making a mix design can reduce contractors' costs, but engineering their own mix design may require a higher skill level. "Just like a concrete contractor, on a jobsite, pouring a floor or wall, doesn't design their own mix," says Mike Heidebrink, president of Cheng Concrete. "They call a ready mix plant that has trained professionals who engineer concrete mixes."
An alternative to a made-from-scratch mix is a bag mix. Consistency is one benefit contractors have with bagged mixes. "Using a white cement base and mixing the same amount of water and pigment will give you dependable results. I have found when using a Portland gray cement mix design the colors will come out slightly different every time. Not good when trying to meet the demands of designers and architects," says Buddy Rhodes, owner of Buddy Rhodes Concrete Products. "We try to take the guess work out of made–from-scratch mix designs and put more of your effort and time into the finishing of the product rather than coming up with different mix designs."
By using a bag mix, contractors are able to focus on creating the product. "A contractor will get more consistent results," Heidebrink says. "The contractor is focused on creating the big picture, not the mix. A contractor shouldn't be dealing with the chemistry behind the product. They are skilled craftsmen that need to be focusing on the quality of the finished product."
Doug Bannister, from enCOUNTER, believes that security, reliability and dependability are all benefits of bagged mixes. "There are people in the countertop business that don't understand concrete," Bannister says. "When experimenting, they are going to have to know their limits for whatever they are doing."
Admixtures and aggregates
There are several admixtures that are essential when making a mix. While bag mixtures will include several admixtures, if making a mix from scratch it is essential to include pozzolans. "The common admixtures that are mandatory are pozzolans, which replace some of the cement and make the concrete better in the long term," Girard says. "Pozzolans are mineral powders that by themselves aren't cement, but when they are mixed with concrete they react with one of the by-products."
Another essential admixture is a super plasticizer used to eliminate water. "People want concrete that is easy to move and workable, and the easiest way to get that is to add water," Girard says. "That's the worst possible thing you can do to concrete. What super plasticizers do is they give you the extra workability without adding a drop of water."
Contractors may also add polymers to help increase the flexural strength of the concrete. Pigment is also a common admixture available to color concrete.
The aggregate size plays an important role in concrete, and it will require smaller aggregate for precast projects, such as countertops. Heidebrink encourages contractors to work with 3/8-inch aggregate and smaller for a base of the wet cast concrete and avoid mixtures with more sand. "There are some people who use more of a sand mix," he says. "Where there isn't any large aggregate, things can get dicey. You need to start replacing the larger aggregate with more expensive chemistry or you'll be messing with a mix that is more prone to crack."
Rhodes typically works with ¼-inch aggregate. "That gives us a very dense mix and makes it good for polishing. We can always add larger rock to it," he says.
Whether choosing to make their own mix or using a bag mix, in the end it comes down to the style that the contractor is most comfortable working with. Girard says, "The more people understand what is going on with concrete and understand how a mix works the better they can take that tool and get good results out of it."
Companies in this article