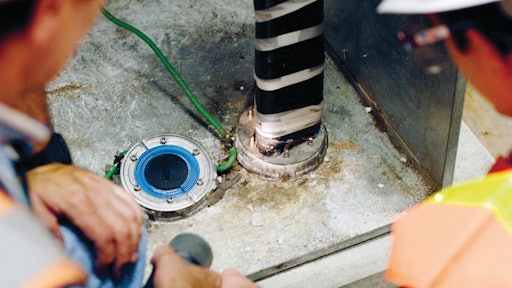 The challenge:
Waterproof sealing of cables and fiber optic cables in manholes, handboxes and vent building for Boston's Big Dig tunnel
The players:
Roxtec
Massachusetts Turnpike Authority
City of Boston
Bechtel
Mass Electric
The process:
Contractors working on the Big Dig Tunnel in Boston were looking for an alternative cable sealing solution to stop the damage of water intrusion for manholes, handboxes and vent buildings. Compared to duct seals and foam solutions, Roxtec's sealing solutions provided a sturdy and reliable mechanical seal.
The Roxtec mechanical sealing system, Multidiameter, was developed to seal cables or pipes in exposed areas. The system has been engineered to simplify installation and maintenance. The Multidiameter solution is based on modules with removable layers that creates the flexibility of the system. It allows every seal to be adapted on site to achieve a perfect fit for every cable or pipe.
"Due to the uniqueness of each application, it was not possible to use standard products. Roxtec worked with us to design the right solution for each application. It is the most flexible system available," says Dave Beaulieu from Mass Electric.
Installation of the Roxtec system was simple. Each sealing unit was inserted directly into existing holes or pipe sleeves. The ability to re-open the seals for adjustments or for installation of another cable also meant maintenance would be simplified.