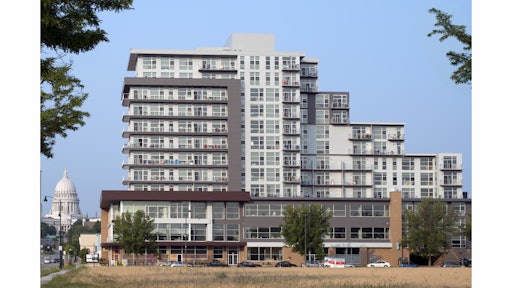 The challenge:
Installing more than 51,000-square-feet of insulated metal panels for a mixed-use property in Madison, Wis.
The players:
Wenger Roofing & Sheet Metal
Bark Design
The process:
The Constellation is a mixed-use property in Madison, Wis., anchored by more than 32,000 square feet of commercial space on the first three floors and topped by 220 high-end apartments on the top eight floors above a 275-stall parking garage. The architectural goal of The Constellation was to "lead the charge" of a rejuvenation at the very heart of Madison, where an ultra-modern design and urban décor were achieved in part by insulated metal panels from Metl-Span.
"Madison, right now, is limited to what you can specify as an exterior panel," said Christopher Gosch, AIA, NCARB at Bark Design of Madison. "You can go with metal or masonry and we weren't too excited about masonry. Ultimately, it was an easy decision to go with insulated metal panels for the energy savings potential, the aesthetics and the insulation properties."
Wenger Roofing & Sheet Metal of Campbellsport, Wis., installed more than 51,000 square feet of Metl-Span's CF Architectural 2-inch embossed Flat panel, in 22-gauge pre-finished steel. The project included standard 36-inch panels and custom-sized 20-1/2-inch panels. Almost all of the panels were Regal Gray, with the exception of some accent panels which were Charcoal. The front entry of the shopping areas was fabricated in wood grain panels from Pau Ferro.
For the installation of the insulated metal panels, Wenger Roofing & Sheet Metal crews were suspended on equipment lowered from the roof and had panels lifted to them. "There are a lot of balconies, so we had to work around them," said Gary Heinecke, project manager of the siding installation. "We've installed Metl-Span panels before, but not on a project this big. Once we worked out the logistics, the installation went well."
"Honestly, it turned out better than I expected," Gosch said. "Now that we've gone through a full cycle of seasons, we've seen that the metal panels have held up in the high-traffic areas. We're very happy with the performance. Residents have also been pleased with relatively lower power and heating bills."