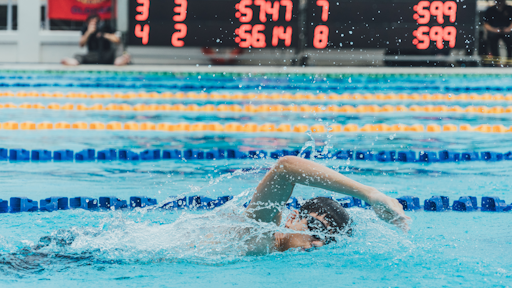 Unsplash
Over a recent weekend I received much more from a Community Swim Meet than I thought I might receive. My initial thoughts were that I was going to watch a swimming meet, mostly to support and cheer on our grandson. Well, we did that, but boy did I leave winning more than just the fun of taking a few pictures.
First of all, let me set the stage. First, a small, 25-meter-long pool with only four swimming lanes to use. Second, more than 150 swimmers, ages ranged from five years old to 18. Third, both boys and girls individual races along with a slew of relays. This San Antonio Community Meet started promptly at 8:00 AM and 72 racing events, some with five to seven "heats," ended promptly at 11:00 AM. 
What was so impressive was how fast the meet was conducted. The host swimming team made it possible to run smoothly — everything from the individual races, to the handing out of ribbons and even the sales at the concession stand. Everything was planned like it was the Olympics. For those kids swimming, this was their "Olympics."
I was able to have a chat with one of the individuals who had organized the swim meet, and she shared with me a few of her team's secrets. I explained to her my line of work as a consultant and that I assist construction companies in many areas, including scheduling. I also informed her on the fact that what she was evidently doing at this swim meet would certainly help most projects go smoother, and that I was so impressed with the swim meet's "production," that I was inspired to write an article. She became even more helpful.
Here's a few things she shared with me; and boy, did she give me a lesson on scheduling and organization. She opened up by saying,
"Mr. Humphrey, we want to run a meet that wastes very little time, keeps all the kids organized and moving in the right direction, and provides a reasonable time frame that parents don't feel like they have to take the entire day to attend."
I asked her more specifics about the organization of the swim meet, and here are some specifics she shared with me. Keep in mind, all workers at the swim meet were volunteers. Here are some of the areas she pointed out to me.
The

 

"Wranglers" keep the kids organized and are charged with keeping the kids in order of their races.
Equipment needed for the race (lane buoys, life-saving equipment, etc.) was organized and set in order to expedite the speed of each race and to provide for speedier safety responses if necessary.
The swim meet's schedule was made available to all the coaches and volunteers so they were all aware of the order.

As my "Swim Meet Coach" informed me, "We plan out every second of racing, including what child is swimming in each heat of every race.

This is where we can lose time, and losing time just dominoes the entire meet back."
Parents served as race timers who were trained on how to utilize the timer buttons, what are the requirements for touching the wall, and when it is ok for the child to begin his or her swim.

There were two timers for each lane, thus eight times in total.

The average of the two timers, for each race, was then recorded as the time of the swimmer.
Additionally, there was one backup timer with two timers in hand, who will quickly handoff one of the times to a time-keeper who has either made a mistake or has a stop-watch that malfunctions.

I only saw this quick replacement two or three times.
There was an abundance of volunteer parents who consistently walked around picking up trash, goggles, etc.

As she stressed to me, "A clean area will result in less accidents, the kids will lose less goggles, swimming caps, towels, and a cleaner pool area makes our meet look more professional.

This will in turn help parents want to come back and have their kids compete in swimming."
Finally, she concluded our conversation by saying that, "In the end, we want to ensure that the swim meet is moving forward.

Time is precious to parents on the weekends with their kids so the more organized we are and the smoother our schedule is executed, we keep both our children focused and busy and our parents more than happy to have their kids compete in such a great sport as swimming."
Wow, the lessons kept coming at me. She emphasized how important it was to have a pre-meet discussion with all volunteers to ensure that everyone knew what to expect and could ask questions about anything. She also added that the biggest thing for all volunteers, and parents, was to keep in mind that all that they were to do was all for the kids. No bad language, no mad responses, no arguing, etc. The swim meet was about supporting and encouraging the children. I witnessed not one angry, impatient or verbally hostile parent. 
Ok, you're probably beginning to see where I'm heading with this story. Think about it, if you can train five-year-old kids, and their parents, to make a community swim meet run without any hitches, I think we can rethink how we prepare for every project we take on…no matter how big or small the job. In short, I saw a lesson in "Lean Construction" play out for three hours before my very eyes. But the planning and scheduling before the swim meet is what gave such energy and efficiency to the execution of a successful athletic event.
Most construction companies hit planning and organizing of their projects very hard, as part of their goals to execute flawlessly, safely and profitably. Why? Because this is how they keep the "meet moving forward." Sure, I realize there are a lot of other issues we must contend with, but can we agree that some of the spirit of scheduling a kid's community swim meet might share some of the same principles for us in planning our projects, no matter if we are a GC, Sspecialty subcontractor, CM, supplier or manufacturer?
A couple of reminders that just may be worth remembering for your next project.
Our foremen are our company's "Wranglers," committed to keeping all the workers, equipment, materials, etc. in great organization and working order.
Lean Construction, and more specifically the tool called "5-S," instructs us to organize our trucks, yards and even our jobsites to sequence our materials, equipment, tools, etc. in a manner that we can access needed items safely and quickly.
Isn't the accuracy of the schedule critical to all who should have a copy of it, including the foremen, PM, superintendent, PC, etc.?

With more eyes aware of the schedule, seems like we might be able to prevent costly mistakes from being made.

 

Keeping our safety, yard/maintenance, HR, financial, IT, etc. professionals updated as needed keeps us all working together to arrive at that perfect result.
Keeping our managers, PMs, superintendents, foremen, etc. all in the loop allows us to have backup ready for the asking, maybe even faster.

Foremen, remember to contact your PM or superintendent every day to simply update them on the day's effort, including needs for the next day.


We all can help out with jobsite cleaning, but we all need to make sure that everyone is doing their best to keep the jobsites, our yards, and our offices clean and organized consistently.

I highly recommend revisiting the principles of the "5-S" process.

 

You can visit my website or App to receive more information.
And in the end, don't we all just want our jobs to go smoothly 

—

no unplanned costs that always seems to multiply, thus reducing our profitability from what we had estimated?
We really can learn a lot from other industries, including even a local community swim meet put on by all volunteers who simply have one objective in mind: provide the best time possible for children learning how to compete fairly, treating their next lane over rival with respect, and just enjoying the spirit of competition. 
Hey, next time you go to your kid's soccer game, or baseball game or basketball game, take notice how organized the event is. Can you learn from it? If so, share this with others. It might just be the angle to win someone's interest at becoming better at scheduling and organizing.
Think Lean!