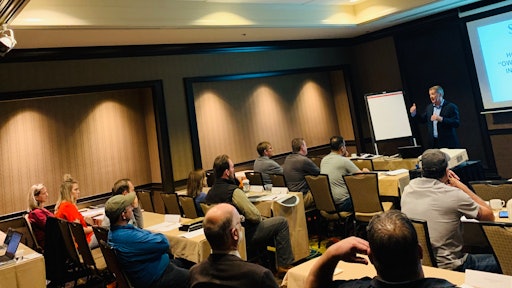 It's not an easy world out there right now for construction business owners looking to find success. Lack of skilled workers, changing regulations and stiff competition are all making it difficult for contractors to get ahead. This is why it's more important than ever to invest in growing your business through proper training and education. 
Construction business owners and top level executives who attended the first-annual Ignite Construction Summit in Las Vegas were given exclusive access to information to help them immediately get their business ready for growth in 2020. Seven industry-renowned speakers offered attendees insight into how to overcome their business challenges. Here's a look at some of the take-home information they learned:
1. Instill Ownership Thinking
It's no secret that most of your employees are focused on their paycheck at the end of the week above everything else, but Garrett Sullivan, president of Sullivan & Associates, Inc. wants you to help them think differently. Ownership thinking is a management system which transforms how employees think about the business. This mentality in the workplace creates a collaborative team environment where employees start to think about the "us" instead of just the "me" which helps to eliminate entitlement. 
In order to establish ownership thinking, you need to have the right people, with the right education to do the job, the right measurements for success and the right incentives to get there. 
"The right people will move your  business forward, then you add in financial and business education for all those employees," Sullivan says. "Next you identify and utilize critical leading indicators (measures) that will drive financial performance. Finally, design and implement and incentive program that benefits both the employee and the employer."
Sullivan says that by implementing these four pillars to create an environment of ownership thinking, your company can experience change very quickly. 
"You want to shape employees behavior towards driving financial performance," he says. "To do this, employees must understand that the plan is self-funding and it is their responsibility not only to fund the plan, but to improve the company's financial performance." 
2. Identify & Fix the Cracks in Your Business
What's broken in your business? We bet you can think of a few missed opportunities that have occurred over the last year that were created because of inefficiencies and poor business direction. Bart Gragg founder of Blue Collar University calls these instances "cracks" in the business that need to be addressed before growth can happen. 
"Your employees should feel comfortable enough that they can come to you with problems and the information to help you fix them," Gragg says. "You have to be willing to trust your people and they need to trust you to listen as well."
To fix these cracks,  businesses need to innovate and ask how they can make their processes better. However, Gragg says fewer than 10% of companies innovate successfully where these "innovations" ever are truly implemented to influence their results. 
"In order to truly change, you have to make decisions," Gragg says. "These don't always have to be complex decisions but what matters is the result of the decision you made and that your company moved forward."
3. Contractors Need Legal Protection 
Construction contractors face challenges every day but none have more impact than those with legal implications. Statistics show that companies who have over 100 employees can expect to receive an employment claim at least once every three years. Josh Ferguson, partner at Freeman, Mathis & Gary, offered Ignite attendees insight into construction litigation trends that they may be facing in 2020 and beyond. 
The highest number of claims in 2018 was for retaliation which states that a manager may not fire, demote, harass or otherwise "retaliate" against an individual for filing a complaint of discrimination, participating in a discrimination proceeding, or otherwise opposing discrimination. The same laws that prohibit discrimination based on race, color, sex, religion, national origin, age, disability and genetic information also prohibit retaliation against individuals who oppose unlawful discrimination or participate in an employment discrimination proceeding.
According to Ferguson, there are five main legal issues facing construction contractors and business owners should seek coverage for these claims:
Sexual Harassment: According to the Equal Employment Opportunity Commission (EEOC), there was a 50% increase in sexual harassment claims from 2017 to 2018 and that number is expected to continue upward. 
Marijuana: The landscape for employers who require drug testing is getting more complicated as states begin legalizing marijuana. To make sure you are compliant with your drug testing policy, check with local counsel in your area to determine if there are any state or city ordinances that may prohibit you from testing for marijuana usage. 
Website Accessibility: Did you know your website needs to be compliant for use by those who are visually impaired? While this is mostly applicable to retailers and those in the hospitality industry, it is still important to know that your website should be accessible to the visually impaired so you are not violating Title III of the Americans with Disabilities Act. 
Employee Application & Background Checks:  When making personnel decisions - including hiring, retention, promotion, and reassignment - employers sometimes want to consider the backgrounds of applicants and employees.  However, any time you use an applicant's or employee's background information to make an employment decision, regardless of how you got the information, you must comply with federal laws that protect applicants and employees from discrimination. New legislation also bans employers from asking applicants about their salary history. 
Cyber Data Breach Claims: Protecting the private information of your employees is critical and Ferguson says data breach clams will be the next litigation issue facing construction business owners.  A data breach is a security incident in which sensitive, protected or confidential data is copied, transmitted, viewed, stolen or used by an individual unauthorized to do so."  Data breaches may involve financial information such as credit card or bank details, personal health information (PHI), Personally identifiable information (PII), trade secrets of corporations or intellectual property. Most data breaches involve overexposed and vulnerable unstructured data – files, documents and sensitive information.
Look for a full breakdown of these trends in a future article featured on www.ForConstructionPros.com. 
4. Communication is Key
During their training, Navy SEALS undergo two full weeks of training communication before they even begin their physical training. That's because to be an effective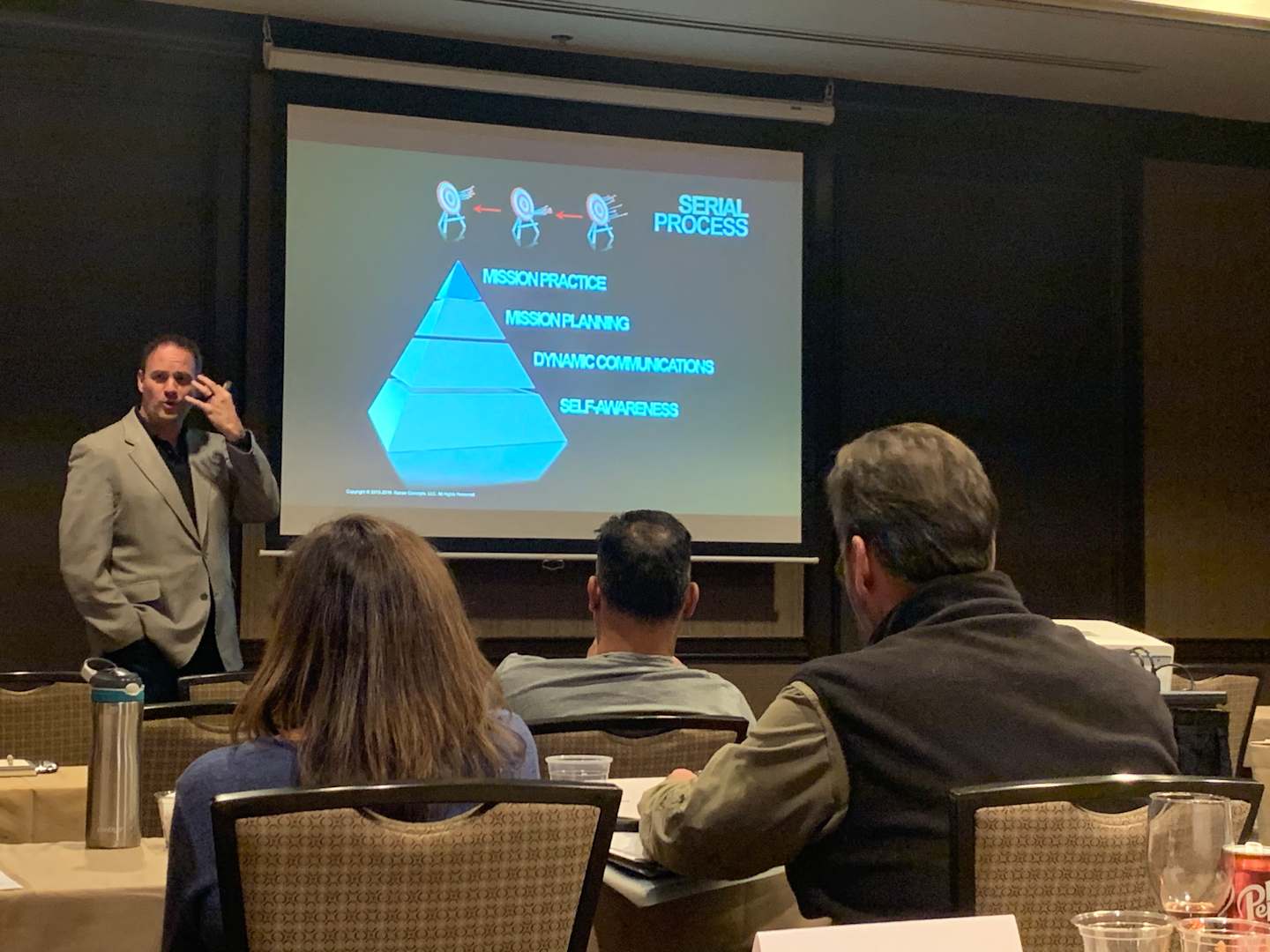 John Choate, SA-720™ Consulting and former Navy SEAL talked to attendees of Ignite about the importance of communication in their business.combat unit, each team member must be able to move, shoot and communicate seamlessly in chaotic environments. Communication being of the utmost importance.
So when former Navy SEAL John Choate told attendees at Ignite that they need to focus on communication to improve their business, they listened. 
Choate unveiled the four pillars of success for a SEAL team and how they can be applied to a construction business: 
1. Mission Practice
2. Mission Planning
3. Dynamic Communication
4. Self-Awareness
5. Develop Leaders Today to Build the Future
To build a leader in the construction industry, you need to start from day one. Brad Humphrey with Pinnacle Development Group says the first 90 days of employment are critical to the success of any future leader. 
"Without a clear vision for your new leader, you are either setting them up for failure or for one of the roughest rides that any leader can experience," Humphrey says. "Once you have identified what it is you really want out of this person in the leadership position, you need to strategically line out the exposure of this in what I call the 90-Day Plan."
Humphrey says the 90-Day Plan provides an opportunity to cast a vision for the new leader as well as explain the why behind their role. A good 90-Day Plan should: 
a. Clarify what is and is not expected in the role
b. Introduce the new leader to your company's processes, systems, tools, etc. 
c. Engage the leader to formal and organized learning
d. Advance the leader down the road faster than just letting them figure it out
e. Provide a bit of pressure to see how a new leader handles the learning curve while balancing their daily tasks
f. Allow the leader time to adjust and reset their focus int he new role while also allowing your company the opportunity to decide if this is the right person for the role
6. Make Marketing a Priority
Many business owners know that growing their business has to start from within, but that doesn't mean you should ignore bringing more business in. In fact, Dave Nelson with Dialogue Consulting, spoke to Ignite attendees about the importance of adding inbound marketing to their business plan. 
He presented 11 steps for developing an inbound marketing plan at your business: 
1. Identify Objectives & Conversion Steps: What goals do you have for your website and how do you measure success?
2. Conduct a Competitive Analysis: How does your competition measure up in terms of their website and social media presence? What are they doing that you like/hate?
3. Identify Your Target Audience: Who do you want to see your branding messaging?
4. Keywords: Find the phrases your identified audiences is going to use to search for your company and services. Incorporate those in to content on your website. 
5. Create a Value Proposition: Build a relationship and trust with your potential customers by listening and asking questions through your website and electronic communications. 
6. Platforms & Associated Budget: Where and how will you reach potential customers?
7. Owner(s): Who in your company will own this marketing plan?
8. Frequency & Engagement Metrics: How often will you post and how will you measure success based on post performance?
9. Content Plan & Sources: While marketing may be one aspect to grow you business, the content you share will drive the traffic. 
10. Promotions (Awareness) Initiatives: Promote your website or brand shamelessly. Use business cards, e-mail signatures, tradeshows, brochures and even guest bloggers who will share your content to get the word out. 
11. Measurement Plan: Your success can be measured by website visits, blog views, calls to a dedicated phone number and more. Figure out how your company will decide the success of your marketing efforts. 

7.  Put Profit First 
It's not a secret that making a profit is the end goal for a successful business, however most construction business owners approach profit the wrong way, according to contractor consultant Shawn Van Dyke, who anchored the Ignite Construction Summit with a 90-minute "how to" distillation of his "Profit First for Contractors" book. 
Van Dyke's mantra, repeated at the beginning, throughout and at the end of his session, is that "profit is not an event. It's a habit." He said his profit-first approach, which essentially customizes for the construction industry Mike Michalowicz's "Profit First" concept, is a cash management method that turns the traditional approach to profit on its head.
Van Dyke says that the traditional GAAP (Generally Accepted Accounting Principles) accounting method determines that profit is what's left over from sales after expenses have been paid. In the "profit first" method, however, profit is determined in advance, and whatever that percentage is determined to be is pulled from income twice a month and placed in a separate bank account. The same happens for taxes, cost of goods sold and operating expenses -- and a separate bank account is set up for each. Bills and taxes are paid from the appropriate accounts, but the profit account remains untouched. 
VanDyke said that while traditional accounting methods still apply, the "profit first" cash management approach to a business not only guarantees the level of profit a contractor wants, but gives the contractor greater control over profit in the future.
Details and a variety of free introductory materials are available at ProfitFirstContractor.com.
Continued education for the growth of your business is important. Plan to attend the Ignite Construction Summit in 2020 to learn the latest trends for construction business growth.