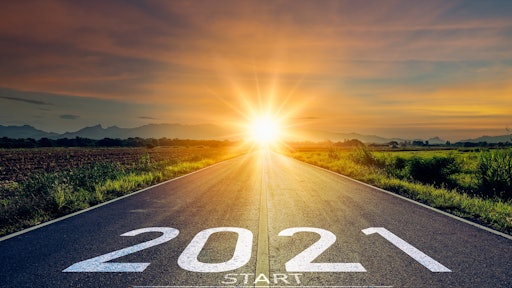 Adobe Stock/yingyaipumi
As I was writing this in mid-March, my head was spinning because of all the economic, stimulus, tax and construction industry data estimates and projections flying around. Quite frankly, it is tough figuring out where to start.
Since our core topic here primarily involves construction companies, equipment costs and returns, and rental options, it will be impossible to cover all three. Thus, let's cover what is happening in the construction industry and what options and opportunities you have to improve your 2021 operating results and cash flow.
Let's cover:
Activity in various construction markets
The rise in material costs
A lack of labor in many cases
Interest rate moves
Free money from the government
2021 goals
First of all, I would like you to head into a room with a mirror in it. Stand in front of it and pat yourself on the back and tell yourself what a great job you did in 2020 and will do in 2021. We always appreciate it when someone acknowledges output, and it should help you deal with all the risks you will face this year.
Opportunities and Challenges Ahead
Construction starts increased 4% from 2018 to 2019 and fell 9% in 2020. With a 4% increase expected for 2021, it still leaves starts below the 2019 level. They are not expected to return to 2019 levels for many construction segments — until 2022 and 2023.
Based on residential starts, it appears those of you working in the housing and multifamily sector have another good year in front of you. Just remember to watch those costs, because I believe they will continue to creep up and thus increase the cost of your product and service. It so happened that on March 17, the Feds reported new housing permits were down 11%, and rising material costs and supply chain issues were adding to the cost of new housing to the point where some potential buyers may hold off until things settle down.
Nonresidential construction segments currently on the rise include distribution centers, highways and bridges, environmental public works projects and healthcare businesses. Other commercial building segments face longer recovery times. Hotel starts remain below 2019 levels. Retail will climb back some after a 27% decline in 2020; likewise for office buildings. "Green" projects are part of the Biden administration's infrastructure plan, which may encourage renovation work to be more energy efficient.
I have been checking in with numerous contractors that normally rent aerial access equipment and their backlog for 2021 remains below what they want. They are bidding a lot of work, but the competition is tough and the bids very tight — if they are lucky enough to get one.
In other words, contract management is paramount since a minor miss can make the difference between profit or loss. Every hour of every day counts, and costs must be monitored frequently. Hey, you run the ship and just patted yourself on the back, so do not get sloppy and get behind the curve.
Construction material costs are up 5.4% and rising. Labor costs will depend on your market and availability of the workforce. It looks like interest rates are starting to move, increasing the cost to purchase equipment and fund work in process. Banks are nervous about the construction industry, so you need to keep your books clean and up to date, and be aware of bank covenants you need to meet to keep lenders happy.
Finding Your Workforce
For those of you who do have backlogs, your primary task right now is probably finding help to do the work. If they are good, pay whatever is needed to get them because there may not be anyone behind them waiting to work for you. Then find ways to keep them. Maybe this is a bonus pool based on the final project results. Maybe it's picking up the tab for dinner when someone performs beyond your expectations. If you think about this long enough, you will find ways to encourage good workers to stay around.
I also encourage you to read the January Gordon Report entitled "Job Shock: Solving the Pandemic & 2030 Employment Meltdown" by Edward Gordon; it may even save you $50,000 to $100,000. Gordon's passion is to cover the U.S. job markets, past, present and future. He believes we are not creating more high-pay, low-skilled jobs but rather creating more high-pay, high-skill jobs. Further, he states 50% of these new high-pay jobs do not require four-year degrees.
The article can help young people or industry-displaced folks focus on what to do going forward (perhaps even in construction). Read it and pass it on to those seeking new opportunities. It may save you some bucks. 
Tax Benefits of Pandemic Relief
I expect that a lot of you took advantage of the PPP loan money, both rounds 1 and 2. The program also opened a new option for small businesses and sole proprietors. These are loans subject to forgiveness if funds are spent as required by regulations, with the forgiveness being non-taxable. At least 60% must be spent for payroll.
Based on an article in the March 21 issue of the Journal of Accountancy, there are a ton of tax provisions related to the year-end coronavirus relief act, including deductions and credits with meaningful reduction in taxes or collections to use to cover payroll. I suggest you ask your CPA to review this document with you to find where your business activities fit in with these pandemic tax-related opportunities.
2021 will be tough no matter what. Stay on top of your business. If you need help doing that, find someone who can provide guidance. Your goal is to be able to walk up to the mirror this time next year and pat yourself on the back again.
Garry Bartecki is the managing member of GB Financial Services LLP and a consultant to the Independent Equipment Dealers Association. He can be reached at (708) 347-9109 or gbartecki@comcast.net.