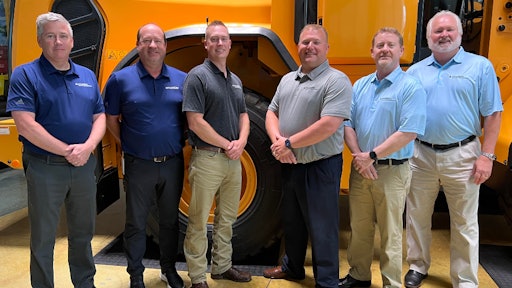 Hyundai Construction Equipment Americas
Hyundai Construction Equipment North America announced it has formed a team of sales and support professionals dedicated to compact equipment. This follows the launch of several compact machines at CONEXPO/CON-AGG earlier this year.
According to the company, Jeff Pate has been hired as vice president of Compact Equipment Sales, reporting to Mike Ross, senior vice president of HD Hyundai CE North America.
"Jeff is a proven, dynamic and passionate leader, with 20-plus years in dealer and channel development, market intelligence, and strategic planning, including more than 10 years' experience in the compact equipment sector," Ross said.
Reporting directly to Pate are four new team members, each of whom will be responsible for sales and dealer development in distinct regions covering the United States and Canada.
Dale McLemore, an industry veteran with 35 years' experience in compact equipment, is joining the company as senior dealer development and national accounts manager for compact equipment covering the southeastern region. Brian Slavinski brings 12 years of experience to his role as district manager for the Northeastern United States and Eastern Canada, including extensive knowledge of the equipment industry from both the retail and manufacturing side.
Darren Wallace, district manager for the Central region of the U.S. and Canada, also brings a wealth of knowledge to the team, with 20 years of industry experience in sales and dealer development. And finally, Mike Dahs joins the team as district manager for the Western region of the U.S. and Canada. Mike has spent the last two years on the OEM side of the business, following nine years of retail experience working for a successful multi-line construction equipment dealer.
"During the past two years, we have added many compact-only Hyundai equipment dealers to our expanding network and will continue to aggressively recruit new dealers to support the sales momentum and growth we are seeing in this area," Ross said. "We are excited about the creation of this new, dedicated compact equipment team and the support they will provide to Hyundai dealers and customers who are using our compact machines."