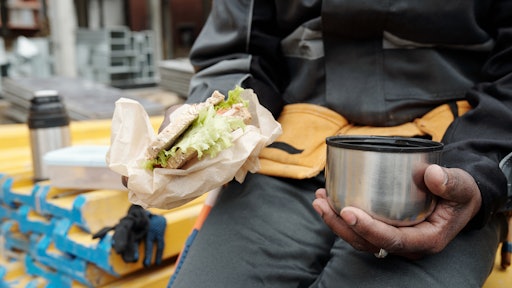 @pressmaster - adobe.stock.com
Construction workers are tough, powering through long shifts, and handling working conditions that can change day to day, site to site. From dealing with extreme weather such as this summer's record breaking heat to taking on longer work hours to compensate for a construction worker shortage, today's construction crews have a lot on their figurative plates.
Because they work so hard, and worker safety is always top of mind, ensuring construction crews have the resources they need to complete projects successfully and safely can benefit both workers and the whole organization. But there is one aspect of the work day that employers are overlooking: 87% of construction workers in a recent survey published by ezCater reported being hungry on the job.
In addition, respondents shared that not taking time to fuel up properly throughout their workday ends up decreasing their output and making them more susceptible to errors and overlooked details – over half (51%) said they worried that they or a coworker could make a mistake on the job as a result. In other words, when workers skip meals or try to get by on just coffee and energy drinks, it could negatively impact projects and company ROI. Luckily, the solution is a simple one: make food available at the jobsite.
ezCater's survey of construction professionals revealed what's actually deterring many from eating during their shifts and the impact food has on their performance. Construction employers can learn how to turn this challenge into an opportunity to fuel, motivate, and incentivize employees to do their best work.
Lack Of Options, Time, $$ Keep Eating on Back Burner
Unlike an office setting that might have a designated break room with a full refrigerator and microwave set-up, construction workers on jobsites tend to grab a bite when and where they can, if at all.
In our survey, construction workers shared the three main root causes preventing them from eating on the job: the price of food, limited options near their jobsites, and not enough break time to buy and eat food.
Let's dig into these findings a bit more. Regarding cost, 37% say it's too expensive for them to buy lunch near their jobsites – and food-away-from-home prices keep rising. Plus there may not always be adequate food options close to every jobsite, as 29% of workers said. Finally, many construction workers report getting less than 30 minutes for lunch, which explains why more than a third of respondents say there isn't ample time to both go get something and break to eat it.
Besides not consuming a healthy lunch, the majority of construction workers are skipping breakfast as well – 57% say they opt for just coffee or an energy drink to start their day at least three days per week.
When you put all the facts together, you have a workforce that's performing skilled labor for long hours, oftentimes while running on empty. Just imagine how much more efficient and energized construction crews could be after a real break, where they are actually sitting down and having a balanced meal?
Well-Fed Workers Get Job Done Faster
The research is clear that across all industries and job types, being hungry makes us less productive. In construction specifically, without lunch, workers in the survey share that they feel sleepy or have low energy (44%), are less focused (39%) and unmotivated (35%) on the job. When people are lacking energy and motivation, the quality and timeliness of their projects will suffer as well.
So what would happen if construction employers flipped the script and began offering their workers free meals on the job? 65% of workers say subsidized food would motivate them to work harder.
Add to that the fact that workers would be getting the calories and nutrients they need to stay alert and energized no matter what the day throws at them.
Feeding Workers a Meaningful Perk
With the industry in the midst of a construction worker shortage, employers need to do all they can to attract and retain top talent. While there are various benefits you can invest in as an employer, lunch can be a particularly impactful perk in a competitive hiring climate.
First, it's a good recruiting tool. In our survey, six out of 10 workers said they'd be more willing to take a job at a company that gives free lunch. Even better, it can help companies retain the workforce they already have, as 75% said they'd stay with an employer that provides free meals.
While free food is universally appealing, it's even more valuable for this particular workforce who has limited options and no access to an office kitchen. In fact, 90% of construction pros say that free food is their most appreciated work perk — making them 60% more likely than the average worker in America to say so.
Food for Work a Strategic Business Tool
In an industry with demanding work conditions, investing in food can have both an immediate and a long-term payoff. Properly fueling construction workers helps them feel valued and appreciated, while also improving their work quality. When productivity and standards go up, everyone wins. Plus, unlike some other benefits that may only appeal to a portion of workers, free food is inclusive of all.
For employers seeking ways to build loyalty and increase employee satisfaction, catering for the crew could be a cost-effective solution to try. Employers can make food easy for their crews with catering or make it fun with food trucks. Regardless of what they chose, one thing is clear: Workers who fuel up are more likely to stay focused and be more productive. And at the very least, employers can feel good knowing their crews will have access to a nutritious meal, no matter where they hang their hard hats.