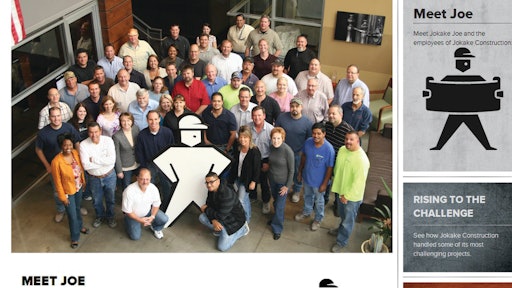 The word brand has multiple meanings. In business, it refers to an identity. Dictionary.com defines brand as "a particular product or a characteristic that serves to identify a particular product." In this case the product would be your construction business.
Everyone is familiar with business brands; we see them everyday. But as a construction contractor or business owner, have you stopped to think about your own brand? Do your customers and potential customers in your target market know your brand? Do you even have a brand? Is it time to redefine your brand?
One area construction contractors can focus their brand, or rebranding around, is the business name. That's the approach Gregg Rogers of Driveway Armor, Marlboro, N.J., took when creating his business brand. Rogers' goal was to identify his business, describe the service offered and convey the company's intentions. "In creating a brand the most important thing was coming up with a name for our business," Rogers says. "With Driveway Armor, customers know they're getting something strong, something protective, and it's going to protect their driveway from the effects of nature."
Centering a brand or rebrand around the business name is not the only approach construction companies can take. Jokake Construction, Phoenix, Ariz., recently went through a rebranding effort focusing on the company's corporate culture – specifically its employee owners.
Jokake has been in the construction industry for almost three decades, but instead of focusing its rebranding on its history or the company name, the construction company created "Joe," the company's new persona. "We're proud of our past and of our transition to employee ownership. But we felt it was time to begin to position our company for the future, and to develop a brand and identity that will help us continue to grow and expand our market share in the construction industry," said Roz Lipsey, President & CEO of Jokake Construction. One of Joe's biggest tasks in the rebranding effort is to represent Jokake's philosophy of "Think/Plan/Build."
"Joe is a symbol of who we are at Jokake," Lipsey said. "You'll find that he's hard-working, always on the jobsite and committed to going the extra mile. It's a fun way for us to demonstrate the core values we have and the approach we're committed to in providing an exceptional level of service for our clients."
Just like with any brand or rebranding effort, Jokake is incorporating Joe not only on its marketing materials, website and all its social media efforts but also on the company's vehicles and at its construction sites.
There are many ways to create a brand or rebrand a business, and the elements mentioned in this blog are only a part of the process of branding your business. When it comes to branding, remember to focus on creating a clear connection to your business and what sets you apart from your competition. Once you have your brand or rebranding focus make sure to promote it widely to your target markets. A strong brand could put your company first on a potential customer's list when they need your construction services.