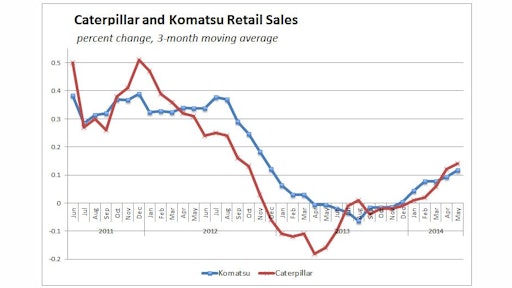 Financial results of most publicly traded companies associated with construction and mining equipment suggest that industry revenues were down 4% and profits were down 14.5% in the second quarter of 2014.
But there were major performance differences among three groups of equipment companies: manufacturers, distributors and rental companies:
Manufacturers reported second quarter 2014 revenues down 5.3% with profits down 15.6%
Distributors reported second quarter revenues up 6.8% but profits were down 1.6%
Rental companies are outperforming the other segments with second quarter revenues up 13.8% and profits up 16.4%
It appears that organizations closest to their customers perform better than others involved in the industry.
Consider manufacturers' individual results (tables above). Companies deeply involved in agriculture such as AGCO and Deere reported sliding revenues: -9.8% and – 8.9%, respectively. Their performance is not surprising given the fact that year-to-date U.S. sales of agricultural tractors 100 hp or more are down 8.7%, four-wheel drive agricultural tractor sales are down 11% and combine sales are down 15.2%.
The mining equipment sector has been particularly hard hit. Joy Global reported its second quarter revenues were down 31.7%. The drop in mining also affected Caterpillar. Cat managed to eek out a profit gain of 4.1% despite a revenue decline of 3.2%, which was largely caused by a 28.5% drop in the revenues of its resource industries segment that supplies equipment to the mining industry. AB Volvo also reported second quarter revenues were down 8.7%. The Volvo revenue figure is for all their operations including trucks and engines. The company's construction equipment segment reported a second quarter 2014 revenue decline of 7.4% that was largely due to a 29.7% decline in the company's Asia market region.
Equipment distributors fared somewhat better than the manufacturers, with revenues up 6.8%, but profits down 1.6%. Readers should note that with the exception of Titan, all of the distributors in our analysis are based in Canada because most U.S. distributors are not public companies, and data is not available. The Canadian companies are benefiting from a good economy, especially in the oil sands region in Alberta. It should also be noted that Finning, based in Vancouver, British Columbia, with Canadian operations in BC and Alberta, is the largest Caterpillar dealer in the world and has operations in the U.K. and Ireland as well as the southern cone of South America. Finning benefitted from the robust Canadian economy as well as renewed economic growth in the U.K. Gains in both regions have been tempered by declines in the company's South American region that is almost entirely mining related.
Equipment rental companies are, once again, the equipment industry's star performers with a second-quarter 2014 revenue gain of 13.8% and profit improvement of 16.4%. This group is benefitting from the industry trend toward renting more and owning less. The performance metrics of this group are extremely positive. We have kept Hertz in this table despite the fact the company has not yet reported its second quarter 2014 results and is in the process of restating its results for several past years. No word yet on when we can expect to see the Hertz restated results.
We believe that the 2014 market will yield considerable improvements. Growth will be back-loaded to the second half of the year.
I expect the mining sector bloodletting to slow in the second half of 2014 on the theory that it can't get much worse. Mineral commodity prices are still at levels that should encourage equipment investments. The U.S. coal industry is still under siege from the EPA that is issuing increasingly restrictive generating-plant regulations, making upgrading and investing in coal-fired plants very risky. 
The U.S. housing market is well on its way to exceed one million housing starts, a recent milestone for this important construction segment. Housing construction drives a great deal of other construction activities and will benefit equipment sales.
The extension of the Federal Highway Trust Fund will allow for continuation of projects underway and pending.
Non-residential construction is on track to grow between 10% and 15% this year, which means the second half of the year will be robust. Energy related projects such as fracking and wind farm construction will be strong for the balance of the year.
There is no better source for tracking retail sales of construction equipment than the manufacturers themselves. Both Caterpillar and Komatsu publish data that tracks retail activity. Caterpillar's is based on a survey of its dealers. The data is a three-month moving average of the percent change year-over-year for its regions. That means the data has been smoothed.
Komatsu publishes the monthly percent change in its retail sales for each of its regions. To compare the two companies' sales, we converted Komatsu's data into a three-month moving average to match Caterpillar's report.  Their sales trajectories are remarkably similar. Together they portray an encouraging trend of North American heavy-equipment retail sales. The percent change in retail sales of construction equipment turned up for both companies in August 2013 and they have continued on a mostly positive track since then.  
We believe we will continue to see an improving sales pattern for the balance of 2014 and probably well into 2015. We are sticking with our forecast from last year, when we predicted 2014 U.S. retail sales will be up between 5% and 10% compared with 2013.