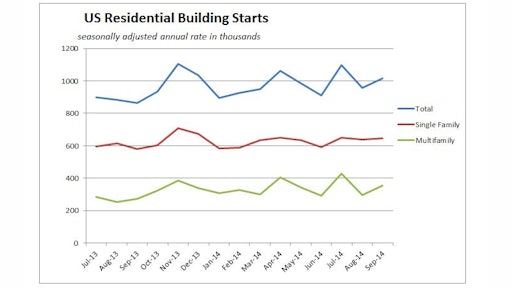 While the U.S. Census Bureau's monthly release of housing-starts numbers generates a lot of headlines, the more-significant way to consider these number is to look at trends over periods longer than 30 days.
It's an encouraging exercise.
September U.S. housing starts rose above the million-unit annual pace and set an average for the past six months just over 1 million units. The six-month average is more than 13% higher than the April-to-September average of 2013.
Single-family starts averaged a 635.5-unit seasonally adjusted annual rate during the second and third quarters of this year, 6% above the same period of 2013.
The National Association of Home Builders expects modest month-to-month increases to continue through 2014, generating overall 12% growth in 2014 starts.  But the association's economists note in their release on September starts that they expect single-family construction to accelerate "as employment rises and confidence in the housing market improves."