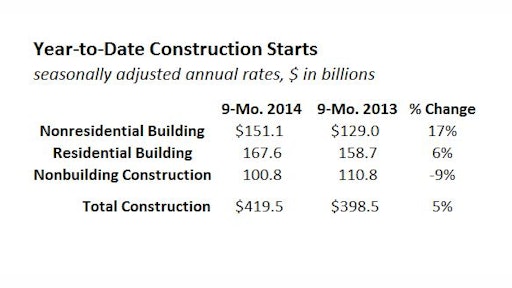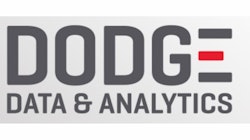 New construction starts in September advanced 10% to a seasonally adjusted annual rate of $604.1 billion, the highest level of construction activity so far in 2014, according to McGraw Hill Construction.
Nonresidential building registered a sharp gain, helped by an elevated pace for several institutional categories plus another brisk month for manufacturing plants. The nonbuilding construction sector (public works and electric utilities) also strengthened. Running counter in September was a decline for residential building. 
During the first nine months of 2014, total construction starts on an unadjusted basis were $419.5 billion, a 5% gain compared to last year.
The September data lifted McGraw Hill's Dodge Index to 128 (2000 = 100), up from August's revised 116, and slightly ahead of July's 126 (the previous 2014 high). 
"While the progress for construction starts has been uneven at times on a month-to-month basis, the quarterly averages show that an upward trend has been re-established," said Robert A. Murray, chief economist for McGraw Hill Construction.  "In this year's first quarter, construction starts fell back 10%, but then climbed 6% in the second quarter and another 6% in the third quarter. 
"A key factor in keeping the construction expansion going in 2014 has been the greater role now being played by nonresidential building," said Murray. "Commercial building has continued to see moderate growth from low levels, and the manufacturing building category is still showing a surge of chemical and energy-related plants. Institutional structure types are now beginning to contribute to the nonresidential building upturn. In contrast, both public works and electric utilities have generally lost momentum during 2014, notwithstanding their strong showing in September. And, residential building is now providing a much smaller lift than in the past two years, as the sluggish performance by single family housing has outweighed further gains by multifamily housing."
Nonresidential building in September increased 15% to a $228.5-billion annual rate, after pulling back in August. The institutional building group soared 33%, with substantial support coming from a 322% hike for the amusement and recreational category, which reflected the start of the $948 million Atlanta Falcons retractable-roof stadium in Atlanta, Ga.; and $717 million for the casino portion of the $925 million National Harbor MGM Casino Resort in Oxon Hill, Md.
Also climbing sharply in September was transportation terminal work, up 171%, led by the $240 million renovation of the 95th Street train and bus terminal in Chicago, Ill.; and a $144 million aircraft hangar in Wichita, Kan.
Educational facilities, the largest nonresidential building category by dollar volume, climbed 34% in September. Large projects that helped to lift the educational total included a $150 million research lab in Cambridge, Mass.; plus several sizeable high schools – two in Texas valued at $150 million and $100 million respectively, and a $130 million high school in the state of Washington. Through the first nine months of 2014, the educational facilities category increased 10% from a year ago, including a 16% gain for high schools.
The public buildings category (courthouses and detention facilities) in September grew 11%, but religious buildings fell 30%. The healthcare-facilities category in September plunged 44%, sliding back from a strong August, although the latest month did include the start of a $206 million hospital expansion in San Antonio, Texas.
Manufacturing construction in September surged 105%, continuing to show the highly volatile month-to-month behavior that's been present during 2014. Providing the upward push in September was the start of a $1.3 billion methanol plant in Louisiana and a $225 million tire manufacturing plant in Georgia. 
The commercial building group in September fell 15%, retreating from its heightened amount in August.  Store construction declined 22%, after being lifted in August by the $157 million retail portion of the $957 million Nordstrom Tower in New York, N.Y. 
Office construction dropped 23%, although September did include the start of such projects as a $700 million data center for Microsoft in West Des Moines, Iowa; a $250 million office tower in Chicago, Ill., a $105 million office tower in Houston, Texas; and a $100 million headquarters building for American Greetings in Westlake, Ohio. 
Hotel construction in September slipped a modest 1%, with some support coming from $140 million for the hotel portion of the National Harbor MGM Casino Resort in Oxon Hill, Md.
Warehouse construction was the one commercial structure type able to post a gain in September, rising 2% with the help of groundbreaking for a $90 million distribution center in Georgia.
Nonbuilding construction leaped 38% in September to an annual rate of $162.9 billion. The electric utility category, which has trended downward for the past year and a half, climbed 107% from its lackluster August pace. Two very large electric power-plant projects started in September – a $1.7 billion retrofit of a coal-fired power plant in Illinois and a $1.0 billion solar power facility in Nevada.
The public works project types as a whole advanced 26% in September. Miscellaneous public works increased 83%, reflecting the start of the $834 million Regional Connector Transit Corridor light rail project in Los Angeles, Calif.; a $204 million liquefied natural gas pipeline project in Tucson, Ariz.; and a $150 million gas main replacement project in Hackensack, N.J. Miscellaneous public works in September also included groundbreaking for the $672 million Atlanta Braves baseball stadium in Smyrna, Ga.  (In the Dodge classification of sports arenas and stadiums, projects with a roof are included in the amusement category while projects without a roof are included in the miscellaneous public works category.)
River/harbor development in September climbed 40%, lifted by a $117 million storm sewer project in New Orleans, La.; while sewer construction rose 31% with the boost coming from a $285 million waste water treatment plant in Baltimore, Md. Highways and bridges each climbed 8% in September, although both are still trending downward as shown by the following year-to-dates declines – highways, down 11%; and bridges, down 21%. Water supply construction was the one public works category to lose momentum in September, sliding 27%.
Residential building in September dropped 9% to a $212.7-billion annual rate. Multifamily housing fell 23%, retreating from the strong activity reported in August. September included groundbreaking for four multifamily projects, each valued in excess of $100 million: a $266-million condominium hotel in Hollywood, Calif.; the $230 million multifamily portion of a $370 million mixed-use project in Washington, D.C.; a $215 million condominium complex in Honolulu, Hawaii; and a $183 million condominium tower in Miami, Fla.
Through the first nine months of 2014, the top five metropolitan areas in terms of the dollar amount of new multifamily projects were:
New York, N.Y.
Washington, D.C.
Miami, Fla.
Los Angeles, Calif.
San Francisco, Calif.
Metropolitan areas ranked six through ten were:
Dallas-Ft. Worth, Texas
Boston, Mass.
Houston, Texas
Seattle, Wash.
Denver, Colo. 
Single family housing in September slipped 3%, marking the third straight month of modest erosion after a brief pickup in late spring, which in a broad sense maintains the flat pattern present throughout 2014. 
In September, weaker single family construction was reported in:
South Atlantic, down 6%
South Central, down 4%
West, down 3%
Single-family gains were reported in the Midwest and Northeast, up 2% and 4% respectively.  
"This year's stall for single family housing means that the lift provided to total construction is much less than what occurred during the prior two years, when single family housing advanced 29% in 2012 and 26% in 2013," Murray said. "The 20% down payment requirement, generally in effect since the end of the financial crisis, has made it difficult for lower and middle income households to get approved for a mortgage, and more attention is now being directed by federal officials at ways to expand access to home loans."
The 5% gain for total construction starts on an unadjusted basis during the first nine months of 2014 was the result of a varied pattern by major construction sector.  Nonresidential building climbed 17% year-to-date, due to this performance by segment – commercial building, up 13%; manufacturing building, up 112%; and institutional building, up 5%. 
Residential building grew 6% year-to-date, with single-family housing up only 1% while multifamily housing advanced 20%. 
Nonbuilding construction decreased 9% year-to-date, with public works down 8% and electric utilities down 13%. 
By geography, total construction starts in the first nine months of 2014 revealed these gains for the five major regions:
South Central, up 15%
South Atlantic, up 5%
Northeast, up 4%
Midwest, up 1%
West, up 1%