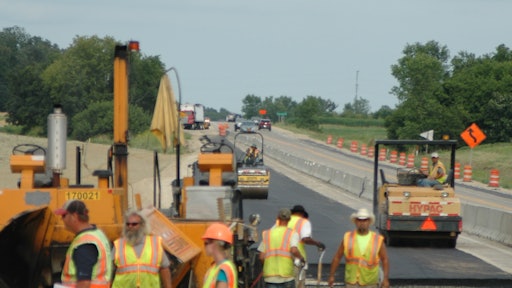 The dramatic ascension of Donald Trump from billionaire businessman and reality star to President-elect has raised a number of questions, and concerns, about his plans and policies and how they might affect private citizens and businesses across the country and around the globe. Yet, less uncertainty seems to surround his policy positions impacting various aspects of the construction industry. He has made clear his intention to heavily invest in infrastructure, with less heralded but still meaningful changes proposed to regulations and labor policies. The result has been a heightened sense of optimism among construction and related businesses; but is it a false sense of euphoria?
Dodge Data: President-Elect Donald Trump Likely to Be a Plus for the Construction Industry
Following is a breakdown of several construction-related items on his agenda and how they may actually fare once they shift from campaign promises to full-fledged legislative proposals. Bear in mind the positions indicated are evolving and may appear substantially different once they re-emerge as legislative proposals on Capitol Hill.
$1 Trillion Infrastructure Investment
During his campaign, Trump pledged $1 trillion in infrastructure spending over a 10-year period as a means to create "thousands of new jobs in construction, steel manufacturing, and other sectors to build the transportation, water, telecommunications and energy infrastructure needed to enable new economic development in the U.S." Trump further promised "a bold, visionary plan for a cost-effective system of roads, bridges, tunnels, airports, railroads, ports and waterways, and pipelines" in the image of President Eisenhower's interstate highway system.
Trump's team attempted to clarify the plan's funding strategy in a policy statement issued in late October. In essence, the plan would couple the continued low cost of borrowing with $137 billion in tax credits in order to entice private investors to place an equity stake in revenue-generating infrastructure projects. The tax credits would, in turn, be repaid through tax revenue generated by the projects, related employment and wage growth and increased contractor profits, and be supplemented by user fees such as tolls, the federal gas tax and other revenue sources. The policy statement assured the program would be "revenue neutral" – meaning revenue gains would offset the cost, making it "free" for the U.S. government and, by default, U.S. taxpayers. The statement did not address funding for those infrastructure projects that would offer investors limited or no revenue potential.
Post-election, a new infrastructure statement appeared on Trump's transition team website. Rather than $1 trillion over 10 years, the new statement indicated a $550 billion investment, presumably covering a more modest five-year period, and with no mention of how it will be funded. (Note: The revised statement also refers only to transportation infrastructure.) More recently, Trump insiders indicated that the President-elect is weighing a combination of taxes, bonds, regulatory changes and a national infrastructure bank as finance mechanisms. Whether the tax credits and private equity investment remain a part of his plan is unclear.
No matter which plan is eventually brought forth before Congress, it is likely to face an uphill battle, despite the current excitement displayed on both Wall Street and Capitol Hill. Though a number of legislators in the Republican-controlled Congress seem almost giddy for increased infrastructure spending, fiscal hawks in both parties continue to rule the day. They successfully stymied President Obama's efforts to increase infrastructure spending during his terms in office, and several of the proposed funding mechanisms coming out of the Trump team – including the infrastructure bank – were floated during the legislative debate over the current highway bill without any consensus on adoption.
GOP braces for Trump's $1T infrastructure push
Time will tell if the dynamic in the House and Senate has sufficiently changed to clear a path for added investment, particularly following so closely on the heels of a protracted fight to enact the five-year highway bill just last year. Several members of Congress are already tempering their initial enthusiasm with the caveat that a clear and sustainable revenue source must first be identified to offset the cost – a feat some are already labeling a "herculean task."
Trump's plan to rebuild America will be a lot harder to pay for than it sounds
Trump's Wall and Immigration Policy
One of Trump's more controversial construction-related proposals is the building of a 1,954-mile-long wall between the U.S.-Mexico border to deter illegal immigration. Though a winning proposition among many of his constituents, it will almost assuredly prove the most difficult, and perhaps most unlikely, of his proposals to move forward.
According to industry estimates, the wall as originally proposed would take roughly $25 billion and 16 years to build. There has been little thirst expressed by legislators (and even within the construction industry) for pursuing the project given its massive cost, huge consumption of resources – including an estimated 339 million cu. ft. of concrete – and the logistical nightmare of building across such challenging terrain. The American Institute of Architects also expressed concerns about the "ethical challenges" of participation in the design and construction of such a project.
As the campaign cycle waned, even Trump seemed to recognize the unlikelihood that his concrete wall could be built across the full length of the border, tempering his rhetoric to incorporate a "virtual wall" consisting of tougher legislative policy and beefed up law enforcement efforts. While the wall remains the top item on the immigration section of the transition team website, Trump continues to adjust his stance as to its structure, most recently indicating there will likely be "some fencing" involved.
Immigration policy reform appears much more probable to move forward in some shape, though Trump's proposals have some in the construction industry on edge. Based on one estimate, up to 20% of construction workers in the U.S. are undocumented. Already faced with a tight labor market and high wages, contractors may find themselves in dire straits if Trump maintains his stated intention to actively seek out and deport undocumented immigrants. Removing these individuals from the workforce could substantially increase industry wages as contractors vie for labor amid an industry unemployment rate of just 2%.
While the argument is that stricter immigration policies will generate new jobs and higher wages for U.S. citizens, construction firms are already struggling to fill current positions. And according to the Associated General Contractors of America (AGC), average hourly wages rose 3.2% from October 2015 to October 2016 – already 10% more than the average across other industries.  
Will Trump's Immigration Plans Make the Labor Shortage Worse?
Consequently, the AGC and other industry organizations have tended to support alternative programs that expand visa availability and provide an easier path to citizenship over Trump's proposed pre-election strategy. Trump has since softened his immigration stance slightly, indicating his administration will "make a determination" as to the fate of the millions of undocumented immigrants currently living and working in the U.S.
Regulatory Reform
As you might expect, Trump has taken a pro-employer stance when it comes to regulatory reform, a position that has been embraced by many business owners. His administration seems to have its sights set on the Occupational Health & Safety Administration (OSHA), indicating potential changes in size and focus, and the potential repeal of some or all of its recent rules on increased penalties and electronic reporting requirements. Several construction industry organizations, including the AGC, are also seeking action to curtail new limits on workers' exposure to silica dust.
While it's difficult to predict the President-elect's moves when it comes to labor relations, there are those who expect Trump to use executive orders to quickly stem certain actions affecting employer property rights, unionization and employment status. A likely target is the so-called "blacklisting" rule requiring contractors to verify compliance with workplace-related statutes to qualify for federal work. Another possible target is the reversal or suspension of the "overtime rule" for white-collar workers scheduled to take effect December 1.
Of course, Trump continues to emphasize his intentions to tackle the Affordable Care Act (Obamacare) early and head on. Yet, whether this means full repeal as indicated during his campaign or significant reforms is now uncertain following recent comments. In either case, he can expect to face a lengthy and difficult battle, as Democrats in Congress are almost certain to place major obstacles in his way.
Top 10 Workplace Law Developments To Expect from the Trump Presidency
After Trump's Win, Construction Gears Up for Policy Shifts
There's Change Afoot
Clearly, "change" is the watch word when it comes to a Trump administration, as demonstrated throughout his campaign and in the days following the election. But in terms of moving his campaign agenda forward, change almost certainly won't come easy and it won't come quick. Many of his proposals will prove much more complex in their development than his vague policy statements have made them appear, and they could take months to fully flesh out. Getting them enacted will prove yet another massive, likely time-consuming undertaking given the current make-up of Congress - and it's highly questionable that any legislation will reach his desk fully intact.
The extensive waiting game involved and political wrangling required should prove quite an awakening for this political newbie who, as the head of a business empire, has surely been used to calling the shots and having most things happen quickly and get done his way.