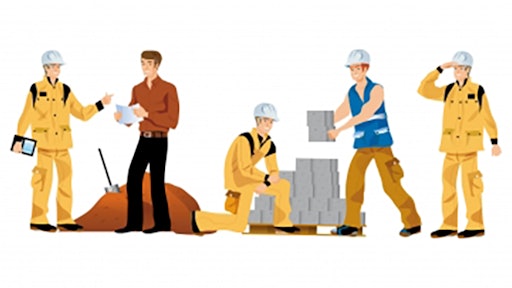 Joe's concrete crew only needed three more days to be able to complete their efforts, remove the forms and pull off the job. The landscaping contractor, however, soon informed him that he needed to get the sprinkler lines in and plant shrubs and flowers in the next few days so he could beat an "early summer" and get paid for the work.
Normally, this wouldn't have been a big deal for Joe, but what made this situation different was that the landscaper clearly mentioned that he was good friends with the owner and that if Joe didn't withhold his crew from their concrete effort, allowing the sprinkler lines, shrubs and flowers to be installed, that he would go to his "friend" and let the owner make the decision. The tone of voice used confirmed that this was a mild but clear threat.
Not wanting to put this decision in the hands of the owner, Joe needed to take the appropriate action or risk upsetting the owner, a first-time customer to Joe's company. (Not to mention that he didn't like being "bullied" into a decision!) More importantly, Joe needed to get his guys off this job in order to start a new job or risk upsetting the next client. What to do?
We'll get back to Joe and see what action he took in trying to resolve this scheduling conflict that has just been elevated to a more emotional challenge. However, most contractors have experienced the issue of coordinating with other contractors or customers. When coordination fails to happen a few of the following situations are sure to take place:
Workers often stand around unproductively, waiting for the crew leaders to work something out
What work was scheduled must now be adjusted since the "other" contractor got started earlier
A crew can show up to the jobsite unannounced, forcing the owner to go to great expense (and anger) to enable the contractor to work
A crew brings the wrong equipment or workers needed for the type of work to be accomplished
There's a waste of talent when a crew must work on "secondary" tasks that a less-experienced crew could have addressed
How many contractors struggle with other contractors when it comes to coordination? Whether it's the striper needing to coordinate with the sealcoat contractor, the concrete contractor with the plumber, the electrician with the "rock guy," or even just coordination with a customer about making sure that all employee's cars are off the parking lot, coordination efforts are more needed than ever.
Well, let's briefly look at a few simple rules of coordination that can assist your effort to be well prepared, well organized and prepare your crews to be efficient and profitable.
Coordination "Rules of Order"
Begin with your project plan — Whether your project is one day or one month long, it's a good idea to document your approach. If you do not have a documented plan when you or your crews show up to the jobsite it will be hard to not cave in when another contractor or the customer presses a change in your intentions.
Always call the customer in advance — While most customers are conscientious about updating contractors if they have some need that might interfere with the contractor's plans, it's still a good idea to touch base before you show up on the job. Unforeseen surprises happen to customers, too, so be safe and call ahead to confirm what you are planning to accomplish.
Identify the other contractors on project — Unless you are the lone contractor, it's always a good idea to secure the names and contact information of the other contractors. In some cases you may know the other contractors and their reputation for coordination. And if you do not know the other contractors it is a good idea to introduce yourself to them to ensure that you get an early "read" on what sort of company they represent.
Share your job schedule with other contractors — It is often helpful to share what you've planned on doing, when you plan on doing it and where you will be doing it with your fellow contractors who are also on the job. Many of the other contractors may not have their plan documented so it's a chance to raise the bar of your professionalism — not to mention getting a more agreeable appreciation from the customer. It's a bonus if the other contractors also have a documented schedule as this can make the exchange of priorities, needs and expectations easier to discuss and negotiate.
Seek morning and afternoon "huddles" with other contractors — I've written often about the need to conduct crew huddles with your own people. There is just as great a need to meet with your fellow contractors early in the day to make sure that we're all assisting each other to be as productive as possible. Likewise, the late afternoon huddle with other contractors can help you "stage" your next day, making any adjustments needed today to make tomorrow easier.
When conflict arises be sure to present "interests" over "position" — I'm stealing a tip from good negotiation skills. When you find yourself struggling with another contractor about coordinating a "win-win" solution, begin early by sharing your "interests" with the other contractor. Interests here refer more to your needs and expectations and works to seek understanding of the same from other contractors (or the customer). More agreement will be achieved doing this than presenting your "position" too early. Position here tends to send a message that "This is the only thing I will do, and you can take it or leave it." Such positioning tends to raise the negative emotions and often leads to playing "one ups man-ship" or worse, sabotage or game playing.
If coordination effort fails, then escalate decision to customer — I want to emphasize that, if at all possible, this is a last resort. Taking unresolved coordination efforts straight to the customer is sort of like "running to mommy" in the customer's eyes. Also, working a bit harder with other contractors can actually gain you some respect and loyalty with other contractors who are worth their salt professionally. But, if needed, kick the final coordination decision up to the customer — but realize that the decision may not go your way. Also, if you do bring the coordination challenge to your customer be sure to share your "interests" in a calm and methodical manner, and be sure to bring along your schedule that you've been working from all project long. This can often impress the customer, persuading him to throw his weight behind your need in light of the other contractor not having a schedule.
Go to other contractors early and often when work is picking up speed — Do not allow yourself to feel that you are being a "worrywort" when it comes to your coordinating efforts. When work speed begins to increase and critical constructability efforts must be accomplished you want to give your crew a better-than-even fighting chance to get things done right the first time. Rechecking with other contractors on important start/stop times, where materials will be delivered, what finish points are to be sought, etc., will all come back to help you. And don't think your effort here will not be a help to the other contractors; it will be.
Seek out coordination BEFORE crews begin work — This isn't always possible, but certainly any coordination that can be done before labor and equipment is in full swing is just better for all parties involved. Even calling the other contractor in the evening may be helpful if it prevents both companies from heading out in the morning only to face a difficult adjustment later. This is sort of like the old saying, "There's only one thing worse than bad news and that's bad news late." Same principle at work here.
As a professional contractor take the initiative to reach out and coordinate with other contractors…even if they do not. You will not always "win," but you will find greater long-term success as you, too, become more experienced in asking, persuading, coaxing and negotiating important changes in work efforts.
Let's revisit our concrete contractor and landscaper scenario shared earlier. Here's what happened.
Joe did suggest to the landscape contractor that it might be more impressive to the owner if the two contractors could coordinate a "win-win" resolution. Joe offered to begin his final pour some three to four hours earlier and to work overtime over the next two days to get out a bit earlier. He also threw a "bone" to the landscaper that if he would pick up a few hours of labor, Joe would lend three of his crewmembers to the landscaper to help dig, plant and mulch. Surprisingly, the landscaper offered to trade out a few laborers by providing Joe with a few of his own workers to help shovel, pick up and pull off some of the forms. It wasn't the greatest coordination effort ever developed, but it did allow Joe to finish his efforts and get to that next job which was very important to Joe's company success.
Coordinating work schedules, jobsite areas and even use of equipment are a normal everyday need for many contractors. Becoming more skilled as an effective coordinator primarily requires you to know what you want and need, seek what other contractors (or owners) may need, and learn what the big picture appears to require.
Remember to stay calm, have a documented work plan available and stress working on "interests" as you move to find positive coordinating results.