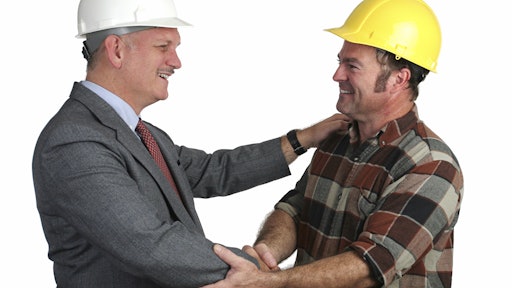 In an interview with Colby Humphrey, the director of the Center for Competitive Intelligence & Development, we discussed what the more progressive contractors are doing to attract, develop and sustain effective employees. First, we'll pick up my interview with Colby and then I'll provide some practical insights, perhaps some alternative efforts that many contractors will find helpful.
Brad – In our first article, Colby, we addressed what some of the more progressive contractors, especially some of the larger and progressive general contractors, are doing to attract more workers to construction. Can you briefly share again the five primary trends that you have found in your studies?
Colby – Yes! We found several efforts built around several primary areas, including:
Techniques progressive general contractors are attracting quality workers
What trends appear to be impacting employee training
How critical the workplace or corporate culture is to attracting quality workers — and why improving this culture is so important
Looking at developing more positive and proactive employee treatment efforts with a changing and more diverse employee
And, the contractor's effort at succession plans and creating opportunities for better workers to stay longer
Brad – Let's expand on the second and third areas from your list, beginning with those trends that are impacting training of employees.
Colby – Employee training does appear to be increasing internally, or by contracting through third-party providers. These providers include community college courses and trade association programs that can be brought within the company and business consultants who might tailor training topics to the company. There are a few examples of trade association programs often accessed by general contractors, including:
 Associated General Contractors (AGC) Professional Development programs
Certified Construction Manager (CCM) through the CMAA (An estimated 2,200 construction managers have this certification nationwide, making this a differentiator)
Regional union and non-union apprenticeship programs (This effort might be more or less possible based on the state.)
 Additionally, there appear to be a number of key trends that progressive contractors are pursuing:
Programs in place to improve performance in specific areas of need
Scholarship opportunities for workers seeking to pursue additional certificates or degrees
Mentoring programs for newer employees
Maintaining a segment of every annual budget directed solely towards employee training and employee development
Not only providing training opportunities, but tracking the ROI on these initiatives for each employee, with personal development plans in place to assist in this area
What I know about your company, Pinnacle Development Group, you have provided some of the training for many contractors via similar methods and processes.
Brad – Yes we have. Again, let me break out a few thoughts for our readers who might not have the "luxury" of a larger budget carved out for training. I've said it before and will continue to repeat it until I read it on more signs and walls in the offices of contractors whom I work with:
"If you think education is expensive, try ignorance."
There is simply no excuse any longer for not training. Contractors simply cannot maintain longevity of their business without providing consistent training opportunities for their employees.
Let me strongly recommend a few "human development" efforts that contractors of just about any size can and should do, at the minimum. The contractor always can expand and increase the complexity and number of training opportunities.
Human development efforts worth executing:
Mentor: The oldest and still most cost-effective human development process if effectively implemented.
Assign internal coaches for promising laborers, field and office leaders, and growing managers. Engaging other internal workers and leaders to coach allows the coach to grow in his leadership and communication skills and the "player" to benefit by learning from someone who knows the company's preferences, culture, expectations, etc.
Send laborers and foremen to industry conventions and local workshops; assist with financial support for managers interested in attending college or graduate school.
Conduct internal training workshops taught by company workers and leaders who have a specialty of knowledge that they can share with others.
Contract with an industry-wise consulting firm to "tailor" training curriculum for internal leaders to present or for the consulting firm to present.
Engage "book club"-based learning where a group of workers reads a book specifically selected for their group. There are a host of easy-to-read books on many good topics that allow a group of workers to read a chapter a month, discuss that chapter with a facilitator and discuss how any learned topic might be applied in their company.
Seek out other companies from other industries that your workers might be able to visit to witness a particular skill at use in a different work environment. This can be a great learning experienced when employees can observe others performing something similar to what they do in their own job.
Take video of crews from other companies (even competitors) to then show to your workers, allowing them to critique the efforts of others while learning good things to do and bad things to eliminate from their own efforts. This can't always be done, but if you have workers outside, this can be a great teaching and learning tool.
Most, if not all, of these efforts can be executed by any size contractor. And, many of the items listed are actually very affordable for the smallest of contractors.
Now, back to our interview.
Brad – Now let's turn our attention to something that, quite honestly, few small to mid-size contractors pay any attention to and the larger contractor could afford more time developing: their work culture. Tell us how critical this third primary area is to what you have studied.
Colby – It's huge in a lot of ways! If the work culture is down on promoting people, whether that means not promoting people in their jobs or not promoting the work experience through positive incentives and appreciation, most everything else a contractor can do is just a waste of time.
Brad – Ok, expand on this for our readers.
Colby – One of the key things that many progressive general contractors are doing as far as workforce environment is concerned is making significant strides to develop their ethics statement into the culture of their companies. For instance, they not only have an ethics statement but also have an ethical compliance program in place that employees go through on an annual basis.
It appears that the more progressive contractors have, to use one of your favorite statements, "connected the dots" when it comes to finally realizing the importance of how the culture — the work culture — supports the employee of today. I know this isn't always easy for a contractor to do, especially one that might have been in business for 40, 50 or 60-plus years, but it's one effort a contractor must address if he is to keep more workers around longer.
Brad – Well, I agree with your comments 100%, and I think most contractors would agree also. However, do you have any suggestions for what more contractors might do? I'll let you give us some learning lessons from the more progressive contractors before we close out this article.
Colby – Sure, I'd be happy to. Here's a short list of some efforts used by the progressive contractor interested in providing a first class, quality focused, work culture that attracts workers and encourages them to stay longer.
 Train every leader how to be more effective in his or her listening skills. This is perhaps the #1 skill that employees today feel their leaders could do a better job of executing.
Also for leaders, train them to be more consistent in their follow-up and follow-through efforts with their workers. Study after study indicates that leaders who assign tasks are respected and given more credibility by their workers when they follow-up to check up on progress made and follow-through on efforts the workers might not be able to complete.
Conduct more open forums with more employees throughout the year. This doesn't have to be daily or even weekly but certainly monthly or quarterly.
Make sure your leaders practice an "open door" policy with their workers. If any employee feels inhibited to visit with the leader about his work, challenges, needs, etc., then the culture is not viewed as open and friendly.
Celebrate the department, project and company successes. Such celebratory efforts reinforce with most workers that it can be fun to work for that contractor. Celebrations can include everything from ringing a cowbell when a project has been won, "pizza for everyone" when a project hits profitability, safety and quality goals, etc. It's not so much what a contractor does that is critical but that they do something that is fun and enjoyable.
An obvious effort should be made to revisit and discuss the company's commitment to its own values, ethics statements or vision. This might sound a bit odd at first but this exercise really does keep everyone, including the owners and senior leaders, consciously aware of the culture they are trying to create, lead and sustain. It just all trickles down.
Brad – Wow, pretty "black and white" sort of efforts appear to be in play here. Any final thoughts or words of wisdom for our readers before we move to the final efforts?
Colby – Only that the work culture of the contractor's business is a bigger deal to the workers today than perhaps the workers of the past. This isn't a right or wrong thing but it is a "thing" that needs to be addressed. Simply put, if any contractor, no matter his size, wishes to keep the best workers the longest amount of time then they had better consider and address the sort of culture the workers are experiencing. It appears that many of the newer workers to construction will just pack up and move on if their work culture is not progressive, positive and supportive.
Good advice to finish out this section. We'll finish out the fourth and fifth trends in our next article.
Build your culture!
You can reach Colby Humphrey, director of the Pinnacle Center for Construction Innovation & Development, via e-mail at colby@pinnacleccid.com or via the website at www.pinnacleccid.com; follow CCID on twitter @pinnacleCCID.
*This article was originally published in 2016 and republished in 2019.