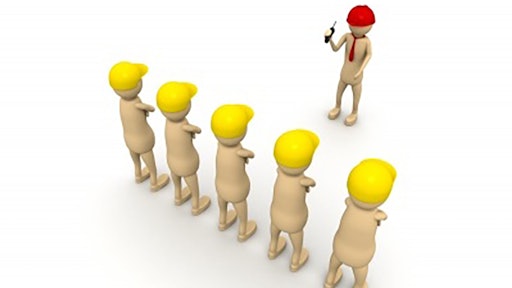 freedigitalphotos.net
"Down the stretch!" It's symbolic of the last portion of a race requiring everything left in the individual or team, every ounce of strength and focus, to finish strong. Whether it's a horse race, the bottom of the 15th inning of a baseball game, or the last few weeks and months of a construction season, the desire to "give it all up" is needed to achieve success and even greatness.
As we begin our final "down the stretch" of the construction season, we too need to prepare our minds — and the minds of our workers — to be strong, take a big breath, and stay focused to the end. History teaches most contractors that the final stretch can be either the most profitable time of the year — or the costliest.
To help re-energize your leadership and workers down the stretch, consider a few little "pump up" efforts to exercise at your company.
1. Be more visible
This is easy for the smaller contractor who may actually lead his crew personally, but any contractor can extract just a little more energy, focus and job quality when he shows up more often to the jobsites.
2. Be more positive
Look, crazy things happen when people are weary. When engaging your workers on the jobsite or back at the shop or yard, ask them about their families, their health, etc. Thank them for their efforts, encourage them when they've just finished another long day or worked through a weekend.
3. Be more giving
Sure, you can sprinkle around a few $50 or $100 dollar bills but give more. Down the stretch buy lunches, have donuts at the shop more often, hand out some restaurant coupons or gas cards.
4. Be more prepared and plan more regularly
As the mind goes so goes the heart, mind and actions. You need to increase the amount of effort placed on preparing and planning for successful job completions. The tendency for many field leaders and workers is just to get to the job quickly so we can get done. Track your call backs, rework, and the number of "hot truck runs" you're making to make sure the guys have what they need and what they forgot to load.
5. Be quick to follow-up
If you're not doing it already, increase the number of times you follow-up with your leaders, suppliers, etc. to make sure that what was planned for, what was ordered and what is supposed to be executed is in fact happening.
No more, "I assumed you were going to do" this or that. Following up on questions, requests and "I thought you were going to do it," will reduce the number of mistakes and ultimately save you a lot of money.
6. Be helpful
OK, late in the season is not the time you can afford an equipment breakdown. You might consider bringing in part-time or contractor mechanics to work at night oiling, greasing and tightening up all that needs to be maintained. Even tired and weary workers, realizing all that needs to be completed, will appreciate equipment that is dependable. And they'll especially appreciate that they aren't the ones doing the equipment checks and maintenance after a long day in the field.
7. Be upbeat…have some fun
Come on, we work in the greatest industry in the world. Nothing better than working outside, producing visible results and making money. Enjoy the final stretch and allow your workers to enjoy it as well. Get to the shop early in the morning and spend some time visiting and joking around with your troops. Let them know how much you appreciate them and their effort.
8. Be hospitable
Don't be shy about having a few dinners provided for your workers and their wives or significant others. Come on, spending a few hundred dollars at a restaurant or sports establishment is well received and appreciated by your workers. Always plan to have that end-of-the-year event at a favorite restaurant in the area.
The end of any season is mixed with emotions. Some workers just want to get done and some want the season (and paychecks) to continue. Even if your season is truly 12 months, most crews do tend to get a little tired late in the year. Read your workers and know them well enough to plan some fun things for them near the end of the year or season.
Down the stretch is just as critical for you, the owner or senior leader. Get your rest, plan your strategies to keep your troops up and motivated so they can give you their best!
Take a big breath, put your head down and reach out there just little bit more as you finish strong down the stretch.
Here's to finishing strong!
Brad is President of Pinnacle Development Group, consulting firm that specializes in the construction industry. Join more of Brad's advice for contractors by reading The Contractor's Best Friend, also an AC Business Media service to the construction industry. For more information about Brad's company, go to www.pinnacledg.com.
*This article was originally published in 2015 and republished in 2019.