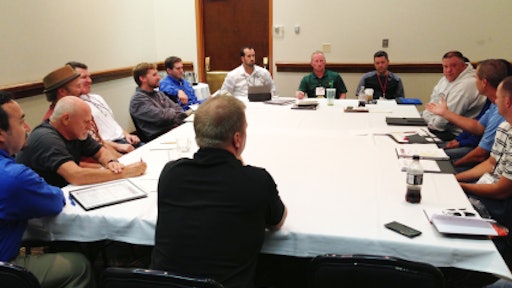 Many entrepreneurs and business owners believe that the secret to success should stay hidden. They believe that their specific ways of operating are key to their achievements, and sharing those secrets would only aid competition and slash their profits. Meanwhile, members of the American Society of Concrete Contractors (ASCC)—a non-profit organization dedicated to enhancing the capabilities of concrete contractors—embrace opportunities to share with one another. Members exchange advice and learn from each other through resources such as the ASCC Email Forum, MIX Groups, Event Roundtables, the Hotline, Troubleshooting Newsletters, and a contractor Mentor Program.
The ASCC Email Forum is a way for members to gain invaluable advice from peers on everything from curling to sealers to time sheets. Through this forum, contractors submit and answer business and technical questions via email. It is known to be a useful and popular tool—there have been over 700 discussions since it was created in 2009 with topics such as accounting software, architectural concrete walls, cold weather concrete methods, stamped stained surfaces, etc.
Chuck Vitale, Vee-Jay Cement Contracting Co., St. Louis, Mo., uses the Forum often and finds it beneficial for his company. "You basically have the opportunity to reach out to people across the country in all different fields of concrete, and get their opinions and views on problems or questions when local resources can't provide adequate information," he explains.
The Email Forum is viewed by concrete contractors and suppliers who either know the answers to problems or know how to find them. Rick Stone, Madison Concrete, Malvern, Pa., finds this aspect valuable, "You may not know the answer, but there's somebody out there who does or knows somebody who does. That can be a big help because it saves me from stumbling around in the dark trying to figure it out on my own."
The Forum significantly helped him on one particular occasion. "We recently built some columns that were pretty tall. The owner was renting space across the street that had a great view of the jobsite from above and kept saying, 'I think those columns are leaning.' Our client, the construction manager, said, 'No they're not.' The owner then had the columns measured, and sure enough they were leaning and twisted a bit. The architect and engineer determined that the columns were outside of American Concrete Institute's standard for tolerances; however, that standard leaves a lot of interpretation possible."
"I put the issue on the Forum and at least five people who really know a lot about tolerances responded with some great insight. If I hadn't had that resource, I would have had what I thought was a response to their determination, or at least a way to present it to the owner. With the comments they provided, it made me feel a lot more certain about what I was saying," recalls Stone.
The Email Forum is the perfect resource for exchanging information especially because members can fully trust the responses they get. These contributors have no hidden agendas, their feedback is purely to help fellow members.
The Management Information eXchange (MIX) Group program is a way for owners and managers of concrete construction firms to meet and share best practices without violating antitrust laws. Groups are comprised of five to 10 contractors who work in different geographic areas so there is no conflict of interest. Meetings are held at one of the group member's offices typically twice a year, and the visiting members are shown everything about the host's business. Your fellow Group members observe throughout the day, then critique the host's operations and provide constructive feedback. This program is so effective because it gives contractors an outsider's perspective.
MIX Group member and Webcor senior vice president, Chris Plue commented on the program noting, "It's like having five or six consultants who happen to also be concrete experts in their own right. Most people would pay thousands of dollars to hire one expert, let alone five who come in, evaluate your business and give you their honest opinions at no charge." Coming together in such a way has proven to be extremely beneficial for the contractors involved.
Roundtables are another way for members to bounce ideas off one another and explore different points of view. These roundtables take place at ASCC events such as the Concrete Executive Leadership Forums and the Annual Conferences. Members discuss a variety of business and technical topics in a breakout group setting.
Project Manager/Estimator for Vee-Jay Cement Contracting Co., Sal Vitale, explains, "The roundtables get you thinking about how to solve different issues and deal with situations, and you're hearing it from contractors of different sizes, serving different markets and with different levels of experience." It is a great opportunity to simply speak with contractors openly and learn from one another.
ASCC's Concrete Construction Hotline, free to members, is staffed by experts whose goal is to help contractors with technical questions or problems. Well-respected professionals in the industry such as concrete construction specialist Ward Malisch PhD, P.E., F.A.C.I., and technical director Bruce Suprenant PhD, P.E., F.A.C.I., run the hotline and work to find solutions for contractors. ASCC is the last standing association with a dedicated hotline that is used by ASCC members every day. These experts always do their best to find the answers, and frequently review ACI documents with callers and direct them to sections that will help solve their problems.
Some of the pressing questions and answers from the Hotline are compiled into the ASCC's Troubleshooting Newsletter, published three times a year. The idea behind this newsletter is if one contractor is having a problem, chances are other contractors will eventually run into that same problem. Past topics include placing concrete in congested wall forms, allowable crack width, cold weather field curing requirements and guidelines for pre-construction meetings. The Troubleshooting Newsletters are sent free to members, and full sets are available to members at a discount.
ASCC's newest effort towards sharing information is the Mentor Program. Aaron Long, chair of the Emerging Leaders Committee when the Mentor Program was created explains, "We thought the Mentoring Program would be a great way to get the next generation involved and excited about the ASCC."
This program seeks to unite seasoned concrete construction professionals with lesser experienced ASCC members in a guided program to share knowledge and experience. Mentees can be any ASCC member seeking to augment his or her general knowledge or someone looking for guidance in a particular discipline (i.e., tilt-up, super-flat floors, decorative concrete, etc.) or just looking for basic business advice.
"New members or even existing members can be a mentee. Some people are just afraid to ask, but that's why we're here," Greg Hyde, founder and president of Hyde Concrete, Annapolis, Md. This program has not yet been fully implemented, but the ASCC has high hopes for it and believes the mentees and mentors alike will greatly benefit from participating.
The ASCC community alone is a key value of being a member. Members have formed relationships in which they feel comfortable asking one another for help and advice. Members such as Paul Albanelli, Albanelli Cement Contractors Inc., Livonia, Mich., believe being able to pick up the phone and call members with a question they need answered is a practical and everyday benefit. Albanelli recalls, "One time I needed help on a tilt-up job and a guy I knew sent up a whole crew for me. We share in all kinds of ways and help each other out of jams."
It's no secret, ASCC's members' success comes from sharing. Members exchange information, advice, and expertise with one another to help the industry improve as a whole. If interested in joining this community and exploring these valuable resources, visit www.ascconline.org/.
Ed. Note: Cara Vitale was an intern at the American Society of Concrete Contractors.