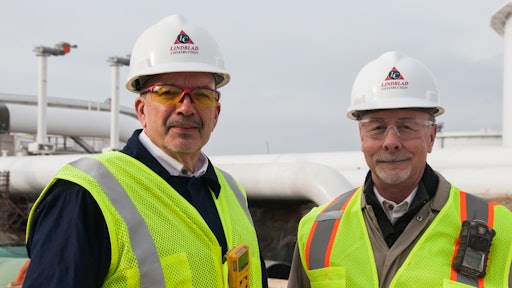 There is an old adage, "the only thing worse than having no work is having too much." That's what happened to the Lindblad Construction Company based in Joliet, Illinois. They were a $27 million gross sales company in 2011, going along as they always had. But then sales started to increase dramatically as the economic depression eased for the construction industry—you don't refuse work from your trusted clients—and by the end of 2015 their gross sales is expected to be near $60 million. Mark Stadalsky, the company's vice president, said they suffered through huge growing pains and found themselves no longer able to keep the office organized. "We were three months behind in monthly financial statements, there were piles of vendor invoices filling table tops, they didn't know if they were making or losing money (fortunately they were making money) because cost accounts were rare, and we were using dozens of spread sheets that didn't relate to each other. We knew it was time for change." It was a very stressful time for everyone.

Lindblad Construction
Originally organized by the Lindblad brothers in 1947 as a small general contractor, it was later sold to a large national company, as a gateway for performing work in the Illinois power generating market place. When sales slowed down in the late 1980's it was sold to the four men who were managing the company. Today, the company is owned by the president, Tom Lind, and Stadalsky, two of the original four and their niche is still in the heavy industrial market place with emphasis in concrete work. Stadalsky says industrial concrete work requires strong safety competencies, ones requiring years' worth of experience and training. "When you are working on refinery and heavy manufacturing sites worker safety becomes critical and owners demand high experience levels," he adds.
Lindblad projects also tend to be unique, no jobs are alike and there is wide variation to the kind of work they do. Most of their gross sales is concrete construction but they are general contractors too. Their projects include heavy industry equipment foundations with anchor bolts that must be set to near perfect accuracy, power and distribution industry work, mass-concrete base slabs, and drilled piers ranging from 2-1/2- to 8-feet in diameter. With such varied work their estimating department is very dependent on the continued use of spreadsheets for estimating because they are endlessly adaptable.
Beginning the change process
Stadalsky says the company was using an accounting software product but it wasn't able to adapt to their changing, so they realized this would be the first place to initiate change. The search for a user-friendly, customizable integrated accounting and project management software began. After searching the web they became interested in three accounting products and each exhibited at the World of Concrete (WOC), so they attended the show to investigate each product. In 2012 they selected one of the three, an accounting and project management package called Vista, a product of Viewpoint Construction Software based in Portland, Oregon. Vista was unique in that it integrated project management with accounting. After several months of planning and training they went "live" with it in 2013—one year and three months after deciding they needed to make changes.
At about the same time Lind says they also realized it was time to bring in a management consultant to help them restructure the company. They realized part of their problem had to do with making better use of personnel. "At first we hired additional people to accomplish more work but it didn't solve our problems. We then realized we had to use our staff more effectively," he added.
In 2013 they hired Clifton Larson Allen, based out of Minneapolis, Minn. with local offices in the Chicago-land area, to evaluate and recommend organizational changes in the company. In addition they hired the Palmer Consulting Group based in Chicago and Alan Quartz became their Vista program consultant.
Making changes
Instituting change is always difficult for people to accept and to begin with they often do their best to resist it. Lindblad started using Vista before Quartz started consulting with them. He realized right away that many of the staff preferred to do what they always had and were resistant to the learning challenges. Rachel Long, a project coordinator and key person in the change process involving Vista, said there was plenty of "push-back" in the office having to do with the switch to Vista and admits she resisted the move too.
As a part of the new management plan, Lindblad decided that a major goal was to ensure accounting and project management would work together seamlessly by tasking the Project Managers (PM) to take ownership of their projects and the information as it relates to Vista. Project coordinators, as support staff, have an important role in this information processing, and with exceptions, it starts primarily with them. They would be the first to enter information about their project into Vista. Project Coordinator (PC) job positions were created for the first time and Long is now the lead PC. She works closely with her PM, manages information and data processing, creates reports, and supervises others on her team. She says she loves working with Vista, now that the change is complete.
As their consultant, Quartz and his team, who was experienced with Vista, immediately started working with PM's and PC's to help them learn how to utilize the program. He also customized forms and screens tailored to Lindblad's need for field data entry and special reports relating to project specific status.
Chain of command
Stadalsky says their chain-of-command wasn't well defined previously. If he or Lind needed information for instance, they would go to wherever they needed to go to in the company and ask someone to dig for what they needed. There was no established order or centralized system and answers were often difficult to find. But that has changed now, today they have an organizational chart that defines working relationships and to answer questions as they come up, he says he and Lind can access Vista themselves to get answers or generate reports without bothering staff.
They were advised early on to make PM's the focal point for the flow of information, the place where data is generated to begin with. When they made this move they also created PC positions and made them accountable to PM's to help with information processing, payroll, invoicing, and reports. They help their PM's keep workflow organized.
Looking to the future
Previous to the way Lindblad managed their company they typically had nine or 10 crews working on projects in the field at the same time. After they changed their management structure, along with the significant increase in gross sales, they have between 20 to 25 projects going on at the same time. Stadalsky says they have completed 236 projects for the year to date (at the time of this writing) and they are on track for gross sales to approach $60 million for the year. What is significant about this is that general and administrative expenses (G&A) have increased at a much lower rate.
With the inclusion of Vista and the rearrangement of office personnel, plus the changed responsibility of PM's, Lindblad is in position to experience a great amount of growth without changing their system much, only hiring more people.
They will continue their relationship with Palmer Construction Technology and Quartz will make weekly visits to help train staff to work with Vista where needed and to continue to design and customize reports and data screens, getting more benefit from the program.
Managing growth is difficult. We often think of increasing sales as similar to finding the pot at the end of the rainbow. But as you can see by Lindblad's experience it could be more like getting hit by lightning. Hopefully their experience will help you manage your growth.
Companies in this article