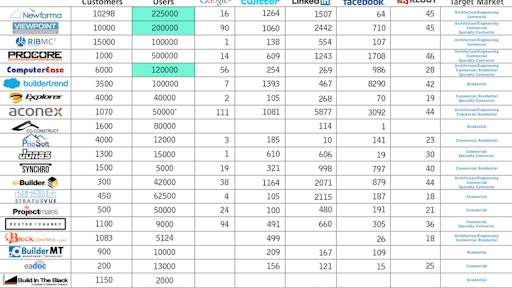 We focus a lot on construction technology on ForConstructionPros.com. Technology helps make contractors' lives easier. It helps improve processes and workflows. It helps cut down on paperwork and eliminate errors from manual data entry. And, it's pretty much unavoidable at this point. As a construction business owner, you may already be adapting technology to fit your company's needs, or you might still be browsing your options looking for what will fit your business needs the best.
There are so many available technologies and software designed to help make construction and project management easier. Construction management software solutions abound. Recently, software and technology company Capterra put together a list of the top 20 most popular construction management software solutions. The list is based on number of customers, number of actual users and social media presence, according to Rachel Burger, content marketing analyst for Capterra. It's important to note that this list is the most popular construction management software solutions based on Capterra's research and is not all-inclusive of all the software options available to the construction industry.
Here is the top 20 list based on the number of customers, which refers to the number of unique organizations and companies that are accessing a full version of the software.
What do you think of Capterra's most popular list? Do you think any software solutions are missing? Have you used any of these construction management software solutions? Share your thoughts with un in the comments section below.
Blog: New Tool Compares Construction Project Management Software
And remember, if you like the content you read on this blog vote for us in the Jackson Design and Remodeling Blogger Awards for Best Blogger Construction Management category.