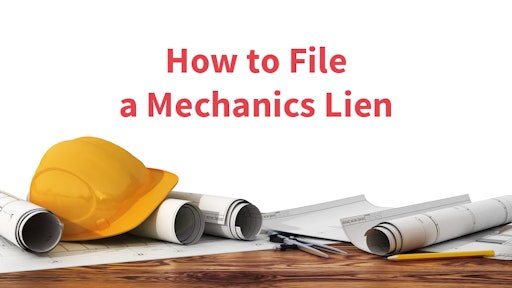 Furnishing labor or materials on a construction project can be risky. What if payment is delayed or disputed? Or worse — what if you don't get paid at all? This can be especially complicated on large projects with multiple tiers of employment where parties further down the hiring chain have little or no contact with the property owner, general contractor or lender. Fortunately, the U.S. legal system includes a built in safety measure specifically designed to protect contractors, suppliers and other construction workers in the event of nonpayment: the mechanics lien.
Mechanics lien claims are the most effective collections remedy for contractors and material suppliers that are unpaid or paid late for furnishing labor and/or materials on construction projects. Filing a mechanics lien creates a security interest that attaches to the improved property until the lien claimant is paid or the lien is released. Most construction industry participants have probably heard of a mechanics lien, but what many people are less familiar with is that a mechanics lien is not a standalone document. Filing a mechanics lien claim is the key step in the lien process, however, it is not the only step.
Before getting into the process of securing payment, here are a few key points to keep in mind that apply to all three steps discussed below:
Note that mechanics liens may be used on private (residential or commercial) projects, while bond claims serve essentially the same purpose on public (state or federal) projects. The mechanics lien and bond claim processes parallel each other closely, but be sure to file the right documents for your project.
Mechanics lien (and bond claim) rules and requirements vary widely from one state to the next. While the following steps constitute a good general guideline to follow across the board, be sure to check your state's specifications (sometimes they even require specific form templates) in order to safely secure your lien rights.
Make sure you are aware of deadlines. For the documents discussed in the steps listed below, state lien statutes specify certain time frames in which these documents must be submitted to be valid. In some cases, sending documents late can invalidate your lien rights.
Step 1: send preliminary notice
Sending preliminary notice (sometimes referred to as pre-liens) is the first step of the lien process because — surprise — it happens at the very beginning, long before a payment issue arises. Preliminary notices are sent to protect lien rights in the event that a mechanics lien claim needs to be filed later on. Taking this preemptive step can make the difference between getting paid and not.
In some states, this step is required; in others, it is optional.
However, it is usually a good idea to send preliminary notice on all projects regardless of requirements. Why? Because sending preliminary notice informs the parties making payment that you are working on a project. This prioritizes your invoice and often speeds up the payment process.
Step 2: send notice of intent
Notice of intent is like a preliminary notice 2.0. It is sent after work is completed on a project when payment is outstanding.
While only a few states require the sending of a specific "notice of intent to lien," sending this document is nonetheless an excellent way to jump start the payment process. Like a preliminary notice, it reminds the paying party that your payment is due, but it also shows them you're serious and acts as a quasi-demand for them to send over the check.
Mechanics liens are powerful. Generally, property owners want to avoid them at all costs because they can make selling, financing and other transactions nearly impossible. Often the mere potential of a lien being filed on a property is enough to spark the owner to initiate the payment process, and notice of intent is the final warning before a lien itself is filed.
Step 3: file a mechanics lien
If you have completed Steps 1 and 2, you have completed work on the project and still haven't been paid. It is time to file a mechanics lien (or bond claim). The deadline for filing a mechanics lien varies by state (usually between six months and two years from completing work on a project), and some states allow this time frame to be extended.
States that require notices of intent generally require that a mechanics lien is filed no later than 30 days after the notice of intent was submitted.
There are several hoops to jump through when filing mechanics lien or bond claims. The first is sending all the correct preliminary documents (see Steps 1 and 2). Here are a few of the other stumbling blocks:
ensuring that the lien contains the proper information and wording
filing the claim in the correct county
serving the document properly and on the proper parties
filing within the appropriate time period
These requirements vary by state so make sure you are aware of the rules governing your project.
This process is complex and labor-intensive because mechanics liens and bond claims are incredibly powerful tools. Committing to following these steps on every project may seem intimidating, but fortunately there are many free resources available to make this process easier and software platforms that can track deadlines, populate project information and even send notices automatically.
There are several ways to file a mechanics lien or bond claim.
Option 1: do it yourself
There are many websites that provide free mechanics lien form templates. Find the right form, fill out the required information, do some research to discover where and how a claim should be filed in your state, and send it in. This method is time consuming and it can be easy to make mistakes, especially if you have a high project volume and need to file multiple liens.
Option 2: hire an attorney
Many construction attorneys are well versed in lien law and can assist in the process of filing a claim. This is a good way to avoid common mistakes, but it can be expensive.
Option 3: use a document management software platform to file the claim
There are dozens of software and services that can automate and optimize claim filings as well as the other steps of the lien process, such as automatically sending preliminary notices and tracking deadlines. This method tends to be more accurate than DIY lien filings and less expensive than engaging an attorney.
The bottom line is this: if you've done the work (or supplied the materials) and followed the steps above, you are very likely to get paid in a timely manner. According to zlien's data, mechanics liens only need to be filed in fewer than 2% of cases where preliminary notice and notice of intent are properly filed.
In most cases, sending preliminary notice and notice of intent is enough to launch the payment process.
If payment is still not made after filing a lien, enforcing the lien in court is the next option. But when Steps 1, 2 and 3 are followed properly, this scenario occurs very rarely.
Nate Budde is the Chief Legal Officer and General Counsel at zlien, a construction software platform that makes managing lien rights and securing payment easy. Nate manages and oversees the Lien Genome and zlien's products, processes and resources. For information on mechanics lien law and construction industry credit practices, check out zlien.com.