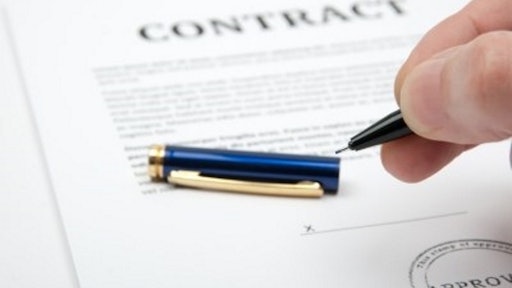 Construction contracts are exchanged so routinely that it's common for contractors to just give the document a skim before laying down a signature. Even when a contractor examines a contract thoroughly, technical language and legal phrases with profound impacts may slip by unnoticed. It's rarely feasible to have an attorney read every contract, so the best course of action for contractors to avoid risk is to understand some of the things to look out for.
Pay-If-Paid and Pay-When-Paid clauses illustrate how a single, small word can make a huge difference in how a contract is interpreted. While these phrases might look the same to the untrained eye, they have distinct meanings and serious implications for subcontractor risk. These provisions are common in subcontracts where a general contractor wants to limit exposure to risk in the event the owner doesn't pay.
View a full 50 state guide to contingent payment provisions.
Pay When Paid clauses
Generally speaking, pay when paid clauses are simply timing mechanisms. They do not shift risk from one party to another but rather define the deadline by which subcontractors and suppliers must be paid.
The purpose of pay when paid clauses is to protect a contractor from shouldering debt. Specifically, pay when paid clauses state that the contractor will pay the subcontractor within a set number of days from receiving payment.
An example of a pay when paid clause is: "The Subcontractor shall be paid within seven (7) days after receipt by the General Contractor of payment from the Owner for Subcontract work."
However, a pay when paid clause does not drag that time out indefinitely or absolve the contractor from paying subcontractors if he doesn't receive payment. Most courts feel that pay when paid clauses can be interpreted as timing conditions but are not clear enough to absolve the contractor of the responsibility to pay subcontractors.
The main effect of pay when paid clauses is to suspend the obligation for some reasonable time.
For subcontractors and material suppliers, pay when paid clauses can cause frustrating payment delays, but they don't create real financial risk. These clauses impact when you will be paid, not if you will be paid.
Pay-If-Paid clauses
Pay if paid clauses have more serious consequences for subcontractors and suppliers. These clauses are specifically designed to shield the contractor from risk by shifting the risk of nonpayment to the party lower down on the chain of payment.
Pay if paid clauses are formulated to be specific enough such that the contractor must pay the subcontractor if and only if he receives payment. By excusing the contractor from the responsibility of ensuring that subcontractors get paid, these clauses shift the burden of potential non-payment to the subcontractor. Under these circumstances, it's possible for subcontractors and suppliers to be legally left unpaid for work well done.
Unsurprisingly, courts view these clauses unfavorably. In order for a pay if paid clause to stand a chance of being enforceable, it must be worded clearly and precisely and must leave no room for any other interpretation of its meaning.
Typically, the phrase "pay if paid" is not enough. An example of sufficiently clear language is: "The parties herein explicitly agree that this provision is meant to shift the risk of non-payment."
Pay If Paid clauses: against public policy?
Certain states disallow pay if paid clauses, and hold them to be void and unenforceable. Courts in the following states consider this form of contractual risk shifting to violate the mechanics lien rights of the subcontractor.
California
Kansas
Illinois
Indiana
Nevada
Montana
Ohio
North Carolina
New York
South Carolina
Utah
Wisconsin
Best practices for subcontractors and suppliers
Unlike pay when paid clauses, which may simply delay payment, pay if paid clauses leave subcontractors and suppliers in a tough spot. Sub-tier parties generally don't have the ability to demand modification of the contract language (the party above has more power because there are always parties willing to do the work with the contract as-is); and, they don't want to turn away business due to clauses that, while potentially harmful, are "par for the course" in many construction contracts. Keep in mind that this conundrum is not relevant in the states listed above that disallow pay if paid clauses.
The best way for subcontractors and suppliers to avoid the risk posed by pay if paid clauses is to avoid the clauses all together. While courts tend to view these contingent payment provisions unfavorably, taking a contract to court in the event of nonpayment is a hassle. It is much easier to simply avoid signing contracts that include risky pay if paid clauses than it is to take a contract to court and rely on the court's interpretation of vague or unfavorably-regarded language.
But passing up business due to a contractual clause that might never become relevant (if the contractor is paid as he should be, the pay if paid clause does not come into play) is also a risk. Subcontractors and suppliers can attempt to negotiate the contract language, but this approach is rarely successful.
Ultimately, whether or not to sign the contract is a personal decision, so it is important to understand how these clauses work in order to weigh the risks and make an informed decision.
Nate Budde is the Chief Legal Officer and General Counsel at zlien, a construction software platform that makes managing lien rights and securing payment easy. Nate manages and oversees the Lien Genome and zlien's products, processes and resources. For information on mechanics lien law and construction industry credit practices, check out zlien.com.