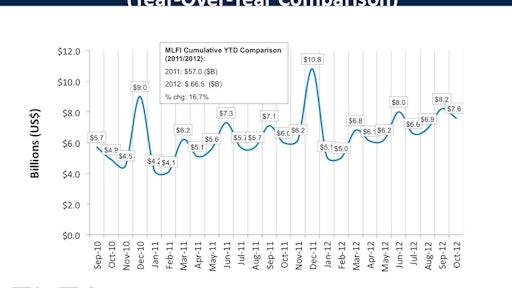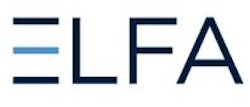 The Equipment Leasing and Finance Association's (ELFA) Monthly Leasing and Finance Index (MLFI-25), which reports economic activity for the $628 billion equipment finance sector, showed overall new business volume for October was $7.6 billion, up 27 percent from volume of $6 billion in the same period in 2011. Volume was down 7 percent from the previous month. Year-to-date cumulative new business volume increased 17 percent.
Receivables over 30 days decreased for the fifth consecutive month to 1.7 percent, down from 1.8 percent in September and down 23 percent when compared to the same period in 2011. Charge-offs were down from the previous month at 0.4 percent and down by 43 percent compared to the same period last year.
Credit approvals were unchanged in October at 79.5 percent. Sixty-six percent of participating organizations reported submitting more transactions for approval during October, up from 54 percent the previous month.
Finally, total headcount for equipment finance companies was up 1 percent from the previous month and declined 2 percent year over year.
Separately, the Equipment Leasing & Finance Foundation's Monthly Confidence Index (MCI-EFI) for November is 49.9, a decrease from the October index of 53.3, reflecting industry participants' post-election concerns over issues including the fiscal cliff, economic policy and taxes. A confidence level of 50 indicates a neither positive nor negative outlook overall.
"Lease financings continue to show modest growth overall, despite soft patches evident in certain equipment and end-user sectors recently," said ELFA President and CEO William G. Sutton, CAE. "With U.S. elections now behind us and recent indications by policy makers to find a solution to the 'fiscal cliff,' the cloud of uncertainty that has frozen the economy during the past 12 months may be lifting. We hope that the recent no-growth scenario gripping our nation's economy will transition to a more normalized recovery that will cause businesses to feel more confident about their future and result in additional investment in capital equipment and job creation."
Companies in this article