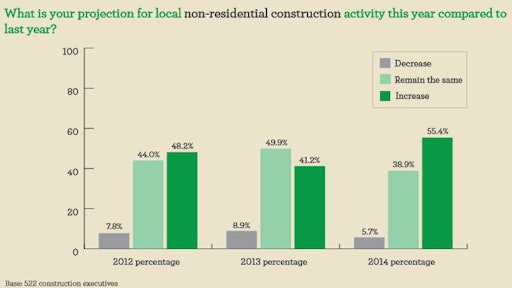 Wells Fargo's survey of 522 U.S. construction industry executives resulted in an all-time-high Optimism Quotient of 124, reflecting respondents' strong optimism that local non-residential construction activity will increase in 2014.
The Optimism Quotient was at 106 in 2013 and had reached its all-time low of 42 in 2009.
An Optimism Quotient score of 100 or more represents high optimism for increased local construction activity relative to the perceived level of activity for the prior calendar year.
Fifty-five percent of respondents to Wells Fargo's construction survey believe non-residential activity will increase in 2014 compared to 2013. And 56 percent expect increased residential construction activity.
Whitepaper: Wells Fargo Equipment Finance 2014 Construction Industry Forecast
Other results from the survey include:
Equipment rental will remain strong
Equipment acquisition will rise slightly
Video: Wells Fargo 2014 Construction Industry Forecast Results