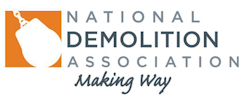 National Demolition Association is presenting the webinar "Covering Your Assets: Managing Contractual Risks" on July 31 from 2:00 to 3:00 p.m. EDT on the NDA website. The online presentation is the second installment of the NDA two-part series on contract best practices.
Presented by leading business contract legal expert Scott Fradin, principal in the Chicago law firm Much Shelist P.C., the webinars focus on the unique challenges faced by the demolition subcontractor. "Both webinars have been developed to minimize the likelihood of litigation," said Kim Wieland, NDA director of Member Services.
The July 31 webinar will focus on six key issues that should be addressed in a contract between the building owner, developer or general contractor and the demolition subcontractor:
         The laws of the state where the project is taking place
         Flow-through provisions
         Payment
         Indemnification
         Insurance
         Limitations of liability
Fradin will share his knowledge based on years of experience drafting and negotiating complex design and construction agreements for owners, engineers and contactors. "With the growth demands that come with the current economic recovery, demolition subcontractors need to protect themselves during the contractual process," Wieland noted. "This webinar will give them the information they need to protect their interests."
Part I of the NDA webinar series, also presented by Fradin, is entitled "Covering Your Assets: Managing Contractual Expectations." Parts I and II will soon be available on the NDA website. Registration fee for each webinar is $35 for NDA Members and $50 for Non-Members.