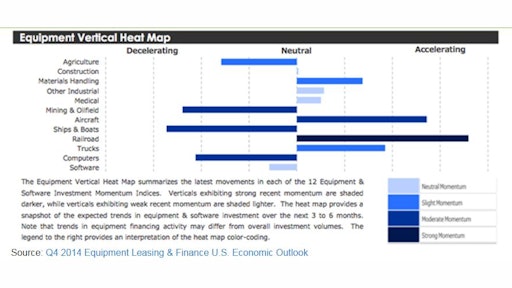 Investment in equipment and software is expected to grow 5.5 percent in 2014, according to the Equipment Leasing & Finance Foundation's Q4 update to the 2014 Equipment Leasing & Finance U.S. Economic Outlook. The Foundation revised its 2014 equipment and software investment forecast to 5.5 percent, up from 2.6 percent growth forecast in its Q3 Update to the 2014 Annual Outlook released in July. Equipment and software investment is expected to steadily grow over the next six months across most verticals due to a gradually strengthening economy and continued replacement demand. The Foundation report, which is focused on the $827 billion equipment leasing and finance industry, forecasts 2014 equipment investment and capital spending in the United States and evaluates the effects of various related and external factors in play currently and into the foreseeable future.
William G. Sutton, CAE, president of the Foundation and president and CEO of the Equipment Leasing and Finance Association (ELFA), said, "The Foundation's Outlook forecasts that steadily improving economic conditions point to increased investment and financing activity through the end of the year. Industry confidence has remained consistently positive and capital spending is up, as recent data from the Foundation's Monthly Confidence Index and ELFA's Monthly Leasing and Finance Index reflect. Although challenges remain — from geopolitical risks to global growth concerns — we remain optimistic regarding the outlook for the equipment finance sector through the end of 2014."
Highlights from the study include:
The U.S. economy is expected to grow 2.2 percent in 2014.
Overall, the economy appears to be exhibiting gradually improving health, although serious headwinds remain. A solidifying economic recovery, downside risks stemming from geopolitical conflict, and continued accommodative monetary policy are key trends dictating our outlook for 2014.
Growth in equipment and software investment rebounded from a 0.4 percent contraction in Q1 2014 to expanding 9.6 percent in Q2. Looking ahead, we expect continued growth in Q3, modest sector growth for the coming year, with an overall forecast of 5.5 percent growth in 2014. Credit supply continues to improve, and credit demand has held steady for all business sizes.  
The Foundation-Keybridge U.S. Equipment & Software Investment Momentum Monitor, which tracks 12 equipment and software investment verticals, forecasts the following equipment investment activity:
Agriculture machinery investment will likely see year-on-year contraction through the rest of 2014, as both farm yields and commodity prices remain modest.
Construction machinery investment is expected to experience moderate growth over the next 2 quarters.
Materials handling equipment investment will likely experience stronger growth over the next 3 to 6 months.
All other industrial equipment investment will likely see continued solid growth over the next 3 to 6 months as the "re-shoring" of manufacturing continues to be a dominant economic story in 2014.
Medical equipment investment is expected to experience slowing growth near the end of the year.
Mining & oilfield machinery will likely see slower growth following a strong first half of 2014.
Aircraft investment will likely experience stronger growth towards the end of year.
Ships & boats investment will likely slow after rebounding solidly in Q2 2014.
Railroad equipment investment is likely to accelerate over the next 3 to 6 months.
Investment in trucks is expected to exhibit modest growth through the year, reflecting improved economic conditions.
Computers investment will likely remain muted following strong replacement demand seen in recent quarters.
Software investment will likely see continued moderate growth in the next 3 to 6 months as companies continue to make investments in software and cloud technologies.