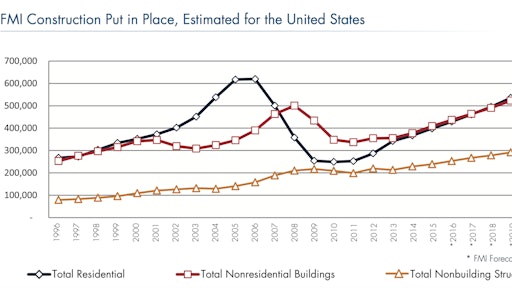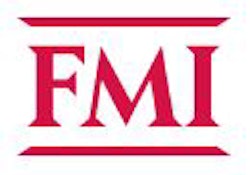 Total construction put in place for 2015 is predicted to grow 8 percent according to FMI's latest report for Q1 2015 construction outlook. This supports earlier FMI predictions that construction put in place (CPIP) will top $1 trillion in 2015, something the market has not seen since 2008. This indicates that the economy is on track for a resilient recovery and growing just a little faster than 2014.
"The current growth cycle appears to be broad-based and sustainable," says Randy Giggard, managing director of research services for FMI. "Most of the new construction activity is in the private sector. Projects dependent on government spending, especially those involving infrastructure, continue to be at the mercy of politics."
The biggest challenge faced by contractors this year continues to be finding and retaining the best talent.
FMI Warns Craft Labor Shortage May Slow Construction
Geographically, larger cities are experiencing strong construction growth due in part to increases in rents and declining inventory for housing and office space. The sectors expected to experience the highest growth rate are:
Lodging construction – 16 percent CPIP growth
Commercial construction – 15 percent CPIP growth
Manufacturing construction - 11 percent CPIP growth
Office construction – 11 percent CPIP growth
Residential construction – 9 percent CPIP growth
Even though markets like education and health care will grow a more modest 3 percent and 4 percent respectively, continued slow growth is finally catching up to capacity in some parts of the country, and there is more urgency to grow the talent pool or some contractors will need to turn down new projects. 
The construction industry is catching up with where it left off in the growth period before the boom busted. However, that doesn't mean the industry is about to repeat the same cycle. The oil and gas boom hasn't totally fallen apart, but it is certainly slowing. That means the loss of some good jobs and wages; however, some of those who lost their jobs in the oil fields may be available to contractors in other parts of the country. Otherwise, the current growth cycle appears to be broad-based and sustainable.
FMI expects solid growth of 9 percent for 2015 and just a bit lower through 2019 in the residential market. The fast pace of multifamily construction is expected to slow to 11 percent in 2015 and slip to 8 percent by 2018. The inventory for new homes is down slightly to 5.4 months in January, little changed from the same time last year, yet inventory is near record-low territory. Housing starts in January were down 2 percent from December but 18.7 percent above January 2014. 
Nonresidential construction building
FMI's latest forecast shows 18 percent growth in 2014 for lodging will slow to 16 percent in 2015. Solid growth will continue through 2016 and slow to just 6 percent through 2019. Lodging construction is one of the fastest-recovering construction sectors with a healthy project pipeline that will take it through 2015. 
Dropping unemployment rates and rising GDP have provided a lift for the office construction forecast to 19 percent growth in 2014 and a forecast of 11 percent for 2015 to $49.5 billion.
Commercial construction ended up 12 percent at year-end 2014, which is better than earlier expected. FMI continues to forecast continued moderate growth through 2019, after a 15 percent improvement in 2015 to $65.8 billion. Although we expect slow improvement, the early part of 2015 may be slower due to severe winter weather and the dockworker slowdown. Consumers are still confident about the economy, but they are also remaining conservative in their discretionary spending at least until wage recovery improves. 
Health care construction decreased 6 percent in 2014, and we forecast that it will grow just 4 percent in 2015 to $40.6 billion. With continuing changes due to health care reforms, a difficult funding environment and changes to delivery methods, health care is facing many changes right now. Ambulatory health care centers and renovations to existing facilities in order to be competitive and keep up with changing technologies and patient needs will continue to be the focus for construction. One of the major goals for health care is to continue to refine its processes to be leaner and more efficient. 
Changes in Healthcare Construction Industry Resulting in Fewer, Smaller Construction Projects
The forecast for education construction shows growth of just 1 percent in 2014 to $78.5 billion and growth of 3 percent in 2015. One of the biggest hurdles to new construction continues to be state and local budgets. After taking large cuts during the recession, it has been a difficult battle to get back to previous levels of spending. Some funding is expected to return as states improve income from tax receipts; but the various financing challenges will not easily go away, even as demand rises. Safety on campus will continue to be a major concern. 
Religious construction slowed 4 percent in 2014, and we expect just 1 percent growth in 2015. Most of that growth will likely be renovation, as newly formed congregations move into vacated retail space or reoccupy church buildings abandoned by other faiths. As the housing market continues its growth trend and wages improve, we expect growth to improve somewhat through 2019. 
Public safety construction decreased 4 percent in 2014 and will return to a meager 2 percent growth in 2015. 
Construction for the amusement and recreation sector grew sharply to 7 percent in 2014 with another 7 percent growth expected in 2015. Although continued growth in major sports stadiums supports this sector, there are a number of smaller towns and colleges improving their sports facilities. In the gaming sector, there are trends to rethink facilities for broader market appeal. 
Transportation construction continues at a solid pace, registering 5 percent growth in 2014, and is expected to add 7 percent for 2015 to $44.7 billion. Congress will need to pass a new or renewed transportation bill in 2015 to add some stability as well as funds to the transportation sector. The current extension of Map-21 expires at the end of May. The transportation sector will continue to face some ups and downs in early 2015 due to the dockworker slowdown and volatile oil and gas prices negatively affecting shipments by rail and shipping. 
Communication construction put in place slowed sharply in 2014 but is expected to bounce back to 2 percent growth for 2015. The current trend is for building more data centers and beefing up security and privacy against potential interlopers and severe weather events.  
Durable goods orders fell again slightly in January after slowing at the end of 2014. Manufacturing may again take a hit as the oil and gas sector slows capital spending. Despite some ups and down in activity, after seeing 15 percent growth in manufacturing construction in 2014, we expect another 11 percent for 2015. The manufacturing renaissance will continue to be susceptible to future energy prices and markets here and abroad. Newer facilities are more efficient and often replace older plants. In addition, manufacturing capital construction is highly cyclical when markets reach a state of overcapacity, as some petrochemical products are expected to do in the next few years after a spate of building. 
Nonbuilding structures 
Power construction picked up strongly in 2014 to gain 12 percent and reach $101 billion. Although not as dramatic as 2014, growth for 2015 should be around 7 percent. Next year and subsequent years should see new highs for construction spending in this sector, reaching $117.7 billion in 2016.  
There was better-than-expected growth of 4 percent for 2014 in the highway and street sector, but FMI's forecast shows a return to around 2 percent growth through 2019. Greater investment responsibility will fall to states and local governments in order to maintain roads and streets. Add to that the outlook for lower fuel costs and likely lower tax receipts at the pump, and we expect even less investment across the country. 
The good news for sewage and waste disposal construction is that we expect modest growth from 3 percent to around 4 percent for the forecast period. That is an improvement over the last few leaner years, and growth may be helped in some industrial areas with a growing manufacturing sector. Nonetheless, this key sector will continue to compete with other infrastructure sectors for public funds. 
As in other areas of public infrastructure, the need for improvements in our water supply is great, but the investment is lean. Water supply construction fell 5 percent in 2014, and we expect it to grow just 1 percent to $13 billion in 2015. According to Gregg Powell of FMI, "In today's market, there is arguably no sector facing a more critical shortfall between demand and investment than the U.S. water market. The country's water and wastewater infrastructure suffers from subpar conditions throughout the supply chain, encompassing water intake, diversion, transportation, storage, treatment and delivery." 
Due in large part to the strength in the industrial market, conservation and development construction jumped 24 percent in 2014 and will continue to grow 9 percent in 2015. The industrial market continues to flourish behind the strength in the natural resource sector. In addition, the low cost of energy is driving an onshoring phenomenon in other industrial sectors, such as chemical and automotive. Conversely, DOD and DOE markets continue to struggle against the headwinds of budget constraints. Industrial market strength should increase the size of the overall environmental market, albeit much more slowly as public markets contract.