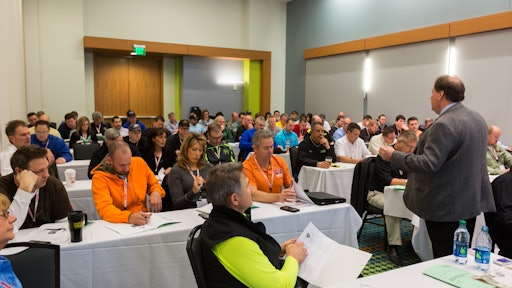 Before you can do the work you have to get the work – and that's why National Pavement Expo has always made sure to cover the sales process in all sorts of different ways. And NPE will do it again at the 2016 event, Jan. 27-30 in Charlotte, NC.
In addition to a number of new marketing-related sessions, NPE will offer hours of opportunity for you to hone your sales skills and for you to give your salespeople the training, encouragement and positive mental attitude they need to generate high-profit work for your crews.
Sales training starts right on Day 1 with a 3-hour workshop, "How a Question-based Sales Process Will Get You More Work." An integral part of what presenter Guy Gruenberg, Grow Consulting, refers to as the Consultative Sales Process, this workshop will help you establish and build the relationships that form the basis of successful long-term sales relationships. Gruenberg will not only teach the question-based process and explain why it works, but you'll be able to compare the question-based approach with whatever process you and your team are currently using – and he says "you'll see an obvious difference." 9:00 a.m. – Noon, January 27.
On Day 2 you can examine another approach to sales, "How to Build a Referral-based Business," presented by Jeff Stokes, Next Level Contractor System, in tag team with Jim Bebo, ACI Asphalt Contractors Inc. and Pavement Advisory Board member. The theme of the session is the importance of word-of-mouth advertising, "the backbone of every successful business," and will outline "best practices" to make sure word-of-mouth on your company is great. You'll learn not only how to take advantage of your many repeat customers who like your work but how to put in place a system that makes referrals easy for everyone. 8:00-9:30 a.m., January 28.
Jeff Stokes sticks around on Day 2 to discuss one of the most-important elements of the sales process: The sales proposal.
Developed specifically at the request of NPE, "How to Develop and Present Proposals that Win Work" recognizes that given today's technology and competitive environment, it's essential to provide customers with proposals that meet high standards and expectations. You'll learn the crucial elements to include in every proposal – plus Stokes will explain why you need to add a "value proposition" that differentiates you from other contractors and how to tailor that value proposition to the individual customers. As Stokes says in his description, "Take home insights that will help you win the job at the proposal stage!" 10:00-11:30 a.m., January 28.
Day 4, Saturday, Jan. 30. adds two sales topics that can boost any sales force.
"How to Stop Selling Price… and What You Should Sell Instead," 8:00-9:30 a.m., Brad Humphrey, Pinnacle Development Group, will debunk the idea of "commodity selling" and show you "how to change the sales conversation." Humphrey is a firm believer that every contractor is a unique company and he'll show you how to stop selling like you are your competitor's "mirror image." Among the takeaways will be how to move customer's "apples" to your "oranges;" how to develop, leverage and market your Unique Selling Proposition, and how to identify "pools of customers" so you can target the best prospects for your services. "Plus, you'll learn the 10 reasons you don't have to sell price alone!"
"Selling Residential Driveway Work: How We Do It," 10:00-11:30 a.m., Vinny Engongoro, Roccie's Asphalt Paving. For those contractors pursuing driveway work, this veteran contractor will work you through how he has successful tackled this pavement maintenance niche – with a goal of helping you close more driveway sales. Engongoro will discuss how (and why) he qualifies leads, how he relies on "pre-measure" phone calls, and what he learns about each prospect before formulating his sales pitch. "You'll learn how Roccie's sets up its 'pitch book,' how they design their menu proposals, how they eventually ask for the work – and how successful this approach is," according to the description.
More Topics that Impact Sales
In addition to sales-specific sessions there are numerous sessions that are integral to the sales process and that can help salespeople become more effective. Those sessions include:
"Introduction to the Power of Job Costing," presented by Jeff Stokes; 9:00 a.m. – Noon, Wednesday, Jan. 27.
"Secrets of Successful Job Costing: Running Your Business by the Numbers," presented by Guy Gruenberg, 10:00-11:30 a.m., Saturday, Jan. 30.
And, the sale doesn't do you any good if you can't get paid for the work once it's done, so…
"'You Owe Me Big Time!' How to Collect Delinquent Accounts," presented by Harry Ponder, Carolina Business Services, 10:00-11:30 a.m., Saturday, Jan. 30.
For details including complete descriptions and registration information visit www.nationalpavementexpo.com.
National Pavement Expo is proudly brought to you by