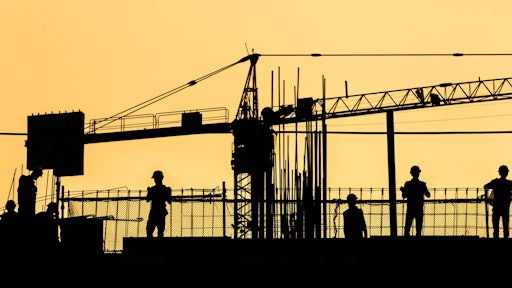 Addressing sexual harassment in the construction industry is more multi-faceted than most assume, says Traliant chief learning officer Andrew Rawson.  
In addition to the obvious goal of helping to prevent harassment in the workplace, sexual harassment training also enables company owners to ensure regulation compliance and educate employees on how to report witnessed incidents.
Traliant offers various types of compliance training, including sexual harassment training, with a strong focus on the construction industry. In a recent episode of the Digging Deeper Podcast, Rawson explained how sexual harassment training can benefit companies in a wide range of ways – and he also detailed common myths relating to harassment in the construction industry.
Preventing Sexual Harassment and Protecting Your Business
First and foremost, the goal of sexual harassment training is prevention. Maintaining adequate training of employees on proper workplace behavior can protect your workers and your business.
Sexual harassment prevention focuses on making sure employees don't harass one another and also teaches employees how to behave around clients, customers and the public. Training employees on what is acceptable and unacceptable behavior can potentially protect businesses from lawsuits, employee turnover and negative reputations in the marketplace.
Rawson explains what the sexual harassment complaint process is like. He says, "[Filing a sexual harassment complaint] is like filing a wage complaint with the department of labor. The person that claims they were subjected to [sexual harassment] does not have to hire a lawyer and file a civil suit. They simply stage a complaint."
At this point, says Rawson, the state will notify a company that a complaint has been filed. Rawson continues, "It can be very, very expensive to defend these claims. And having effective, modern training is a good way to make sure that you're minimizing the chance of these claims in the first place."
It is also important for companies to have a clear anti-sexual harassment policy outlined in employee handbooks or training materials. Employees should know exactly what constitutes sexual harassment and what the ramifications will be should they violate the policy. Attending formal sexual harassment training can make determining these factors and outlining them much easier for business owners.
Compliance
In addition to prevention, sexual harassment training can also help companies remain compliant with state and local regulations.
Rawson says, "It's particularly important these days for owners and managers in construction to pay attention to sexual harassment and discrimination laws. In the past 24 months, California, New York, Connecticut, Illinois, Maine and Delaware have either implemented or modified existing laws requiring sexual harassment training for virtually all employees."
He explains that the regulations in those six states mean that up to 25% of all construction workers in the nation are now covered by laws requiring sexual harassment training for workers.
Rawson goes on to say, "Other states have even passed requirements that say if you're doing business with the state, you need to abide by that state's sexual harassment laws. So, anyone contracting in the public sector might find themselves having to comply with these laws. You don't want to find yourself submitting a bid on the [last day] of the month and then find out there's some requirement for you to certify that you've trained everybody, and you haven't done that yet."
Listen to the full Digging Deeper podcast with Andrew Rawson:
Educate Employees on Incident Reporting
Along with sexual harassment prevention and compliance with laws and regulations, sexual harassment training aims to provide employees with clear instruction on how to report witnessed incidents.
The reporting process is two-fold. First of all, employees should have a complete understanding of how and where to report instances of sexual harassment they have witnessed or experienced. This should include to whom to report incidents (such as a human resource manager).
Secondly, employees must know that they will be safe from retaliation of any sort when reporting experienced, witnessed or suspected instances of sexual harassment. Sexual harassment training can help companies to implement comprehensive guidelines for the reporting and handling of sexual harassment claims. Some facets of the guidelines may include, but not be limited to:
Keeping complaints confidential.
Enacting and following a clear process for investigating claims.
Involving law enforcement when necessitated by the circumstances.
Protecting employees from backlash when those accused of harassment will know who reported them.
If you utilize formal sexual harassment training for your company, your training provider can help you to put thorough and compliant guidelines and processes in place for the handling of sexual harassment reports.
Common Misperceptions
Rawson also shared a few common misperceptions when it comes to sexual harassment in the construction industry. For instance, he says, "There are these longstanding stereotypes that most people are familiar with from walking by construction sites (whistling, verbal harassment, etc.). But what was interesting is our research found no hard evidence that sexual harassment is more prevalent in the construction industry than in other industries."
Other common misunderstandings revolve around what actually constitutes harassment, says Rawson. He explains, "Do not put your hands on someone that doesn't want to be touched. That's common sense. But people don't know what the laws are around nicknames."
Rawson continues, "Just because the person using a nickname and the person who's being called that name both like it, it's possible a third party can be offended. For example, somebody who's been called 'skinny' their entire life may like it. However, someone else who's had a problem with [eating disorders] in their family may find that offensive."
Rawson also says, "People think as long as they're talking amongst themselves, even if someone else happens to overhear a conversation of a sexual nature, that it's permissible. Well, it's not."
Finally, Rawson explains that anti-sexual harassment policies don't mean people aren't allowed to communicate with and show interest in each other.
"Probably the biggest problem we hear from people about the modern environment is they say, 'You can't ask anybody out at the office without getting arrested or losing your job.' This simply isn't true. You're allowed to ask someone out once, because overtures have to be unwanted to constitute harassment. Until you ask someone out politely, you don't know whether it's unwelcome," says Rawson.
Of course, he says if that person declines a polite date inquiry, and the co-worker persists in asking them out, then it may lead to a sexual harassment claim.