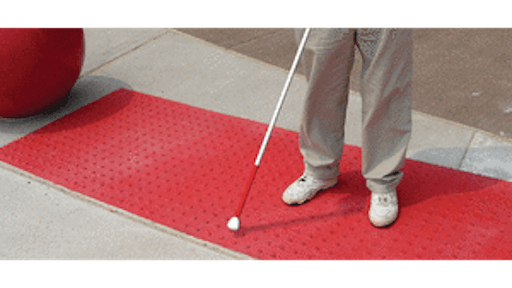 Detectable Warning
Non-skid material
Seamless application to curves or straight edges
No concrete recess required
Professional Installers available
Vanguard ADA Systems
Freestanding Counterweight Anchor
The Freestanding Counterweight Anchor is a non-penetrating anchor for fall protection while performing work on flat roofs or structures. The anchor features ergonomically designed counterweights made of cast iron that weigh 45 lbs. each. The anchor is fall arest-rated for one user and has been approved for use on six different roof types including concrete, single ply membrane, bitumen membrane, asphalt sanded, asphalt stone chipping and steel.
DBI-SALA - Capital Safety
Hard Hats
Stens' hard hats feature a six-vent CoolSense air flow system, snake-head shell design and rain trough. A padded six-point nylon suspension and ratchet adjustment create a custom fit. All styles comply with ANSI standards for Type I, Class C.
Stens Corporation
MiniRAE Lite
RAE Systems' new MiniRAE Lite photoionization detector for volatile organic compounds uses standard alkaline AA size batteries or optional rechareable batteries.
For outdoor environmental and construction site use where hydrocarbon-based volatile organic compounds (VOCs) and chemicals pose a threat
Measurment repsonse time of under three seconds
Waterpoof for easy decontamination and suited for use in humid conditions
Measurement range of zero to 5,000 ppm
Large back-lit graphical display for easy viewing in any light condition
Built-in flashlight
User interface configurable in 12 languages
RAE Systems
vests
American Safety Vest offers three high-quality vests that meet ANSI specifications.
All three vests are available in either fluorescent orange material with lime reflective striping or in fluorescent lime material with silver reflective striping
All have Velcro front closure, while striping is 3M Scotchlite reflective material
Class I vest meets the basic level of visibility set by ANSI and is designed for areas where vehicle speeds are less than 25 mph
Class II vest is designed for areas where vehicle speeds are between 25 and 50 mph
Class III vest has the highest level of visibility and is designed for areas where vehicle speeds are more than 50 mph
American Safety Vest
Wheelz Impact/Splash Goggle
Wheelz safety eyewear is part safety glasses and part safety goggle. Wheelz eyewear combines all-day comfort with popular sport styling and the maximum splash and impact protection of a goggle. Wheelz eyewear has a compact, lightweight frame made of a soft, flexible material. Plus, it's now available with an optional foam edge that absorbs perspiration, preserving a clear view of the workplace and serving as a cushion for added hours of comfort. (Available on black frame with clear anti-fog and gray anti-fog lens options only.)
Wheelz goggles feature the patented Whirlwind ventilation system, which minimizes fogging by circulating air through the optical chamber. Ten unique conical air chambers line the frame's brow area. Secondary air enters the goggle through ten additional ventilation ports on the frame's underside, creating a strong "whirlwind" of air that circulates through the inner frame.
Gateway Safety, Inc.