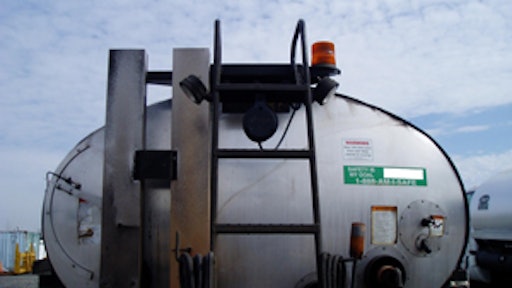 Dave Barton
There's no merit in flying under the radar - at least where reversing safety is concerned. As there are so many reversing systems on the market, it does pay to be somewhat selective when deciding to purchase one.
Vehicle reversing alarms warn externally of immediate danger, while reversing cameras widen a driver's field of vision. Detection systems however, alert the driver inside the cab to the presence of an outside object. The many infra-red and ultrasonic detection systems available are often limited in their ability to detect and protect. Radar, it seems could be the solution, and Brigade's BACKSENSE rear-detection systems are living proof of radar's effectiveness as a back-up safety solution.
One customer currently enjoying success and safety with the BACKSENSE product is Blythe Construction, based in Charlotte, North Carolina. Phil Addison, the firm's asphalt operations manager, is impressed with how effective these systems are.
"We purchased our first BACKSENSE system from Brigade last year," he said. "The larger machines we installed the systems on have significant blind spots behind them, so we needed added protection. We also wanted an alarm inside the cab to alert the operator when there was a rear obstruction. BACKSENSE was the obvious choice."
Blythe currently has BACKSENSE systems configured on all of its motor graders, loaders, service trucks, water trucks and emulsion distributors.
"BACKSENSE is able to detect both moving and stationary objects, and so serve a dual purpose; preventing damage to vehicles and property, as well as saving lives and preventing injury." Addison explained.
BACKSENSE functions by detecting the closest obstacle in the zone of coverage. There are currently three systems available: BS-1030 - able to detect objects within a 10 feet radius, BS-1045 - that can detect in 15 feet radius and BS-1060 - which has a 20 foot radius. Each system is made up of two main parts - interior and exterior. The external unit is a circular radar sensor unit, 5.25" in diameter. This is connected to an in-cab audio-visual display unit that uses LED distance indicators. This unit emits a tone that increases in pulse rate the closer an object is to the external sensor.
The system uses the pulsed radar waves, which have a longer range than infra-red and ultrasonic waves, and are able to travel through snow, rain, mud, dirt and even plastic. BACKSENSE systems use a 5.8GHz radar frequency. By receiving returned wave signals, they can calculate how far away an object is, based on how long it takes the signal to return.
Despite being a hi-tech piece of equipment, BACKSENSE systems are compact and hard wearing. They are resistant to a number of environmental conditions: temperature (up to 185° Fahrenheit and down to -40° Fahrenheit), water and vibration. The heavy-duty sensor can even be steam cleaned and pressure washed, making it an ideal solution for heavy commercial vehicles, construction equipment and other mobile plant, as Addison noted.
Blythe Construction specializes in all aspects of road construction and has some 400 machines: from motor graders and loaders to pavers, milling machines and asphalt plants. The company was incorporated in 1949, and today has six offices and 450 employees covering the states of North and South Carolina. The company is part of the Hubbard group, an affiliate of Eurovia which has companies all over the world.
BACKSENSE systems can work on a stand alone basis or be integrated with other Brigade reversing products such as bbs-tek broadband sound alarms and BACKEYE camera systems.