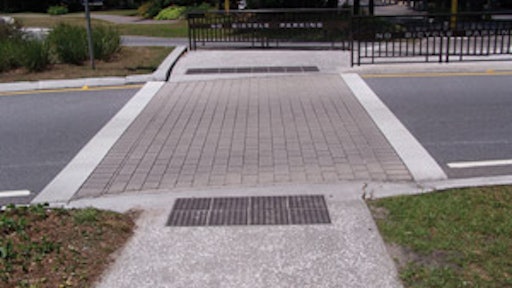 By: Darrin A. Shoemaker, P.E.
Nearly two years ago, Town of Hilton Head Island, S.C., officials realized that ongoing efforts to upgrade existing pedestrian crossings to ensure compliance with the Americans with Disabilities Act (ADA) detectable warning surface requirements left something to be desired.
The Town maintains a 50-mile public multi-use pathway system that is heavily used by the island's residents and visitors. The bright yellow flexible surfaces being applied to the asphalt pathway approaches to road crossings were considered incompatible with the Town's efforts to emphasize natural earth-tone hues in its design practices. Citizens and public officials complained about the intrusive "bath mats" that were being installed.
In response, town officials decided to investigate alternatives and found Transpo Industries' Step-Safe Detectable Warning Tiles through Traffic Distributor Links, Inc. The Town was attracted to the variety of colors available, the ease of installation and the durability afforded. Design professionals worked with a number of citizen committees to identify the chocolate brown color as the preferred color.
In order to accommodate the ADA-required level of contrast and simplify the logistical problems associated with attempting to retrofit existing pedestrian crossings, the Town hired a contractor to replace existing asphalt on pathway approaches with portland cement concrete pre-formed to accept the inlaid Step-Safe tiles and grouting material.
City officials identified Coligny Circle, a large roundabout intersection that serves as the terminus for a number of arterial streets in Hilton Head Island's most popular beach area for visitors, as a suitable pilot project. Three of the arterial streets had existing pathway crossings marked just outside the outer edge of the circle. The Town had recently designed and constructed raised median islands to serve as pedestrian refuges at the crossings and offset the crossings by installing railings within the refuge areas in order to afford improved sight distance. The refuge islands were constructed with a light-colored oyster-shell aggregate concrete. Subsequently, existing concrete within the islands was removed and re-poured to accommodate the Step-Safe tiles inlaid flush into the concrete surface.
The Town's contractor successfully accomplished a total of 12, 4-ft. by 8-ft. installations in a single day to fully treat each of the three major arterial pathway crossings in both the medians and shoulders. Further, the installations were accomplished in a manner that avoided any obvious indication that the tiles had been retrofitted into previously existing concrete.
Over a year later, all of the installations continue to provide the desired service and have yet to require any maintenance. The Town is pleased with the finished product and subsequently decided to identify the chocolate brown Step-Safe tiles as the preferred treatment method at pathway crossings, both for new projects and for retrofitting existing crossings.
Darrin A. Shoemaker, P.E. is town traffic engineer for the Town of Hilton Head Island, S.C.