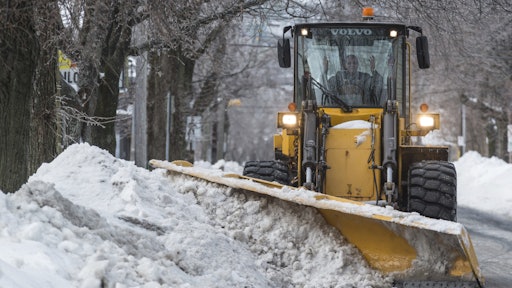 Preparation for snow plowing properly begins before the first snow. Equipment, materials, storage, handling, mobilization and staffing planning, route mapping and a host of other details are long range scenarios.
Here are some key steps to remember:
Plow operators should be familiar with their routes in dry weather, making note of problem areas. When possible, highway maintenance people should be engaged to remove, repair or otherwise mitigate bad spots.
Things like raised manhole liners, clogged ditches and drainage structures, broken and misaligned pavement joints, bridge expansion joints, curbing characteristics, etc. should be checked. It's easier to slow down and raise a plow than it is to tow a wreck back to the garage.
Look for the best places to turn around, to park during a break, to refuel, to reload, etc. Check for lighting, lines of sight and security around salt sites.
Make sure trucks and tractors have required postings and signage (Keep Back, slow moving vehicle triangle, etc.) Make sure all units have a strobe or beacon and that they are visible from all directions.
If you will be plowing parking lots or residential areas, start drawing maps and making lists of problem areas to avoid with the big trucks. The infrastructure in these areas is more delicate. Use the smallest rig possible to minimize tearing up the countryside. Use flags, markers, indicators, etc. to warn of obstructions or hazards. Be especially careful around high dollar communications boxes. Even if you don't hit them with a plow, the tsunami of ice you push might knock one over.
Have as many back ups and spares on hand as possible. Murphy's Law goes into hyper-drive when the temps head south of zero. Plan for fittings and hoses to leak or break, linkages to freeze, oil to congeal, fuel lines to ice up, salt and sand to freeze, metal to freeze and splinter, and in general for things to become hard to manage. Check your first aid kits and spill clean-up kits, speedy dry, absorbent blankets, road flares, etc.
Salt and road dirt will quickly obscure warning signs and can also impair the visibility of warning strobes. Do a little legwork and research; there are non-stick Teflon-like coatings available to help prevent spray from sticking to signs and other surfaces. It may require periodic re-application, but do some trials. You're trying to protect your company, remember?
Make sure you have your parts supplier and welders' phone numbers handy.
Snow Plow Preperation Maintenance Safety
12 Tips for Preparing Your Snow Plow For Winter
John J. Meola, CSP, ARM is a safety consultant with Invincia Insurance Solutions in Chesterfield, VA. He can be reached at jjmeola@invincia.net