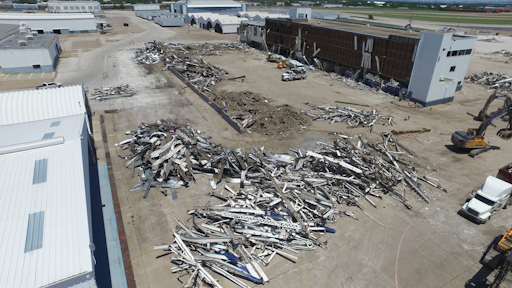 1 Priority Environmental Services
Information from this article was first published in Demolition Magazine and is being reused with permission from the National Demolition Association.
By Sue Rose
View of the 157 Vought Aircraft plant buildings scheduled for abatement and demolition.1 Priority Environmental Services1 Priority Environmental Services — now merged with Earth Services & Abatement, forming one of the largest abatement, demolition and remediation firms in the nation — has begun asbestos mitigation efforts at the former Vought Aircraft Plant in Grand Prairie, TX. Vought is under abatement and demolition to make way for Home Depot's largest lease and distribution facility — occupying 2 million square feet of the 315-acre site. DGIC LLC/Northpoint Development is the project owner. The abatement effort began in 2017 and is expected to be completed by June of 2020.
Vought occupied the aircraft plant near Dallas from 1940-2012. According to 1 Priority CEO Gary Caldwell, "The site, now called Dallas Global Industrial Center, was first built for armament construction for World War II."
The plant was home to the construction of the historic and contemporary military planes such as the B-1 bomber, F-22 Raptor, and parts for commercial aircraft such as the Boeing 747 and 777 over the course of its 72-year stay. At its prime, the plant employed over 29,000 people.
"Although this is our first collaboration with Northpoint Development, 1 Priority and its owners have performed asbestos abatement, mold remediation and hazardous dust decontamination work at this facility since the early 1990s when it was owned by LTV, Vought Aircraft and Triumph Aircraft," Caldwell says. "Our record of work here made this massive abatement project a natural progression."
1 Priority has currently abated the asbestos from 83 of the 157 buildings on the campus and is slated to abate the balance before the end of 2020.

According to Heath Watson, executive vice president of field operations for 1 Priority, current abatement work includes the removal of asbestos-containing materials from up to 157 buildings that were previously used for offices, manufacturing, storage and hangars.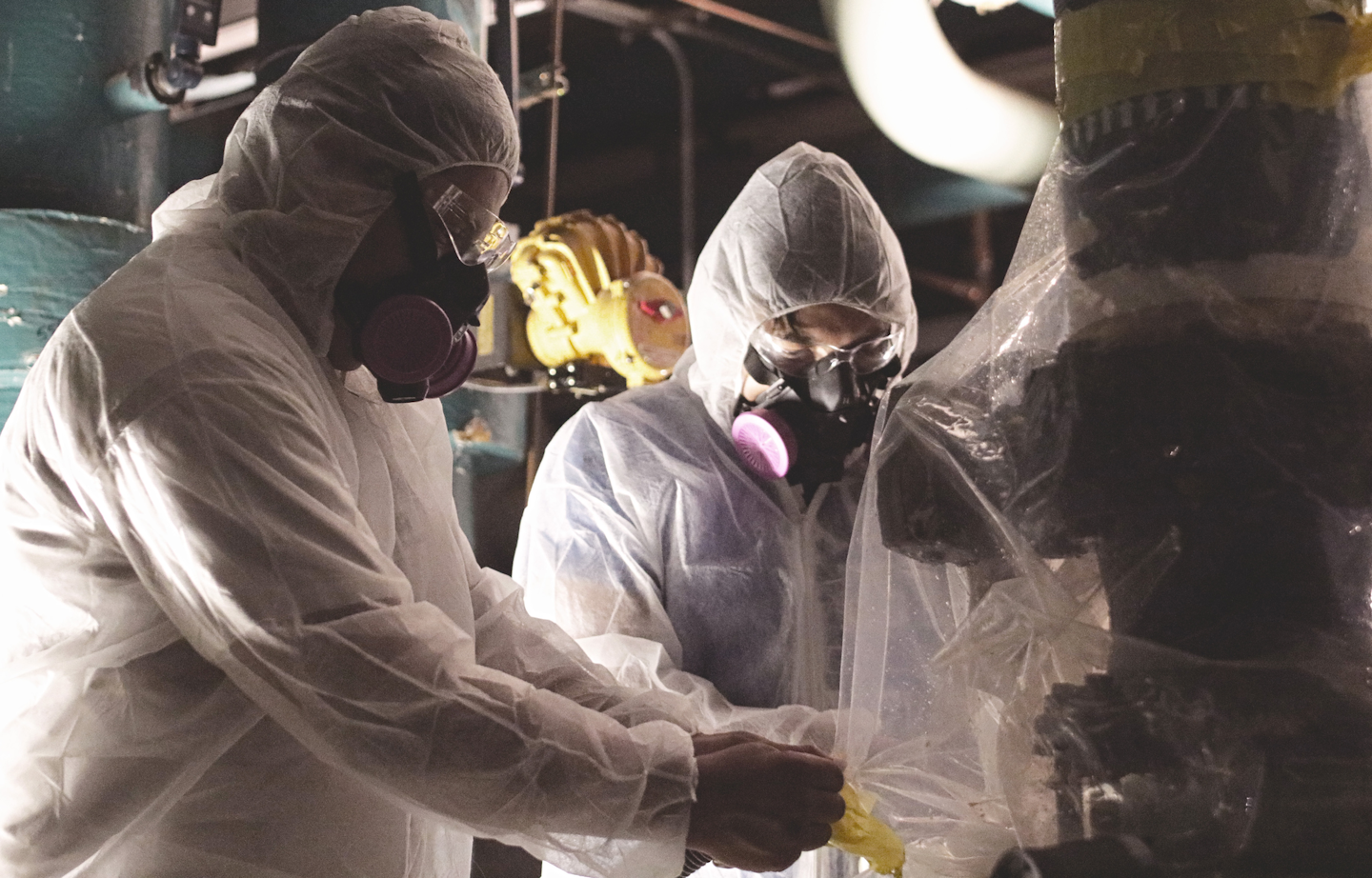 Highly skilled Priority 1 asbestos abatement technicians performed "glove-bag" abatement of insulated piping within the manufacturing buildings scattered across the property.1 Priority Environmental Services"This is a huge project, demanding a lot of coordination among various contractors," Watson says. "The owner, American Brownfield/Northpoint Development, gave us the sequence of the buildings to abate, and our crews are moving through one building at a time to allow for the demolition contractors and reclamation crews to get in as soon as they can to the abated building as we move on to the next. All work is being performed in a fast-track manner to meet the construction schedule. There are only so many ants you can have on the hill at one time, and depending on the building being abated, 1 Priority will have anywhere between 10 and 40 crew members working at one time."
Safety is a top priority

"Because this is an industrial site, there are additional safety measures we follow explicitly," Watson says. "Our crews are always wearing personal protective equipment (PPE) comprised of disposable Tyvek suits and respirators with the appropriate filtration based on the materials being abated."
Other safety and protective equipment required for this project include fall protection harnesses with retractable lanyards, high-visibility vests, hard hats, steel toe boots, hearing and hand and eye safety devices. The engineering controls necessary for the containment of asbestos debris needed differ based on the type of materials being abated and their use within each building. For example, water piping covered with asbestos insulation is contained and abated inside glove bags.
Boiler insulation, fireproofing, large areas of walls, ceilings and flooring need to be abated inside full, negative pressure containments, which include multiple layers of poly sheeting on all interior, and sometimes exterior, building surfaces. For this type of work, an even higher level of respiratory protection equipment is required for employees. In addition, each time employees exit these full containments, they are required to shower out through a three-stage wet decontamination chamber.
Asbestos abatement progresses successfully

1 Priority workers assisted contractors in removing asbestos from 132 of the 157 buildings on the property in a timely and efficient matter.
In addition to the flooring, fireproofing, walls and ceilings that required abatement within the interior of the buildings, thousands of feet in asbestos-insulated piping was removed from tunnels and pipe racks that connected each building.1 Priority Environmental Services"1 Priority was a developer's dream on this project," says Nick Crawford of DGIC/Northpoint Development. Abating asbestos is just one of those things that you sometimes have to deal with but would rather not because it's just not an easy task. They made that part of my job seamless, keeping my headaches to a minimum."
Critical delays were also avoided thanks to the flexibility of 1 Priority when the Texas Asbestos Health Protection Rules (TAHPR) agency deemed that the previous owner's testing, what was being used as the baseline for remediation efforts, was not sufficient. A 1 Priority analyzer was able to re-evaluate the buildings, and Watson and his crew were able to continue on with the National Emissions Standards for Hazardous Air Pollutants (NESHAP) compliant asbestos removal within a few days.
Sue Rose is a principal at Construction Writers Collaborative. She launched the Construction Writers Collaborative in 2016 to deliver spot-on content for the AEC sector in Colorado and beyond. She has run Rose Public Relations since 2001.