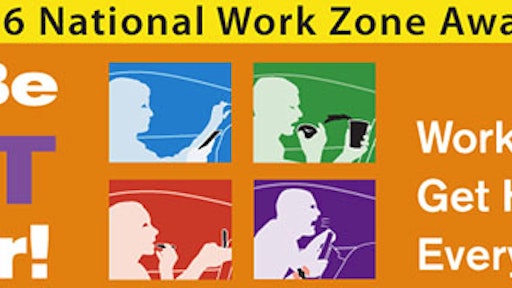 April 11 through April 15 will recognize 2016's National Work Zone Awareness week. While this campaign, which started back in 1999, focuses mainly on informing and training the public to drive safer in work zones it's also important for the construction and road building industries to get involved.
Work zone fatalities have fallen since the start of the campaign, but there are still too many. In 2014 there were 116 worker fatalities in and around work zones — a 9% increase from 2013, according to the Bureau of Labor Statistics. The leading causes of these fatalities are runners, backers and falls. While the driving public can be the cause for most of these accidents, construction and road workers also need to make sure they are properly trained and follow established safety practices to help minimize these accidents and fatalities.
The national kickoff event for Work Zone Awareness week will be held Tuesday April 12 at 10am near the vicinity of the I-75 widening project near Toledo, Ohio.
New technologies are also being developed to help construction workers be safer in work zones. In 2015, prototypes of radio sensored construction safety vests were introduced. The radio sensors in the vests could alert workers of potential hazards and prevent fatal roadside accidents by using GPS tracking and short-range communication to provide danger detection and notifications.
In addition to the awareness week, the American Traffic Safety Services Association (ATSSA) is also initiating Go Orange Day on Wednesday April 13, 2016. Go Orange Day encourages all roadway safety professionals across the U.S. to wear orange to show their support of work zone safety. ATSSA is encouraging participants to share photos of their team wearing organ on social media to help spread the campaign.