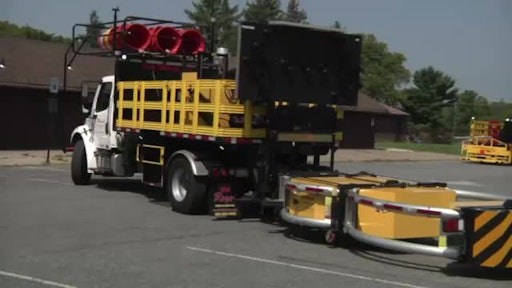 If there was a way to cut construction work zone injuries and fatalities in half, would your company make the investment? According to the Journal of the Transportation Research Board, a device called an attenuator can do just that.
Today, your company probably has a specialized truck onsite, outfitted with a crash barrier to keep oncoming traffic away from your workers. These crash trucks, fitted with a device called a truck-mounted attenuator (TMA), have been credited with saving lives.
Attenuator technology has been around for 30 years and these TMA's are built to absorb the impact of a high (or low) speed crashes, decrease damage made to each vehicle involved, and most importantly, save people's lives.
The Founder of Royal Truck & Equipment Inc., Rob Roy, saw a hole in the market for a quality TMA Truck.
"There are many trucks on the market today that are meant to act as a crash truck, but are built so poorly that the drivers and workers were still getting injured, or worse, killed," says Samantha Schwartz, marketing & business development manager at Royal Truck & Equipment. "He sought out many users of the product, asked questions, listened and developed his own high quality, safe, regulation-standard TMA Truck – and it absolutely saves lives every day."
However, since a TMA Truck is meant to act as a crash cushion between a distracted driver coming into a work zone, and the construction workers that are in the work zone doing their job, there is no true purpose of the vehicle except to be hit. This means your workers who drive these vehicles are inevitably placed in harm's way, "literally waiting to be struck," Roy says.
Look, No Hands
Keeping your driver safe from this danger has always been the challenge. However, with the development of driverless vehicle technology, along with an attenuator, the game has changed.
"If you can remove the driver of the TMA Truck, you are removing someone from an inevitable situation," Schwartz says. "Rob asked: "why have a sitting duck in a crash truck?"
"Our partners in this technology, Micro Systems Inc., approached us when they found out the purpose of a TMA Truck, to keep drivers safe," Schwarz continues. "They thought this same autonomous technology that is used to remove our armed men and women out of dangerous war zones (military drone technology), would do the same in our dangerous work zones."
Unmanned Ground Vehicles (UGV's), developed by Micro Systems Inc., are playing an increasingly important role in commercial and military applications. These robotic and autonomous systems are improving safety and significantly reducing the number of dangerous tasks performed by humans.
"Automating a TMA truck and transforming it into a UGV enables autonomous driving capability," Schwartz says. "The Autonomous TMA (ATMA) will maintain the safety of the work zone without putting the driver's life in a high-risk and dangerous situation. The pilot program will yield a significant amount of never before captured data regarding the automation of road construction vehicles and the utilization of these vehicles in work zones. What will be learned from the pilot program will apply towards further integration of these technologically advanced vehicles in an effort to continue to create a more safe and accident-free work environment on roadways."
[VIDEO]Driverless TMA Truck Demonstrated in PA

Royal had been testing the ATMA technology for 10 months before it made its debut in August. Two of the autonomous vehicles will begin work on highway construction sites in Florida by the end of the year under a state Department of Transportation demonstration program. We can only hope more state DOT's start having these vehicles show up on work zones across the country.