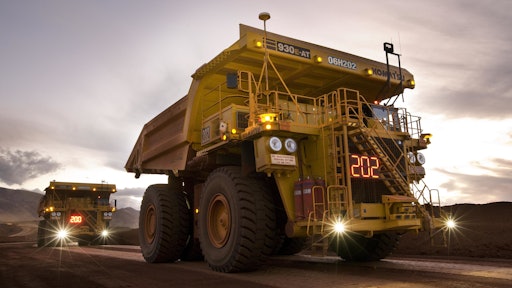 By Sara Jensen
Autonomous vehicle operation is a technology manufacturers have been investing research and development efforts into for decades. Ron Crawford, director, product marketing & planning, Mining, Komatsu America Corp., says the company began early development of its Autonomous Haulage System (AHS) in 1990. He notes that this was three years prior to military GPS technology and six years prior to civilian application of GPS.
As technologies such as GPS have become more readily available and have improved in performance, Komatsu and other companies like it have been able to make great strides in advancing their autonomous vehicle systems and increase the amount of applications in which they're used.
Improvements in sensor technology within the past several years have helped it become an integral part of many vehicle systems. Jared Pratt, vice president of marketing and business development at Autonomous Solutions Inc. (ASI), notes that sensors are crucial for performing complex tasks in a safe manner, and are generally the largest cost associated with automated vehicles. "As sensor prices have dropped and as the algorithms have improved to leverage lower cost sensors, more automation applications are showing a strong return on investment," he says.
The introduction of lower cost LiDAR and stereo vision cameras are rapidly increasing the use of three-dimensional localization, as well as object detection and avoidance capabilities. Both of these functionalities are important to ensure the safety of operators and those around the autonomously operated vehicle.
"Our focus is to leverage these advancements across all our industries to lower the price point of the solution, thus enabling larger market segments to take advantage of the benefits of automation," says Pratt.
Continuous Development Efforts
For over a decade, ASI has been developing its Mobius Command and Control Software platform, which enables autonomous operation to be built into a vehicle. Pratt says the company has invested heavily in upgrading the system's hardware and software components in recent years in an effort to further advance its capabilities.
He notes that ASI will partner with sensor manufacturers and third-party solution providers to enhance their automation research and development efforts. "Collaboration with these companies as well as global research teams has generated some really exciting capabilities that we're testing now," Pratt says. In addition, ASI has invested heavily in the testing facilities at its headquarters in Utah, where 24-hour testing and validation continues to uncover advancements and improvements to its automation solutions and capabilities.
Komatsu has advanced its AHS by working closely with customers, distributors and suppliers. Crawford notes that mines are dynamic environments with many unpredictable scenarios. Having these close relationships enables Komatsu to better understand how mines actually work and build that knowledge into improving its system. "We learned over time how to better predict the unexpected and build functionality in the technology to react in the most appropriate manner," he explains.
Crawford adds that the system has advanced over the years in terms of the volume of machines in which the system is used, and in the variability and dynamic aspects of mining operations and intelligence of the system to overcome challenges found in various mining environments. "Technology continues to improve in terms of accuracy and speed to bring even greater efficiencies for our customers," he states.
Reducing complexity is one of the key areas in which companies are working to advance autonomous systems. Pratt notes that autonomous vehicle systems remain complex and difficult for non-engineers to install, configure and operate. He says ASI has invested in user experience and interface design, and continually tests its new designs using focus groups. "Gaining broad market adoption and use will require further simplification in engineering and design."
The Future of Autonomy
According to Pratt, labor costs and safety will continue to be key drivers for the adoption of automation capabilities across multiple industries. "As costs of these technologies continue to drop and as the ongoing testing of these solutions are showing big gains in availability, productivity and efficiency, we are seeing some unique opportunities for automation," he says. "The mining industry has been and will continue to drive automation adoption, but we are seeing many more applications on smaller vehicles that have substantial advantages, as well."
Farming is one of the areas Pratt says automation will continue to expand as farmers' concerns regarding labor shortages and potential costs of worker safety legislation increase. Meanwhile, adoption of the technology in applications where there is interaction between the public and autonomous vehicles will struggle, he says, though there has been some progress in this area. Earlier this year, Daimler Trucks North America unveiled its Freightliner Inspiration truck, which is the first licensed autonomous commercial truck to operate on an open public highway in the United States.
"I think there are certainly other platforms that may one day utilize autonomous or at least semi-autonomous systems," says Crawford. "The auto industry has shown that with self-parking vehicles. Each potential application of any technology must be evaluated on its own merits and value to the end-use customer."
Pratt says ongoing standards development as well as safety and liability concerns will continue to be key challenges for the industry. "We've invested heavily in engineering safety into our systems and we continue to actively participate in the development of the safety standards and guidelines with autonomous systems across all of our focused industries," he says.
"As adoption increases, I think we'll see the development of industry standards to govern vehicle-to-vehicle and vehicle-to-infrastructure communication. This will allow for multiple vehicles from different providers to work collaboratively. When this happens, I think we'll see an accelerated reduction in price of these solutions and an increase in the development of advanced capabilities as developers will have these protocols and standards to develop on," Pratt concludes.
Companies in this article