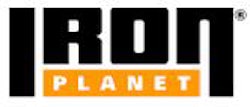 PLEASANTON, Calif. (Sept. 21, 2011) - IronPlanet, an online marketplace for used heavy equipment, announced today its new mobile app for iPhone and Android smart phones. The free app gives users the convenience and flexibility to find and bid on equipment in IronPlanet auctions from their phone.
The IronPlanet mobile app allows users to search global inventory by equipment category or auction date from their mobile devices. With just a few taps, users can review inspection reports, add items to their "Watch List" and place bids. Users can also view live auctions and real-time bidding activity all from their phones.
IronPlanet's mobile app provides instant alerts to the buyer when they have either won the item or been outbid. IronPlanet's dedicated customer service team is also readily available with a one-touch dialing function.
The free mobile app can be downloaded from the iTunes Store and Android Marketplace.