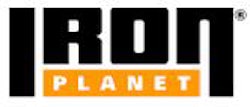 IronPlanet, an online marketplace for used heavy equipment, announced record annual sales in 2011, with gross merchandise volume exceeding $568 million, an increase of 15 percent over 2010.
In 2011, IronPlanet conducted a record 114 auctions worldwide, an increase of approximately 16 percent over 2010. Through IronPlanet's marketplace, over 37,000 items were sold, up approximately 14 percent over 2010.
IronPlanet averaged more than 10,000 new user registrations a month in 2011, a 13 percent increase over 2010. With more buyers around the world, IronPlanet auctions in the U.S. generated significant international participation with approximately 40 percent of items sold receiving international bids and 22 percent of the items sold to buyers outside of the U.S.
"I am consistently told by our customers that IronPlanet's business model is a more efficient way to buy and sell equipment and this was evident as IronPlanet kicked off 2012 with our largest sale ever," said Greg Owens, CEO of IronPlanet. "This year we will continue to focus on driving value for our customers as we strengthen our geographic footprint, continue to expand into new vertical markets and drive new marketing initiatives to grow our worldwide buyer base."
During its first onsite and online auction from February 21-24, IronPlanet sold more than $50 million of GMV with more than 42,000 attendees from 146 countries. The four-day sale was IronPlanet's largest auction in company history.
IronPlanet is an online marketplace for used heavy equipment. Guaranteed inspection reports and exclusive IronClad Assurance enable buyers to bid with confidence. IronPlanet is backed by Accel Partners, Kleiner Perkins Caufield and Byers, Caterpillar, Komatsu and Volvo.