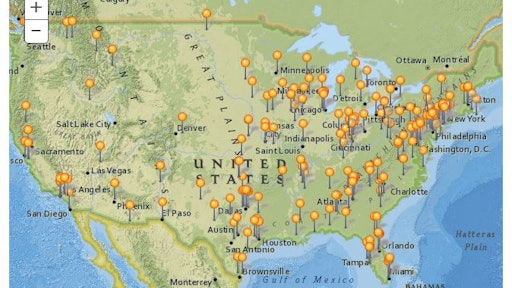 Despite legislation, industry education and safety awareness campaigns, lack of proper fall protection continues to rank No. 1 on OSHA's Top 10 Most Frequently Cited Violations. It is also the No. 1 killer of construction workers.
In 2013, 37% of the 796 workers killed in construction accidents -- 294 people -- died in falls. (To put this in perspective, view the interactive Fatality Map at www.stopconstructionfalls.com.)
Complacency is too often at fault in fatal falls. A worker may believe the job is at a low enough height to make fall protection equipment unnecessary, or the job will be "real quick" or fall protection will be "too restrictive." In some circumstances, it's a case of negligence, in which an employer or site manager fails to provide the right equipment, or workers have not been made aware of or fail to understand potential hazards at the site.
No matter what the scenario, it is the employer's obligation to:
provide proper fall protection equipment based on a hazard assessment of the work site;
train staff on when and how to properly use the equipment;
maintain the equipment to ensure proper operation when needed;
and enforce required use of the fall-protection equipment per OSHA guidelines in the company's written safety policy.
Failure to meet any of these obligations can make your company liable should a fall-related injury or death occur. Fines, lawsuits and higher insurance premiums are likely financial repercussions. A tarnished reputation and potential loss of future business can also result, as can a loss of productivity on projects due to the emotional toll on other workers. Of course, the real incentives for maintaining an effective fall prevention program aren't measurable in dollars and cents.
With construction activity on the upswing, the importance of fall prevention is growing with it. Consequently, OSHA is expanding its Fall Safety Stand-Down event to two weeks in 2015, from May 4 to 15. During this period, employers are encouraged to pause during the work day for topic talks, demonstrations and training on how to use safety harnesses, guard rails and other means to protect workers from falls. Learn how your business can participate in, and benefit from, this event by visiting www.osha.gov/stopfalls/.