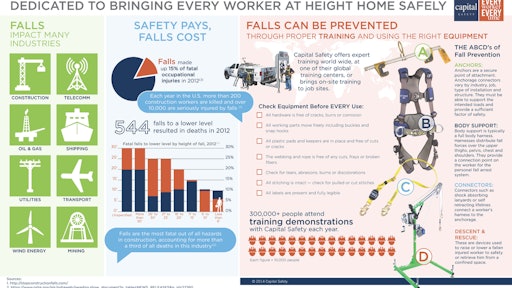 Capital Safety, a global provider of fall protection for construction and other high-risk fields, announced the launch of its Every Worker, Every Time effort — a national five-day fall protection and training program focused on the company's mission to bring every worker at height home safely, every workday. The initiative will work hand in hand with OSHA's National Fall Prevention Stand-Down, June 2-6, by visiting construction sites across the U.S. and reaching more than 50,000 workers through safety and compliance training.
The Every Worker, Every Time program will put 36 Capital Safety fully customized fall demonstration trucks on the road, engaging construction workers and safety managers with equipment and fall prevention presentations. The on-site trainings will take place in markets across the nation, and engagement efforts will focus on enhancing awareness, education and compliance with fall prevention measures so workers can do their jobs with confidence.
"We are very proud to align the Every Worker, Every Time initiative with OSHA's efforts to prevent falling hazards in construction," said Kevin Coplan, president of Capital Safety. "Capital Safety is in the business of preventing falls and saving lives. Falls continue to take too many workers' lives and we are committed to changing that. Our tools and resources can help amplify the safety message and support our mission to bring every worker at height home safely."
Falls account for more than one third of all construction deaths each year, the highest number of deaths in the construction industry. To address the safety issue and focus the industry's attention on Fall Prevention, OSHA is advocating for a national safety stand-down during which employers and workers are asked to pause their workday and talk about fall protection.
Capital Safety and its Every Worker, Every Time program will support this national campaign to get out the message that safety pays and falls cost. Along with hands-on demonstrations, Capital Safety will offer other safety resources including eLearning videos and assistance in creating comprehensive fall protection programs to help make compliance simple and create an environment of safety on a jobsite. These components are part of the company's global training program, which features 10 training centers and more than 60 different training courses annually.
Access online education resources including training videos and support materials by visiting the Capital Safety website.