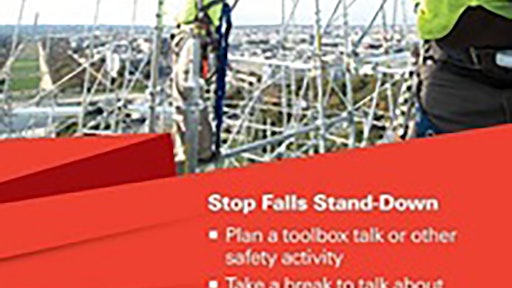 May 3 through May 9 marks the second U.S. Industry Safety Week. This year over 40 national and global construction firms — known as The Construction Industry Safety Initiative (CISI) — and the Incident and Injury Free CEO (IFF) Forum have joined forces to raise awareness and inspire everyone in the construction industry to be leaders in safety.
The organization's goals for Safety Week 2015 include:
Increasing awareness of the importance of being committed to safety every day
Inspiring contractors to share best practices and work together to strengthen the industry's safety culture
Conducting on-site safety awareness activities 
Thanking workers for supporting safety
As part of the effort to recognize the effort employees put into injury prevention and safety, May 8 will also be a national employee safety appreciation day.
In addition to celebrating a national safety week, many construction companies hold their own safety week at least once a year. If your company doesn't, consider adding one once — or more than once — a year. A company-wide safety week can help refocus and reenergize you company's and employees' commitment to safety on the job. 
Here are some suggestions from CISI on what to include in your company's safety week:
Create or reinforce project-specific and personal commitment pledges — pledge to commit to at least one thing this year you believe will make a difference in safety performance
Create action plans to follow through on pledges and commitments 
Make safety-specific visits to every jobsite throughout the week
Have safety-specific meetings and discussions with crews and foremen
Have a project team assess where each project is in terms of safety performance
Engage all employees to come up with action plans on how to be "best in class" when it comes to safety
Hold safety training sessions
OSHA National Safety Stand-down
May 4 through May 15, 2015, is OSHA's National Safety Stand-down. The two week event is meant to highlight the importance of preventing falls in the construction industry. OSHA hopes to reach over three million workers during the second year of its stand-down efforts. In 2014, more than one million workers across the country joined the stand-down efforts.
Why should you care? Because falls are the leading cause of death in the construction industry and the most frequently cited violation by the Occupational Safety and Health Administration.
The goal of the stand-down is to encourage the construction industry and all those who work in the industry to renew a commitment to sending all workers home safely every night. As part of the stand-down, workers and employers will pause during the workday for topic talks, demonstrations and training on how to use safety harnesses, guard rails and other means of fall protection. According to OSHA, safety stand-downs will be held in all 50 states and around the world.
"No child should lose a parent, no wife should lose a husband and no worker should lose their life in a preventable fall," said NIOSH Director Dr. John Howard. "The Stand-Down serves as an important opportunity for worksites to recognize the hazards that cause them, train employers and workers how to avoid them so that these senseless tragedies can be prevented once and for all."
Construction contractors can get involved in the National Safety Stand-down by holding their own stand-down or taking part in free events in their area.
The newly launched National Safety Stand-Down 2015 website provides details on: how to conduct a stand-down; receive a certificate of participation; and access free education and training resources, fact sheets and other outreach materials in English and Spanish. It also includes a list of stand-down events free and open to the public.
According to OSHA, more than 3,500 workers have died from falls over the last decade. In 2012 alone, falls accounted for 279 of the 806 construction fatalities recorded. We all need to make an effort to make our jobs and jobsites safer. Whether you participate formally in OSHA's National Safety Stand-Down or do it privately with your company and your employees, make sure you take time between May 4 and May 15 — and continue to revisit the topic often —to recommit to fall prevention and make sure every worker gets home safe.