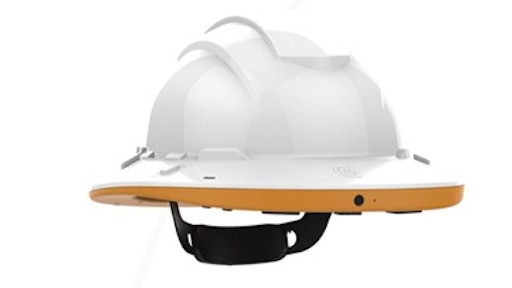 Lantronix Inc.
Trying to make the construction worksite safer continues to be a mission of many. Improving personal protective equipment (PPE) with the newest technologies are helping make that happen.
Smart hardhats have been in development, and even in use, for a few years now. Lantronix Inc. a global provider of Software as a Service (SaaS), engineering services and intelligent hardware for the Internet of Things (IoT) and Remote Environment Management (REM), has introduced the newest option for construction contractors — the Guardhat Communicator smart hardhat, which connects workers with a remote command center via sensors, camera and microphones.

"To revolutionize the safety of industrial workers, the innovative founders of Guardhat re-envisioned the hardhat into a wearable device at the edge of an end-to-end industrial safety system," said Jonathan Shipman, VP of Strategy for Lantronix. "Lantronix's advanced technologies and engineering services helped bring the smart hardhat design to life as a real-world solution."
"Using sensors, Guardhat identifies and shares information about the worker's location with the home base. Comprehensive communications options allow for voice and video calls. A single button enables the user to call for help," said Anupam Sengupta, CTO and co-founder of Guardhat Inc.
The challenge in designing the Guardhat was fitting all the features and functions into the hardhat without making it too heavy for workers to wear. Lantronix's solution incorporated sensors, a camera, microphone and on device processing power without creating a cumbersome helmet.
The Guardhat designers chose the Lantronix Open-Q 626 µSOM, which is based on the APQ8053-Pro SoC (system on chip), to deliver the ideal balance of advanced processing capabilities and power efficiency.  The Guardhat Communicator takes advantage of roughly 300 pins that the carrier board routes out as interfaces to the SoC, creating a wearable IoT device that includes board support, camera, audio and wireless connectivity.
The Guardhat team also utilized Lantronix's Open-Q 626 µSOM Development Kit, a cost-effective, feature-rich, camera-tuned, exposed board platform powered by the Open-Q 626 production-ready µSOM, based on the APQ8053Pro processor. It was used by the Guardhat team to jumpstart the design process and contain development costs.
What does the Guardhat do?
The Guardhat monitors workers' environements and sends warning and alerts in case of imminent danger. The new PPE enables remote communication and the ability to push a single button for help. In addition, it provides a data analytics platform that connects workers through situational awareness.
Other smart hardhats
The Guardhat isn't the only smart hardhat for the construction industry. In 2014, DAQRI introduced a Smart Helmet that incorporated Google Glass and augmented reality technology. While this wasn't designed as a safety improvement, the Smart Helmet allowed a wearer to "augment information and data directly over the top of any work environment."
The Google Glass hardhat features a sensor bar across the brow which handles all the tracking and alignment tasks. Real-time, contextual 4D content is viewable on the HD display which is positioned beneath a protective visor. The display's fully transparent optics allow the content to be read in both low and bright light conditions.

Another hardhat that uses mixed reality is the XR10 with HoloLens 2, a collaboration between Trimble and Microsoft.
"You can have an HVAC contractor and a plumbing contractor, both equipped with an XR10 with HoloLens 2, looking at a section of a building and seeing where each person's work will affect their work. This allows you to catch issues before they happen, which eliminates rework downstream," says says Jordan Lawver, portfolio manager for mixed reality at Trimble.
Of course, hardhats aren't the only PPE starting to incorporate technologies to advance safety and jobsite productivity. Many wearables are being developed to help monitor worker health, safety, location in case of emergencies and more.