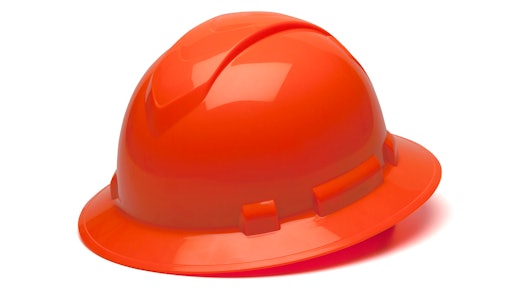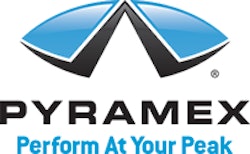 Pyramex Safety Ridgeline hardhats and bump camps are available in three styles, a variety of finishes and colors, vented versions and with 4-point and 6-point ratchet suspensions for easy adjusting. Styles include full brim, cap and bump cap. Custom imprinting is available all all three styles.

The Full Brim hardhat is constructed of ABS material, is easy to adjust with ratchet suspension and features a soft, replaceable brow pad for comfortable fit.
The Cap Style hardhat is made of robust ABS material and features a low profile design with a low center of gravity for better balance. A four-position harness allows the wearer to move the harness forward, backward, up or down for a personalized fit. And easy to grasp knob adjusts the suspension from 6.5 to 8. Swinging hinge points allow wearer to find the most comfortable position on the back of the head. The Cap Style also passes standards for reverse orientation, high temperature and low temperature. Rear padded suspension, padded fabric and a polyurethane foam sweatband provide comfort. A vented pressure pad keeps the head cool.

Full Brim and Cap Style non-vented head protection meets ANSI Z89.1, Type 1, Class E, G and C. Vented head protection meets ANSI Z89.1, Type 1, Class C. Both hats are available in standard colors as well as Hydro Dipped patters.
The Bump Cap is designed for applications where hardhats are not required but head protection is still needed. It is made from resilient polyethylene material. It features a 4-point glide lock suspension, ventilation holes, and padded foam and fabric sweatband. The Bump Cap is not designed to meet safety standards for industrial head protection.

Request More Information
Fill out the form below to request more information about
Pyramex Safety Ridgeline Hardhats and Bump Caps