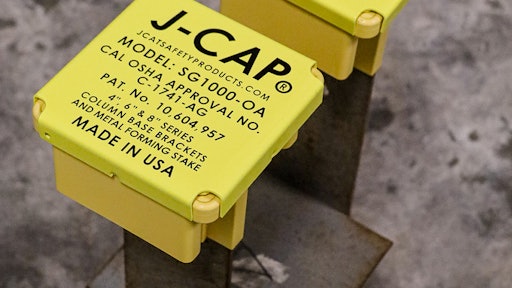 J-CAT

Download the white paper to find out more about this new and unique product.
The J-CAP Safety Cover is made of strong glass reinforced recyclable polyethylene material and an AR400 steel plate to provide the ultimate in stopping power . The universally-designed safety cap covers most Simpson Strong-Tie and Mitek column base brackets, post bases, along with commonly available steel concrete forming stakes. 
Features: 
Designed for commercial use
Above-grade OSHA approved
Re-usable
UV Protection
Compact design
Durable and robust
Brightly colored for easy visibility
Covers Simpson Strong Tie and Mitek 4 × 4, 4 × 6, 6 × 6, 6 × 8 and 8 × 8 post brackets
Fits all 3/8-in. metal flat nail concrete forming stakes
Made in the USA
The J-CAP OSHA Approved Safety Cover protects against lacerations while taking away the risk of impalement from above grade level falls up to 10 ft. (3.04 m). It also protects employers from any OSHA fines related to column base brackets or metal forming stakes.
Request More Information
Fill out the form below to request more information about
J-CAP Safety Cover