Another workday begins. The sky is your office. Your body is suspended by a strand of rope. The ground is your enemy.
The last thing you want is a single worry about things that could go wrong up there. Anxiety can bring mistakes. Mistakes can be deadly.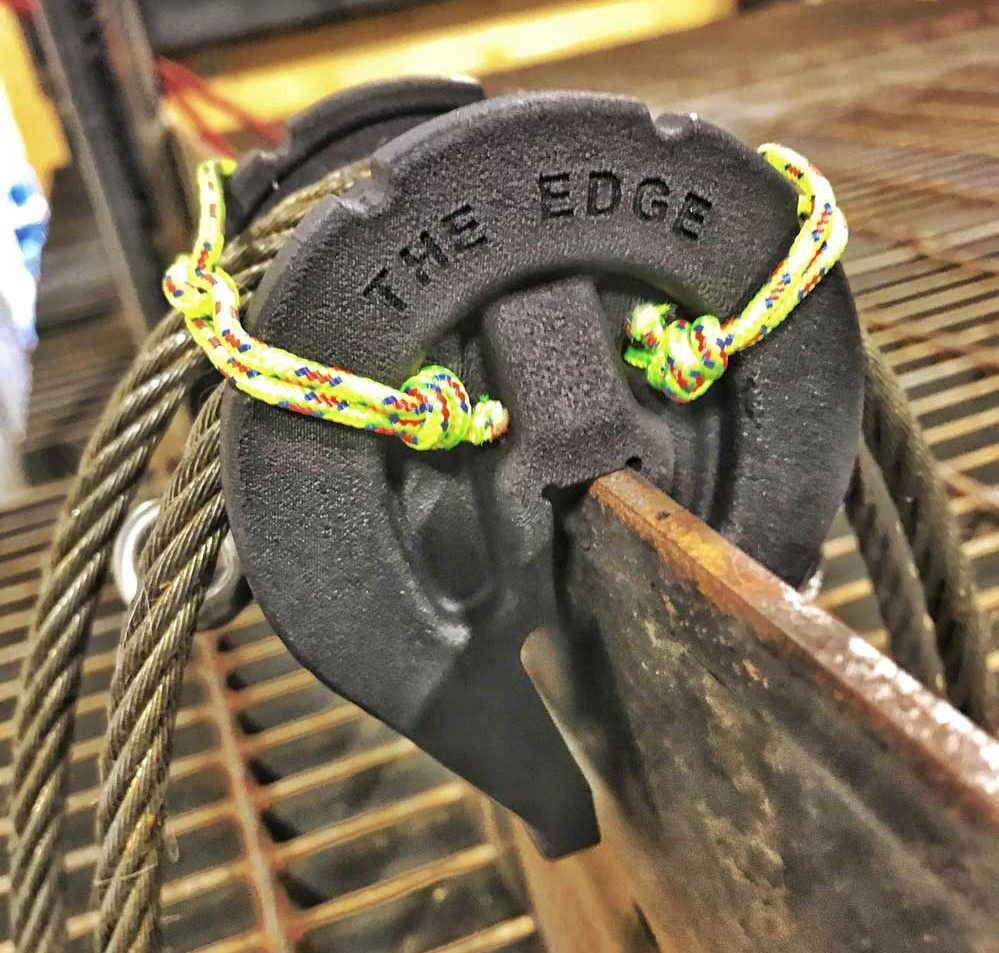 "It's a totally unnatural environment for the human mind," says Dirk Dorenbos, a rope access professional who has spent years repairing and maintaining signage, lighting, fire sprinklers and more while roped off high atop steep commercial structures.
"You've got to keep your wits about you. We call it having a head for heights. But that just means being comfortable and trusting your equipment," Dorenbos adds. "With the equipment that I use, I am quite comfortable. Somedays, you feel like Superman."
He has good reason. Dorenbos, founder of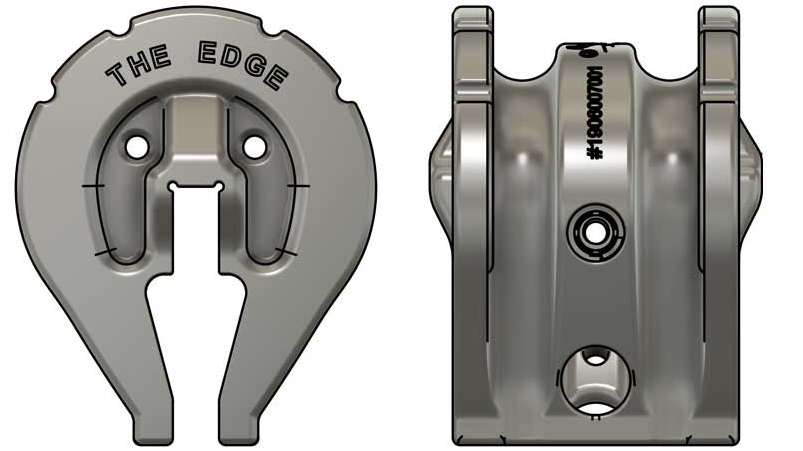 Rendering of the 3D-printed Edge device.Ropes Edge in western Canada, invented two crucial pieces of equipment that safeguard both his ropes and his life while he works at elevation.
Now, those two products – created with HP 3D-printing solutions – are in use among hundreds of other rope access technicians around the world.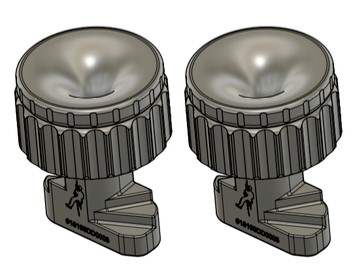 Rendering of two 3D-printed Vortex devices
The Edge and the Vortex both protect commercial ropes that otherwise become worn when stretched over the roofs, peaks and crowns of soaring structures by workers performing repairs or installations. The Edge is designed for ropes that rig around steel plates like I-beams. The Vortex is designed for ropes that rig around walkway grating or the grid mesh that's found on many industrial sites.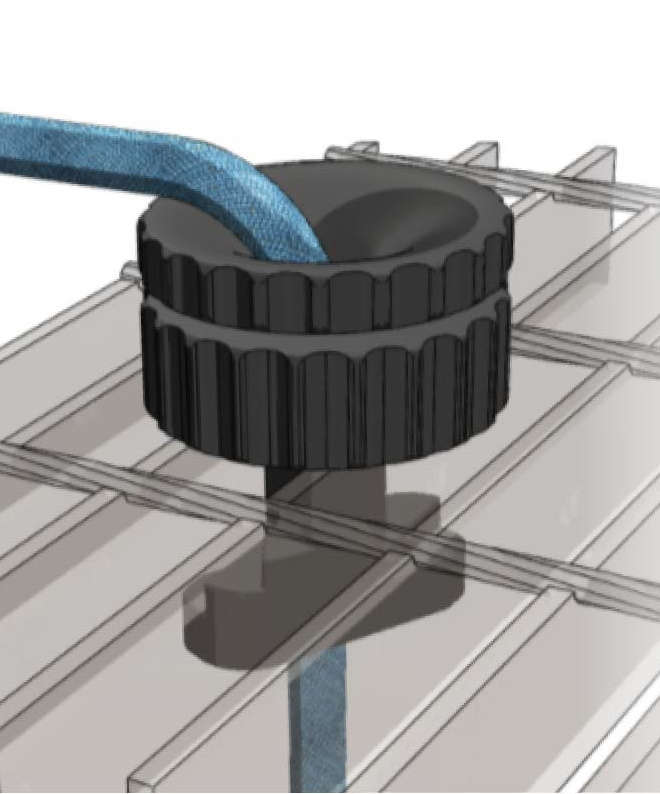 Roughly 60,000 certified rope technicians ply their trade at high-altitude locations – from skyscrapers to suspension bridges to smokestacks. Their greatest hazard is the constant strain of rope tension against sharp edges, says Jason Porter, operations manager and safety advisor for Global Rope Access, an industrial services and construction company in Vancouver, British Columbia.
Frayed ropes, in time, can snap.
"Despite a good track record for safety globally, unnecessary deaths have occurred all too regularly," Porter says. "We take these incidents seriously and investigation has shown that the traditional methods for protecting working ropes and back-up ropes do not work sufficiently well to be relied on in all circumstances."
Too often, Porter says, "creative individuals" in the rope access world are forced to "conjure up field solutions" to preserve their ropes, using stray materials strewn at a worksite, such as pieces of disposed carpeting, chunks of rubber tubing or strips of old fire hose through which the ropes are stuffed for makeshift protection.  
"Ropes Edge is part of the innovative, modern-day approach of providing adaptable, engineered products to reliably protect our lifelines," adds Porter, whose company now uses the Vortex at infrastructure projects in the U.S.
"Dirk has direct field experience as a site supervisor in a huge variety of industrial, construction and rescue situations. He's brought that experience to bear in these designs," Porter adds. "He is a respected trainer and assessor, allowing him to glean valuable information about the concerns and issues that field techs have across multiple industries using rope access."
Dorenbos' career ascent began, he says, with a "pretty girl." In 1999, he accompanied that female friend to the U.K. He also took along his love for rock climbing and his adventurous skillset.
But England, he soon learned, was where the rope access industry began in the 1980s, fueled by a need for experts to do hands-on repair and maintenance work on oil rigs in the North Sea. Those towers are commonly battered by huge seas and high winds, making it too perilous to erect scaffolds at the massive height of those derricks and cranes.
For Dorenbos, rope access work offered a chance to stay fit for rock climbing, earn money and travel Europe. In time, he became a rope access instructor and safety assessor, certified by the Industrial Rope Access Trade Association, IRATA, the world's leading authority on that specialized sector with more 400 member companies.
His 20-plus years spent on commercial ropes ultimately revealed to Dorenbos the need for a better way to safeguard the riggings that, on one recent job, held him three kilometers above the bottom of an underground elevator shaft in Saskatchewan.
The rope tech then became an inventor.
In the one-car garage at his home near Calgary, Alberta, Dorenbos installed a whiteboard near the yard tools, bicycles and skis. On that whiteboard, he refined his idea, drawing the overall dimensions of the Edge and Vortex. Later, using clay, he shaped several iterations of each product.
Soon, he brought his sketches to a design firm in Calgary. He and that team spent the next year prototyping, testing and finalizing the devices.
The Edge and the Vortex cost about $200, are adjustable and can be quickly secured into place without the use of tools.
"The goal was to have an ultra-light, very usable, very secure device that every technician on the planet will have on their harness because it is the best," Dorenbos says.
The products are 3D printed with PA 12, a nylon, which makes them both lightweight and durable, Dorenbos says.
Choosing 3D printing also saved Dorenbos and his fledgling startup hundreds of thousands of dollars in overhead costs, he adds.
"I had a big decision to make: Being a one man show, do I use injection molding or 3D printing to create the products? A mold costs anywhere from $25,000 to $125,000 for the tooling and die making. So initially, it was a financial decision. But with 3D, the result was incredible. The performance is incredible.
"I can hit a button and get 20 products made on demand," Dorenbos adds. "I don't have to make huge investments so that I have 200,000 of these products sitting in my garage waiting to be sold. I can go, 'Yep. I need 40.'
Dorenbos uses the HP Digital Manufacturing Network, an organized system of HP-endorsed digital manufacturers around the world that make and deliver quality parts to local markets.
Ropes Edge products are printed in the U.S., Australia and, soon, in the U.K. They are then shipped to rope access companies around the world. Dorenbos simply presses a button on his laptop, desktop computer or smart phone to request another printing order.
"This is revolutionary," says Connor Turley, owner and CEO of Altius, one of the world's largest rope-access training companies, with locations in the U.S., Canada and South Africa. He has known, trained and worked with Dorenbos for about a decade. Today, Altius uses Ropes Edge products at its training centers.
"The joke I often make about rope access is that the last original idea in our industry was 1984 when we decided to put a helmet on," Turley says. "It's one of those industries that doesn't change much, that's not terribly innovative.
"I mean, really it hasn't changed since the Egyptians built the pyramids while dangling from ropes. But this – this is a whole new concept. It advances safety by leaps and bounds," Turley adds. "This is a sea change."
Some traditional rope-protection products must be bolted into place then, later, unbolted after the task is done. That requires extra tools. Those traditional products also often break down into multiple parts, making them a drop hazard, says Turley, a member of the IRATA board of directors and that governing body's international training chairman.
"Because of my position in IRATA, I'm sad to say that I have to read reports on deaths in our industry," Turley says. "Far, far too many of those deaths are caused by damage to ropes that pass across sharp points."
As use of the Vortex and the Edge grow across the industry, Turley expects ropes to become safer and lives to be saved.
He and other industry officials, he says, are simply weary of their years spent reading those awful accident reports.
HP Inc.'s portfolio of personal systems, printers, and 3D printing solutions, help engineer experiences that amaze. More information about HP Inc. is available at www.hp.com/go/3DPrint.