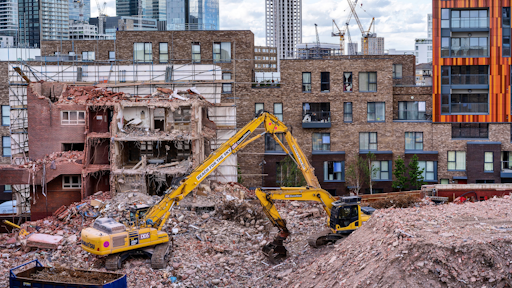 Unsplash
Information from this article was first published in Demolition Magazine and is being reused with permission from the National Demolition Association.
By Alex Berg
Within the demolition community, there is one question that is always on everyone's mind. As we are bidding projects, projecting start and completion dates, and planning operational aspects, we are constantly thinking about how we are going to staff and complete the project efficiently. We are not alone.
On June 10, Sarah Chaney wrote an article in the Wall Street Journal reporting that the number of reported U.S. job openings in April exceeded the number of reported unemployed Americans by the largest margin on record in the past 19 years. There were nearly 7.45 million unfilled jobs, yet only 5.85 million Americans looking for work. These numbers are based solely on what is reported and do not take into account the margin of error that is accounted for in the publicly reported unemployment rate. Either way, what we do know is, the people simply are not out there and available to get the job done. Adding and keeping 10 quality employees used to be difficult; now it's nearly impossible.
So, what are we doing within our industry to try and mitigate this? What are we doing to recruit the best talent, keep the best talent and grow the best talent? What are we doing to address the issue of an aging workforce that can't/won't do the hard labor and heavy lifting anymore? To take a deep dive look at this, I went to some of the most respected leaders within our industry to find out what they are doing to set themselves apart.
Training
One of the biggest issues we face in the demolition industry is that each project and building is different in its own way. It takes a lot of hands-on experience and seat time to understand how a building comes apart in the safest and most efficient way.
The majority of operators in the industry today got their experience from simply getting in the seat of an excavator or a skid steer and figuring it out as they went. With safety and efficiency at a premium in today's world, that is no longer the industry's best practice. Employee training before they get to the jobsite has become a key component of every great company's success.
One of the National Demolition Association's (NDA) members, Envirovantage, recently won a national award from the Associated Building Contractors organization for safety. When speaking with former NDA president and Envirovantage CEO Scott Knightly, he says "When I was sitting in that room, getting ready to accept our award, I realized that every single best-in-class company had a training facility for their employees."
Envirovantage is in the process of setting up its own training facility for operators and laborers so that its employees can have the proper knowledge and experience before they get to the jobsite. Envirovantage knows that if it brings 30 people into its training facility, five to 15 of the trainees may stick it out through the program and be brought on as full-time employees.
That training makes a massive difference when specialty projects comes up. "You don't want to send a high-reach operator to the jobsite for the first time with no experience in the cab. They need to have experience before they get to the jobsite, and there is no better place to get that experience than the backwoods of Maine," Knightly says.

The right tools
In the late '70s, demolition robots were few and far between. In the early '80s, high reach demolition machines were a rarity throughout the world. Today, both are being used on jobsites around the globe to increase jobsite efficiency and reduce risk of injury to workers.
As technology advances, contractors are afforded the ability to use different tools to create maximum efficiency in a wide range of areas. Long gone are the days of the excavator operator having to get out of the cab to help bang pins to switch out attachments. There is no need to take an oil bath while swapping a concrete pulverizer for a shear attachments. OilQuick and Steelwrist have both created systems to rapidly, and cleanly, switch hydraulic attachments without having to leave the cab of the excavator. The act of swapping an attachment, which used to take three people 20-30 minutes, now can be done by one in less than 30 seconds.
The innovation with amazing tools is not limited to total demo. For interior projects, demolition robots gave contractors the ability to complete the work of over 15 people with pneumatic chipping guns with the introduction of the first electric robot by Brokk in 1981. With a wide range of attachments, demolition robots can hammer, crush, sort or excavate just about any surface or material. Robots can create an incredible amount of productivity for demolition purposes, but all that material created means there needs to be a lot of cleanup.
Pairing a demolition robot with a small skid steer makes an incredible combination for interior demolition. Louis Keller, the man credited with inventing the skid steer, changed construction forever with his idea in 1957. Skid steers have changed the face of construction with their ability to load carry and remove debris faster than any person could by hand.
In 2008, Bobcat introduced its smallest skid steer ever, the S70. At 35.5 inches wide, the S70 can fit through most standard doorways, but with a fume-producing engine, it is not capable of working in enclosed environments with restrictions on emissions. In 2012, the Sherpa 100ECO was the first battery-powered skid steer introduced to the market, giving an additional option to supplement the labor force with a 100% fume-free machine.
Like excavators and demo robots, these skid steers can take any attachment to increase the efficiency of the properly trained operators.
Putting it all together
We all know that putting an excavator next to four people with shovels isn't exactly a fair match when it comes to efficiencies. A working machine is always going to outwork a human. Having all this amazing equipment doesn't just make the project run faster, but there is an underlying benefit to having the right equipment. Having the right tools for the job is a great way to keep key employees from leaving to go to a different organization.
Good employees want to work for organizations that invest in not only their employees and their training, but they want to work for organizations that invest in their equipment also.
There is no magic solution to put it all together to create an amazing organization that will easily recruit and keep the best talent out there. But if there is one thing that is common across all industries, it's that key employees want to be appreciated in their work efforts, have the knowledge to complete their work safely and efficiently, and to have the right tools for the job. If we can provide those things, it becomes a lot easier to find and keep the right employees that will help build the great organizations we see in the National Demolition Association.