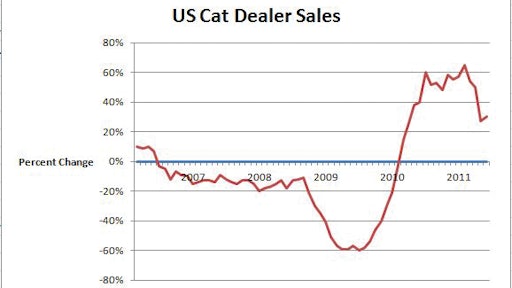 Stock markets tend to lead economic trends by about six months, and at mid-year the big question on many recovery-watchers' minds is "Are stock markets catching up with world events or are they overreacting to news in the financial press?"
So far the U.S. recovery has been led by the manufacturing sector that represents approximately 30% of the whole economy. Consumers represent the rest and have not increased spending enough to propel our economy to normal growth in gross domestic product (GDP) of 3% to 3.5%.
The low value of the U.S. dollar relative to other currencies has bolstered manufacturer export revenues. For example, U.S. exports of construction equipment ended the first half of 2011 up 48% compared to January through June of 2010, according to figures from the Association of Equipment Manufacturers (AEM).
Despite the boost from exports, GDP has barely grown in 2011 -- 0.4% in the 1st quarter and 1.3% in the 2nd quarter.
A number of manufacturers both here and abroad are expressing mild to medium concern about the trend of business in the second half of 2011. And a double-dip recession is being talked about again. The nascent U.S. recovery appears to be stalled with unemployment steady at more than 9% and most forecasters lowering 2011 GDP estimates. Our government seems incapable of putting politics and reelection aside and focusing on the economy.
Until now the engine of demand has been the developing world, especially China. China is so important that share prices of Japanese equipment manufacturers move up or down on the Tokyo stock exchange based on reports about the previous week's retail sales in China. China has helped keep worldwide equipment demand up during the first half of 2011. But inflation has become a concern for the Chinese government, which is trying to rein in demand and avoid an inflationary spiral. There is too much Chinese currency chasing too few goods.
The Chinese government is particularly concerned about the effect inflation will have on its average citizens. Farm workers who recently moved to the cities to take factory jobs are finding their basic living standard being eroded by inflation. A typical factory worker makes a monthly wage of $350. With inflation running at 6.2%, up from 5.7% recently, inflation really erodes buying power.
China's economic growth is expected to slow to 9.2.% in the third quarter from 10.3% in 2010. The country's currency recently gained about 7% against the U.S. dollar, the currency used by exporters to price their products, which has put a crunch on export profits.
In April and May this year the Chinese domestic market for hydraulic excavators slowed by 30% in both months compared with the same months last year. Chinese equipment manufacturers continued to build machinery despite the drop off in demand. Companies there have pushed machines out the door and into their dealer inventories and are offering aggressively discounted prices. For example, XCMG Construction Machinery accounts receivable surged 148% in the first half of 2011 from the end of 2010. The company provided its domestic dealers and customers longer payment terms. Changlin, based in Changzho, also posted an increase in accounts receivable of 91% during the first half of 2011 compared with last year.
Hitachi has lowered its excavator sales forecast for its fiscal year that ends March 31, 2012. A company spokesman said, "Although global demand for hydraulic excavators has been growing especially in North America, Japan, Asia, etc., due to a decrease in demand in China because of monetary tightening etc., overall demand for fiscal 2011 is expected to decrease by 18,000 units to 245,000 units . . . [as a result] we shifted machinery that was planned for shipment to China to other areas where demand is increasing [and have] focused on improving selling prices and further reducing cost, etc."
Volvo AB and Scania AB, both European-based manufacturers of on-highway trucks, are hoping for the best, but preparing for the worst. The companies are hiring more temporary workers, which will give them more production-schedule flexibility should the recession be repeated.
Incoming Volvo CE president Pat Olney commenting on the company's second-quarter results said: "These are a solid set of figures given the significant currency headwinds we faced and the consequences of the tragic earthquake and tsunami that struck Japan during the period. Due to continued uncertainty in the current macro-economic situation, we are maintaining a high degree of cost flexibility in order to be able to quickly adapt to any potential challenges in market conditions."
Mining equipment manufacturer Joy Global, which reported its backlog was up 78% at the end of its recent fiscal third quarter, is "putting routine expenses under a microscope," according to Mr. Sutherlin, Chairman and CEO. He went on to say, "There are some yellow warnings out there, but we haven't seen them translate into the fundamentals that we track." "We've seen no evidence of delays, deferrals or a slowdown of any projects we're working on."
In its second quarter 2011 earnings release Caterpillar said, "The major developed economies have had weak recoveries, and the frequent discord in developing economic policies offers little hope for improvement in the short term. However, forward-looking economic indicators suggest downturns are unlikely this year. Cat's outlook assumes developed economies will grow 2% in 2011, down from 2.5% in 2010. Construction remains weak, and only scattered improvements in activity are likely this year."
So, where does that leave us? I believe the U.S. economy will remain lethargic for the balance of 2011. It may even flirt with a negative GDP quarter. A recession is defined as two negative quarters in a row. But I don't think we're in for the dreaded double-dip!