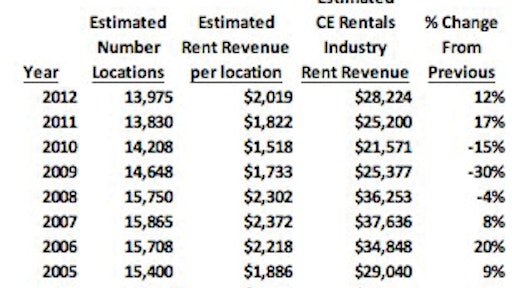 Today's economic landscape is fraught with uncertainty, making forecasting 2012 very difficult. U.S. gross domestic product figures for the first and second quarter of 2011 were revised down and barely avoided slipping negative. Third-quarter GDP came in at 2.5 percent but these figures are almost always subject to revision. Until October, the stock market swung up and down 100, 200 or more points. People stopped reading their 401K statements. Then October brought a solution to one European banking crisis that resulted in the best October stock market performance in 25 years. In November, another European banking crisis wiped out those gains, but the market was quick to recover by early December.
How do you forecast in an economic environment that looks good one day and bad the next? Filtering out the noise and focusing on economic signals is key.
Traditionally, construction equipment markets follow housing starts. Housing construction is an important driver of demand for machinery rentals. 
The 2011 increase in equipment rental demand has been a big surprise because none of the traditional demand drivers are up at all. In fact, 2011 annualized housing starts have flat-lined at slightly more than 600,000 units, the lowest quantity since the 1940s. The amount of money spent on housing is actually down about 6 percent.
Other construction segments have been important in the past as well, such as heavy construction and non-residential construction. Non-residential construction, which usually benefits rental companies, will end the year down about 5 percent. Heavy construction activity has been slow as well, down about 1 percent compared with 2010.
It's hard to imagine that the economic turmoil the world is going through would be good for anyone, but it has been very good indeed for equipment rentals. Economic uncertainty, with almost no ability to predict what's coming more than three to six months into the future, is causing equipment users to rent equipment rather than buy it for the little bit of construction activity going on out there.
Revenues of the major rental companies were up through the third quarter and there is every expectation the trend will continue in the fourth quarter and well into 2012. Below is our comparison of several of the publicly traded rental companies' third quarters. Third-quarter 2011 rental revenues were up 65.5 percent at Essex Crane, on the high end, and up 14.4 percent at Hertz Equipment Rentals (HERC) on the low end.
See table 1
Rental rates improved considerably as well with gains across the board from a low of a 4.5 percent increase to a high of a 13.3 percent increase at HERC.
See table 2
Where is the current rental demand coming from? I believe rentals are improving for three reasons.
Economic uncertainty makes renting a machine more attractive than buying it
New emissions regulations (Tier 4 Interim) are increasing equipment prices more than most users expected. Equipment users are either renting or buying low-hour Tier 3 equipment
Construction activity is coming from non-traditional markets such as shale gas exploration and surface mining, both of which require large amounts of site-preparation and maintence once production begins.
Where do we go from here and what about 2012? I have found that construction employment is a good barometer of total rental activity. Construction unemployment has been coming down for the past year. At the end of 2010, construction unemployment was more than 21 percent. Today, construction unemployment is about 13 percent. Of course 13 percent is still way above the national average, which was recently reported at 8.6 percent, but the 13 percent is a marked improvement nonetheless.
I forecast that construction unemployment will decline to less than 10 percent during the next 12 months, albeit at a very slow pace.
That will result in growth of total rentals in 2012 to more than $28 billion, a growth rate of 12 percent compared with 2010, or about the same level the industry experienced in 2005. The 12 percent is a lower rate than the 17 percent I expect between 2010 and 2011 because of the lack of government stimulus programs and slow growth expected in all the other construction categories, especially housing.
See table 3
My crystal ball is pretty dim beyond 2012 due to global economic uncertainty. The Euro-zone crisis, if unresolved, could negatively impact world economies. U.S. bank exposure to European debt is thought to be manageable, but the psychological impact would be far reaching. There's also the possibility of a significant slowdown of the Chinese economy.
Although it seems counterintuitive, rental company owners should be heartened by all this uncertainty. Uncertainty will continue to turn equipment users to rental. It is very possible that my 2012 estimate of total rentals is too conservative. There is much more upside potential than downside risk.
It is possible for total rentals to return to their 2007 peak within two or three years. I think the future is bright for the U.S. equipment rental market.