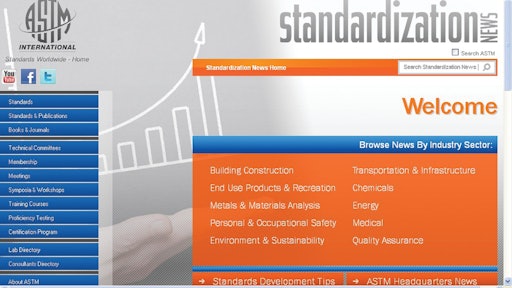 ASTM International has launched a revamped online version of its flagship magazine, Standardization News (SN). The magazine's new website, which is available free to all visitors at www.astm.org/standardization-news, offers more frequently updated ASTM news that is organized into new industry sector gateways. These gateways serve as web portals to comprehensive news and information about ASTM standards development activities, meeting and training course dates, publications and more.
The centerpiece of the new SN online homepage is instant access to 10 gateways, which allow visitors to see - at a glance - the variety of industry areas in which ASTM International's standards provide guidance and to quickly find news and information according to their interest area. The SN online homepage also features access to a digital edition of the current issue of the bimonthly magazine as well as access to the Spanish and Chinese-language versions.
The 10 industry gateways cover:
A visitor to any one of the gateways will see not only the latest SN features, columns and news articles covering the sector but also other ASTM listings, such as new and draft standards, upcoming technical committee meeting dates and training courses, papers and publications, and Proficiency Testing Programs, all related to that specific gateway.